SOME BY MI Snail Truecica Miracle Repair Low pH Gel Cleanser 100 ml
No painful and irritating cleansing anymore! Here's a mild and soft low pH cleanser that protects your skin barrier!
Some By Mi developed a good low pH cleanser using Black Snail secretion filtrate and Truecica, a complex developed independently to calm sensitive skin due to external irritation by increasing the skin's natural strength and strengthening the skin barrier. So snail truecica low pH cleanser protects your skin with its weakly acidic formula that maintains skin health and balance. Moreover, it locks the moisture in the skin so you don't feel dry after washing your face. It provides damaged skin with soothing, skin regeneration, hydrating, and dead skin cell care.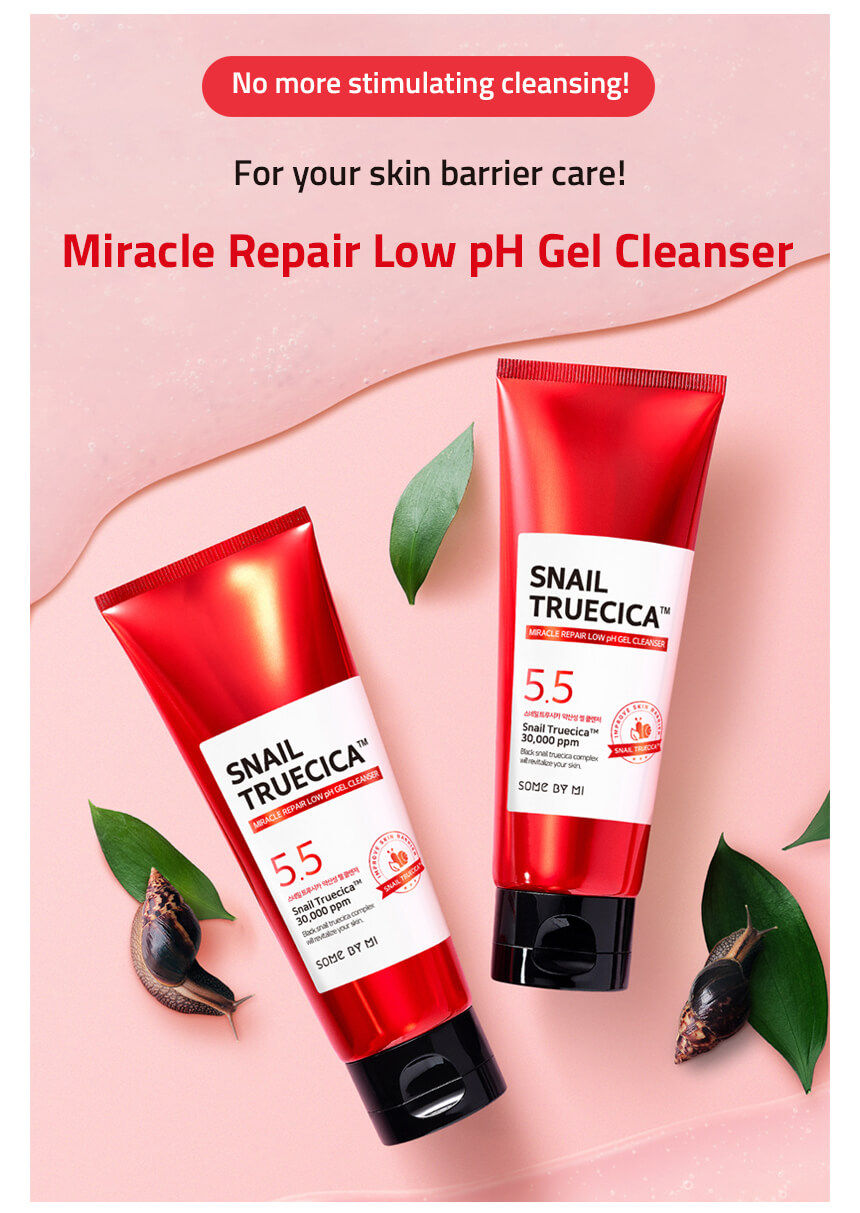 What is the black snail?
You might hear about snail cleansers before but the black snail cleanser could be new. Black snail ( Musin), it's an ingredient that makes up snail mucus, minimizes loss of moisture in the skin, protects your skin barrier, and helps make your skin glossy and healthy. A dermatologist named Fernando Bascunan analyzed this carefully and found that mucin, the snail's slime which generates when the snail is hurt, can regenerate the snail's damaged skin cells and the broken shell and has the ability to survive for up to 6 months out of internal nutrients while hibernating.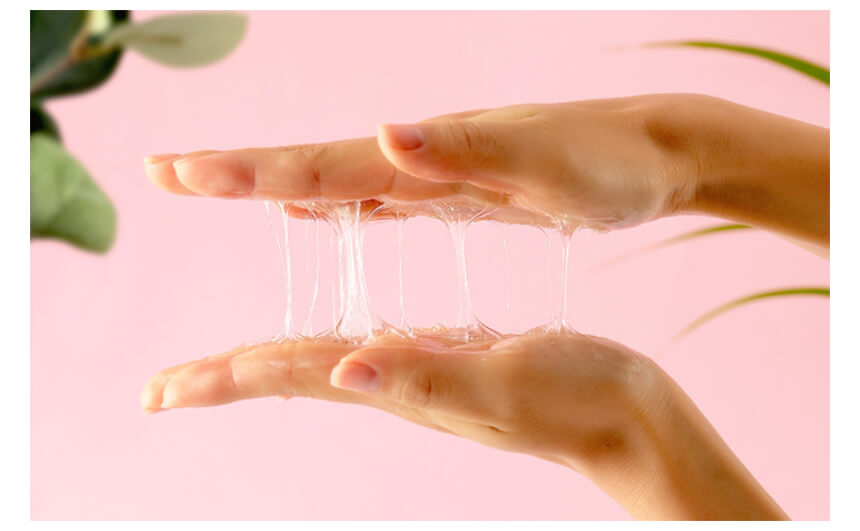 Main Features
Contains Snail Truecica™, developed independently by Somebymi, which helps to calm sensitive skin by enhancing the natural strength of the skin.
Mild Cleansing: A mild cleanser with a mild formula, suitable for sensitive and dull skin with a low pH of 5.5 slightly acidic formula, provides deep cleaning, mild on the skin, and maintains skin health at the same time.
Skin Barrier Care: Contains Black Snail Secretion Filtrate, and Collagen which builds up a solid skin barrier, to prevent skin damage and repair the damaged skin in order to become healthy skin.
A good low pH cleanser that contains Snail Truecica ingredients help soothes the skin that has become sensitive due to the external environment by increasing the skin's natural strength.
Snail Truecica™, is a special ingredient for soothing sensitive skin and skin barrier care.
SOME BY MI's Snail Truecica Miracle Low pH Cleanser contains 30,000ppm 'Snail Truecica™', which combines 10,000 ppm of black snail ingredient and 20,000 ppm of Truecica, an ingredient developed independently which is formulated with Some By Mi's exclusive ingredient to soothe the sensitive skin, to enhance skin's ability to protect itself, to heal damaged skin, to strengthen the natural power of the skin.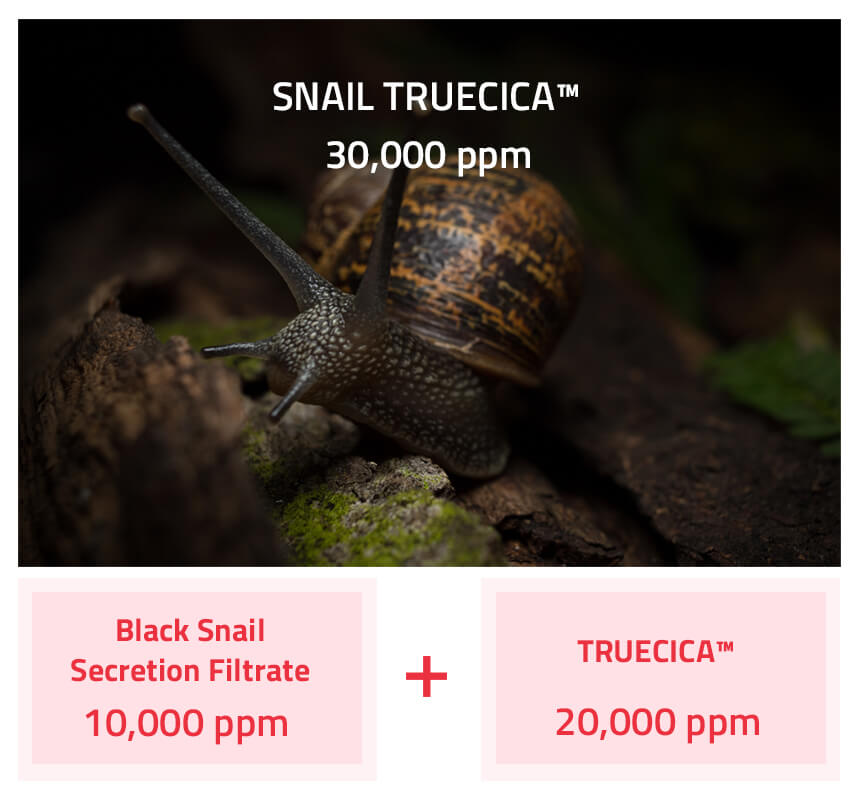 A good low pH cleanser that does not contain 20 ingredients that can be harmful to your skin!
Even small irritation can turn into sensitive skin if repeated. SOME BY MI made a really good  Low pH Cleanser honestly, excluding skin worries as much as possible. This snail gel cleanser is completely safe for sensitive skin.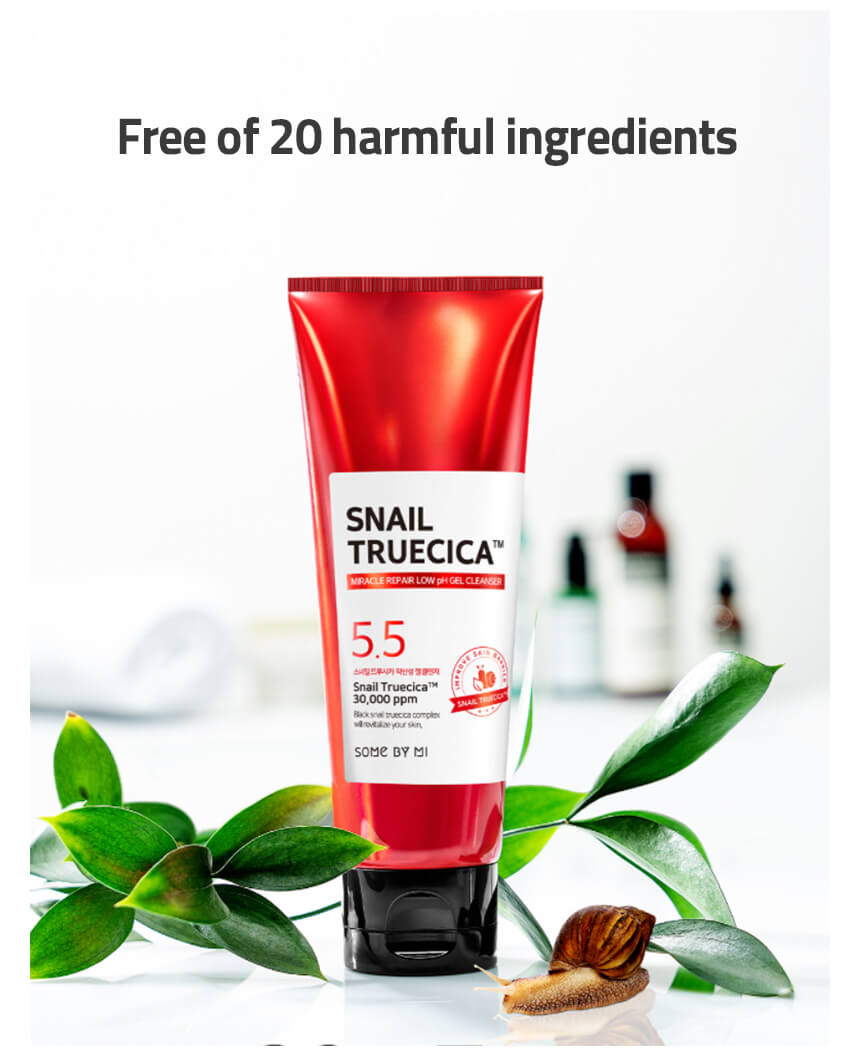 Main Ingredients
Black Snail Secretion Filtrate: Contains 9,940ppm of Black snail which has a strong vitality, has the ability to survive for up to 6 months out of internal nutrients while hibernating.
Truecica™: Contains 30,000 ppm of Truecica that is a soothing ingredient made by Some By Mi with 4 types of ingredients: Tea Tree Leaf Water, Centella Asiatica Extract, 4 kinds of titrated extracts(Asiatic acid, Madecassic acid, Asiaticoside and Madecasoside) extracted from Centella asiatica and Artemisia Princeps Leaf Extract.
Amino Acid Complex: 17 types of Amino acids which are the minimum building blocks of skin, quickly improve the skin barrier.
Ceramide: One of the components that make up the skin barrier and helps protect your skin from the external environment and maintain elastic skin.
Panthenol: Helps to maintain moisture for a long time by creating a moisture barrier to prevent moisture from escaping out of the skin easily.
If you are looking for a good low pH cleanser without irritation, then this is it.
Skin Tests
Hypoallergenic Test
Test Institute: Korea Dermatology Research Institute.
Test Period: They checked it 3 times after 30 mins, 24 hours then 48 hours.
Test Subject: 33 women.
Test Result: Excerpts from the Korea Institute of Dermatology's Snail Trucica Miracle Repair Low pH Cleanser Clinical Trial that it's not an irritating cleanser with an irritation index of 0,17.
*The result may vary from person to person depending on environmental factors.
 Cleansing Test
This low pH cleanser can cleanse the light daily makeup clearly without the need for a second wash.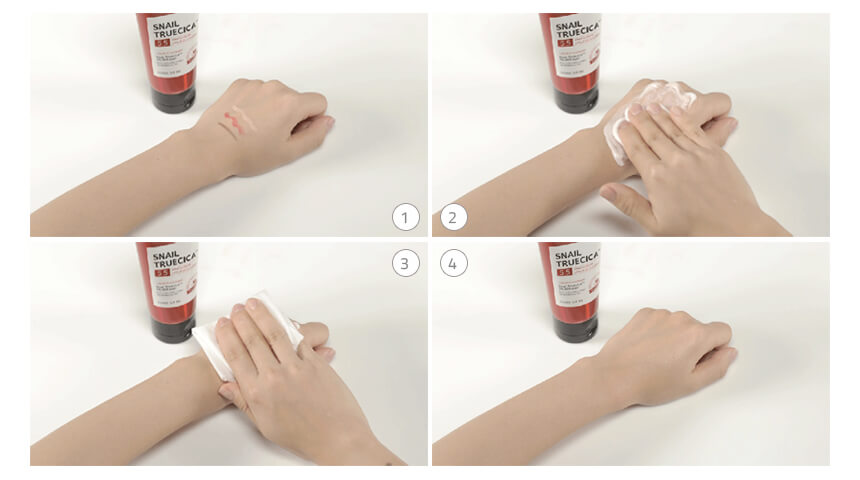 Formulation & pH
A gel cleanser with a unique sticky viscosity of the snail transforming into soft and fine bubbles, leave the skin moist even after washing your face. A cleanser with a mild formula pH value of 5,5 is slightly acidic which is similar to healthy skin pH.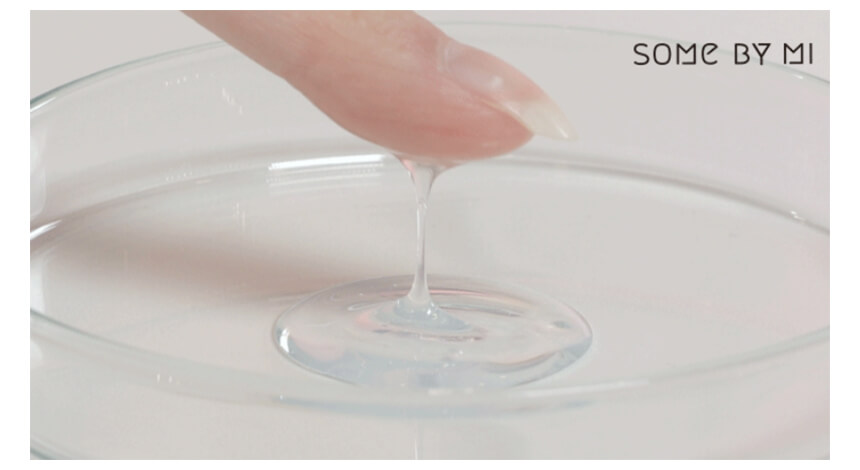 Its soft and rich foam texture makes your skin moist without feeling tight even after washing your face.
A good low pH cleanser that is safe for sensitive skin, Mild, and not stimulating.
Alkaline skin products weaken the skin barrier and the sensitive skin easily becomes irritated. that's why you have to carefully pick a slightly acidic cleanser especially if your skin is sensitive or weak.  This good low pH gel is considered a weakly acidic sensitive skin wash.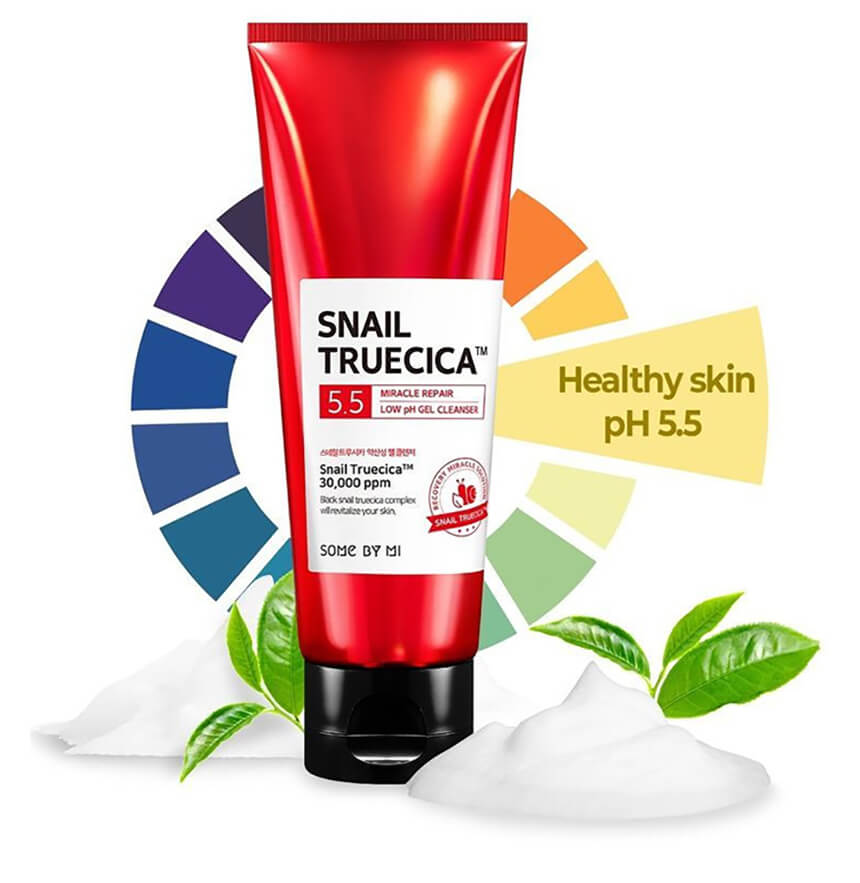 How to use
Pour an appropriate amount of foam on your wet hands.
Rub gently all over your face as if you were massaging it.
Rinse thoroughly with lukewarm water and finish.
Ingredients
Water, Lauryl Hydroxysultaine, Disodium Cocoamphodiacetate, Sodium Chloride, Potassium Cocoyl Glycinate, Acrylates Copolymer, Sodium Methyl Cocoyl Taurate, Potassium Cocoate, Butylene Glycol, Snail Secretion Filtrate (9,940 ppm), Benzyl Glycol, Citric Acid, Citrus Aurantium Bergamia (Bergamot) Fruit Oil, Ethylhexylglycerin, Hexylene Glycol, Disodium EDTA, Salvia Officinalis (Sage) Oil, Betula Platyphylla Japonica Juice, Camellia Sinensis Leaf Extract, Glycyrrhiza Glabra (Licorice) Root Extract, Agrimonia Eupatoria Extract, Panthenol, 1,2-Hexanediol, Centella Asiatica Extract, Perilla Frutescens Leaf Extract, Melaleuca Alternifolia (Tea Tree) Leaf Extract( 200 ppm), Phenoxyethanol, Glycine, Dipropylene Glycol, Saponaria Officinalis Extract, Serine, Glutamic Acid, Kigelia Africana Fruit Extract, Aspartic Acid, Caprylic/​Capric Triglyceride, Leucine, Alanine, Lysine, Arginine, Asiaticoside (4 ppm), Tyrosine, Phenylalanine, Asiatic Acid ( 3 ppm), Madecassic Acid( 3 ppm), Threonine, Proline, Valine, Isoleucine, Pentylene Glycol, Phosphatidylcholine, Glycyrrhiza Glabra (Licorice) Root Extract, Platycodon Grandiflorum Root Extract, Poria Cocos Extract, Coix Lacryma-Jobi Ma-Yuen Seed Extract, Paeonia Albiflora Root Extract, Histidine, Madecassoside(1 ppm), Cysteine, Methionine, Polygonatum Odoratum Extract, Scutellaria Baicalensis Root Extract, Astragalus Membranaceus Root Extract, Angelica Gigas Extract, Cornus Officinalis Fruit Extract, Artemisia Vulgaris Extract, Rehmannia Glutinosa Root Extract, Ceramide NP, Bifida Ferment Lysate, Lactobacillus Ferment Lysate, Lactococcus Ferment Lysate.