AROMATICA Tea Tree Pore Purifying Clay Mask 120g (2% NiacinamideI + 45% Clay)
The tea tree is back! stronger than ever
Aromatica presents the best clay mask, Tea tree pore purifying clay mask. To resolve various skin troubles such as enlarged pores, shine, noticeable dead skin cells, and dull complexion! Take care of your recurring skin trouble with a mask containing Australian tea tree, Niacinamide, and clay.
The best clay mask you will try!
Extraction method
Solvent Extraction: This is an extraction method designed to extract efficiently the effective ingredients from expensive and delicate raw substances. The high-quality extracts obtained by recycling energy from our internal facilities and using the safest moisturizer to the skin such as glycerin as solvent is the reason the inherent fragrance of the tea tree's raw substances is kept intact.
Main Features
The Key solution for skin trouble: Instead of using purified water, tea tree extract (35.6%) obtained with glycerin solvent will effectively soothe your problem skin. Niacinamide (2%), which controls excess oil and sebum secretion, makes blotchy skin look clean and radiant.
Pore cleansing with green clay: Three types of clay in different particle sizes make skin texture smooth and purify pores by effectively tidying up excessive sebum around the nose, flaky dead skin cells around the mouth, and residue from pores. Mineral-rich clay and vitamin complex make dull skin complexion look clear and matte!
Convenient esthetic treatment at home: Take care of excessive sebum and oil conveniently at home with a tea tree mask. the best clay mask that feels soft like cream closely adheres to skin and provides convenient care through fast drying. It leaves skin feeling moisturized as it can be washed with water easily without the need to use additional cleansing foam; the refreshing fragrance of the tea tree soothes and revitalizes tired skin. On days when you need deep cleansing of your skin, empty your pores with tea tree clay.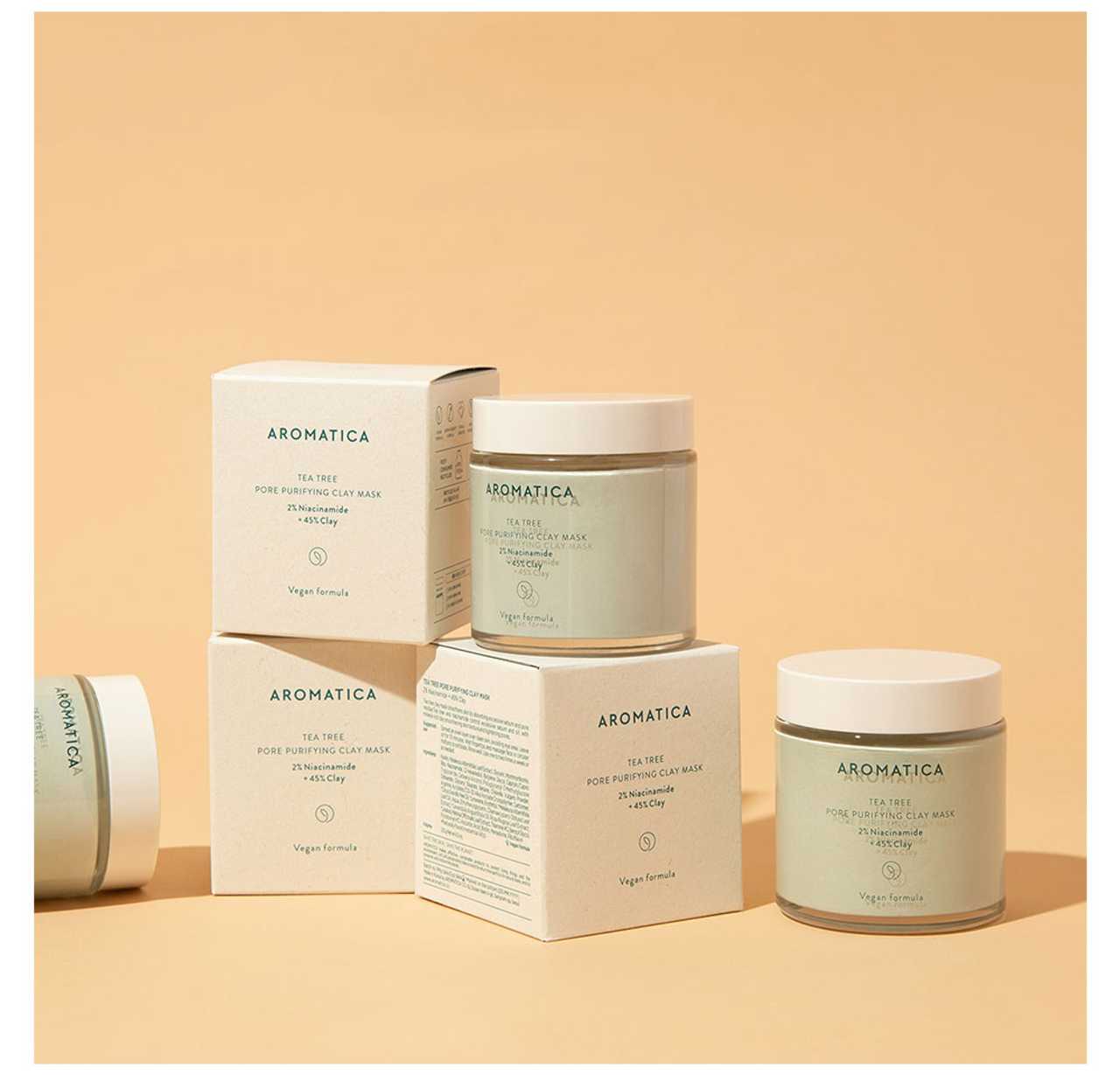 Main Ingredients
Clay, Tea Tree Leaf Extract, Niacinamide
Tea Tree: This ingredient, used by Indigenous Australians centuries ago as a skin solution, contains the effective ingredient terpinene-4-ol for an outstanding soothing effect on problem skin.
Niacinamide: It is excellent not only for moisturizing but also for controlling sebum, helping make problem skin healthy and well.
Clay: Abundant minerals absorb accumulated dead skin cells and residue from pores and make skin look clean.
Tea tree Pore Purifying is the best clay mask solution for pore cleansing!
Convenient esthetic treatment at home with Tea tree Pore Purifying Clay Mask.
How to use
Sufficiently soak a cotton pad with an appropriate amount of Tea Tree Pore Purifying Cleansing Water and gently wipe skin starting from the inside and working outward. Lightly press and hold it on strong makeup points for about 5 to 10 seconds to melt the makeup and wipe it off. There is no need for additional water washing, but you may wash lightly with water if desired.
After cleansing the face, evenly apply the Tea tree pore purifying clay mask on the dry face except for skin around the eyes and mouth. When the mask is dried after 10 minutes, gently wash off with lukewarm water in a rolling motion. (Recommend using twice a week)
Dispense an appropriate amount of Tea Tree Balancing Toner onto your palm or a cotton pad and wipe along with skin texture, or gently spread all over the face to soothe irritated skin.
If you want intensive care on excessive oil, take an appropriate amount of Tea Tree Pore Purifying Serum with the included dropping pipette, apply, and lightly pat to promote absorption.
If you want refreshing moisturization, take an appropriate amount of Tea Tree Balancing Emulsion, gently spread on the face and neck area, and lightly pat to promote absorption. It will help balance oil and moisture in your skin.
If enlarged pores annoy you, take an appropriate amount of Tea Tree Pore Purifying Cream at the last step of your skincare routine, apply, and pat to promote absorption. It helps keep your pores tight and your skin smooth
TIPS
In the case of combination skin with shine, apply on areas with excessive sebum.
Drying speed may vary depending on skin temperature and environment.
If the content in the container is hardened by keeping the cap open for long hours or after long use, add a little amount of tea tree toner and mix well. It will be reborn as a creamy clay mask when hard clay meets tea tree toner!
A ponding phenomenon may occur due to the characteristics of clay, but this is not a quality problem. Mix well before use.
The best clay mask made of 96 % natural-derived ingredients!
Ingredients
Kaolin(40% Clay), Melaleuca Alternifolia Leaf Extract tea tree (35.6%), Glycerin(Plant-derived moisturizer), Montmorillonite(Clay), Illite(Clay,(22,500ppm), Niacinamide(Sebum control agent), 1,2-Hexanediol(Emollient), Butylene Glycol(Moisturizer), Caprylic/Capric Triglyceride(Plant-derived emollient), Cetearyl Alcohol(Plant-derived emollient), Polyglyceryl-3 Methylglucose Distearate(Plant-derived emulsifier), Glyceryl Stearate(Plant-derived emulsifier), Betaine(Sugar beet-derived moisturizer), Chlorella Vulgaris Powder, Arginine(Amino acid emollient), Acrylates/C10-30 Alkyl Acrylate Crosspolymer(Moisturizing/Thickening agent), Carbomer(Moisturizing/Thickening agent), *Citrus Grandis Peel Oil(Grapefruit oil), *Limonene(Ingredient in Grapefruit oil), Erythritol(Glucose-derived moisturizer), *Melaleuca Alternifolia Leaf Oil, Aqua, Ethylhexylglycerin(Emollient), Chamaecyparis Obtusa Leaf Extract, *Lavandula Angustifolia Oil, Rosa Rugosa Leaf Extract, *Linalool(Ingredient in Lavender oil), Melissa Officinalis Leaf Extract, Thiamine HCl(Vitamin B1 derivatives), Benzyl Glycol(Emollient), Pyridoxine HCl(Vitamin B6 derivatives), Ascorbic Acid(Vitamin C), Biotin(Vitamin B7), Menadione(Vitamin K3), Riboflavin(Vitamin B2) *Naturally found in essential oil(s)