TORRIDEN DIVE IN Sea Salt Foam Cleanser 150ml
Hyaluronic acid cleanser for you who need a cleanser that doesn't feel tight after washing your face. All women, including you, know that hyaluronic acid is a good ingredient for skin moisturization, but there are many products that contain hyaluronic acid. What makes this product different? Even if the product is made of expensive ingredients, it wouldn't be useful if it isn't absorbed well by skin.
Torriden developed a cleanser that uses Sea Salt Extract to keep your skin moist while increasing the cleansing effect.
Main Features:
25% Sea Salt Extract: Coconut derived surfactants and sea salt extract help remove dirt and residue from skin.
Low 5.5 pH Cleanser: helps keep pH at healthy skin level; therefore it maintains water-oil balance and gives a comfortable feeling for sensitive skin.
Moist skin even after cleansing: It makes your skin smooth and moist since it contains 5 types of different sized molecules of Complex Hyaluronic Acid and Allantoin.
Made with non-irritating ingredients.
Why is 5D Hyaluronic Acid Complex important?
According to molecular weight, Dalton is a very common unit used in biology. Unfortunately, Dalton isn't absorbed well into the skin because of its large components. DIVE IN low- molecular hyaluronic acid soothing cream contains five types of high, medium, and low-molecular-sized hyaluronic acid ingredients which provide a strong moisturizing effect to epidermis (deepest part of skin). It's also the best cream in moisturizing category forming a moisturizing barrier.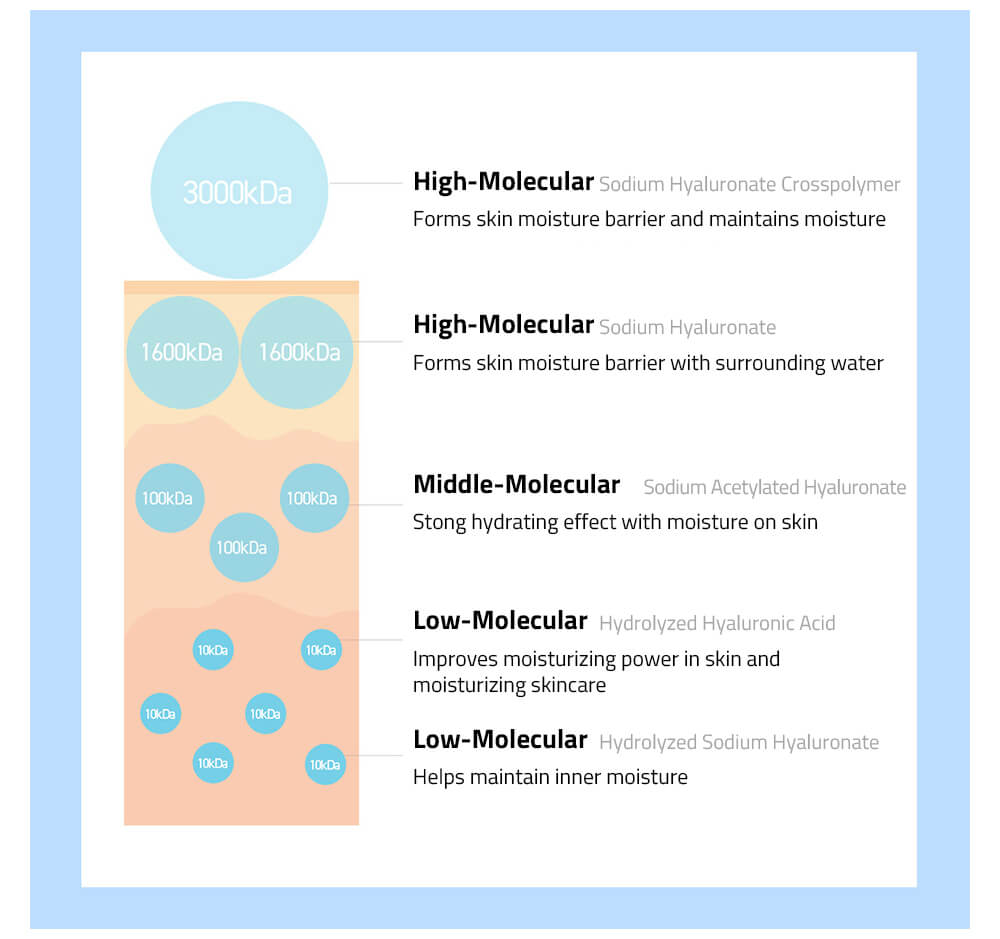 Sea Salt Foam Cleanser is the best hyaluronic acid cleanser containing 5 types of Hyaluronic Acid Complex of different sizes and Sea Salt Extract.
Main Ingredients:
Sea Salt Extract: rich with mineral sea salt extract. It's a soft and low pH cleanser with a strong cleansing effect.
5D Hyaluronic Acid Complex: forms 3D networks in the layers of the skin to maintain hydration and moisturization. 5 types of different sized molecules of Hyaluronic Acid Complex provides a deep and refreshing feeling and helps to hydrate your skin.
Malachite Extract: DIVE-IN toner light pastel blue color is a pure color from the malachite extract.
Dive In Hyaluronic acid cleanser, with Sea Salt Extract helps provide soft and deep cleansing . 5D Hyaluronic Acid Complex that makes your skin smooth and moist.
Completed tests:
Hypoallergenic test:
Test Institution: Korea Dermatology Research Institute
Test Period: 2019.09.03~ 2019.09.06
Test Target: 33 people who meet the selection criteria and do not meet the exclusion criteria.
Test Results: DIVE IN Sea Salt Foam Cleanser proved to be a non-stimulating sample in terms of primary skin irritation and it differs from one person to another.
How to use:
Take an appropriate amount and put little water on it.
After making enough foam, massage your face gently with cleanser.
Rinse it with slightly warm water.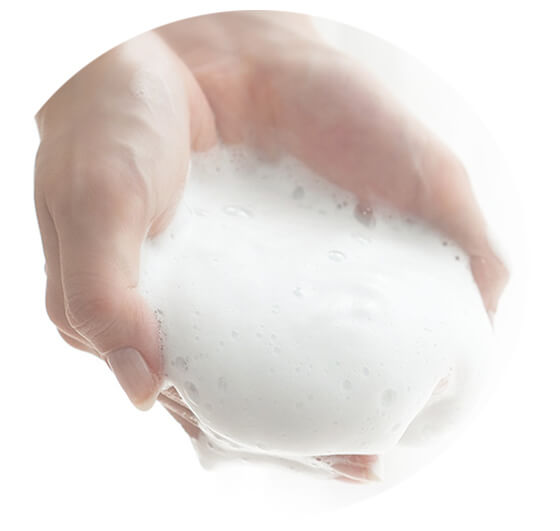 Formulation:
A light sky blue, soft and dense cream foam.
You will be able to smell its unique scent since it doesn't contain artificial fragrances.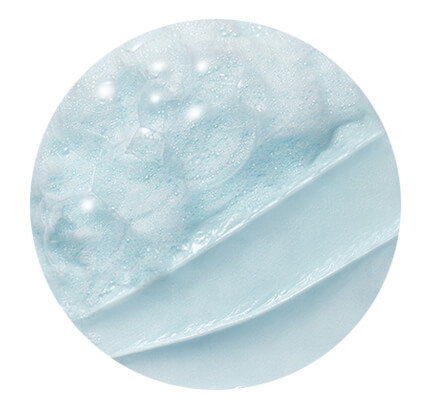 Recommended for:
People who need a cleanser rich with moisture after washing their face.
People who prefer cleansing their face with a creamy foam.
People who look for non harmful products.
We recommend you to use your skin care products according to the following order:
The difference between DIVE IN Foam Cleanser and DIVE IN Cellmazing Foam Cleanser: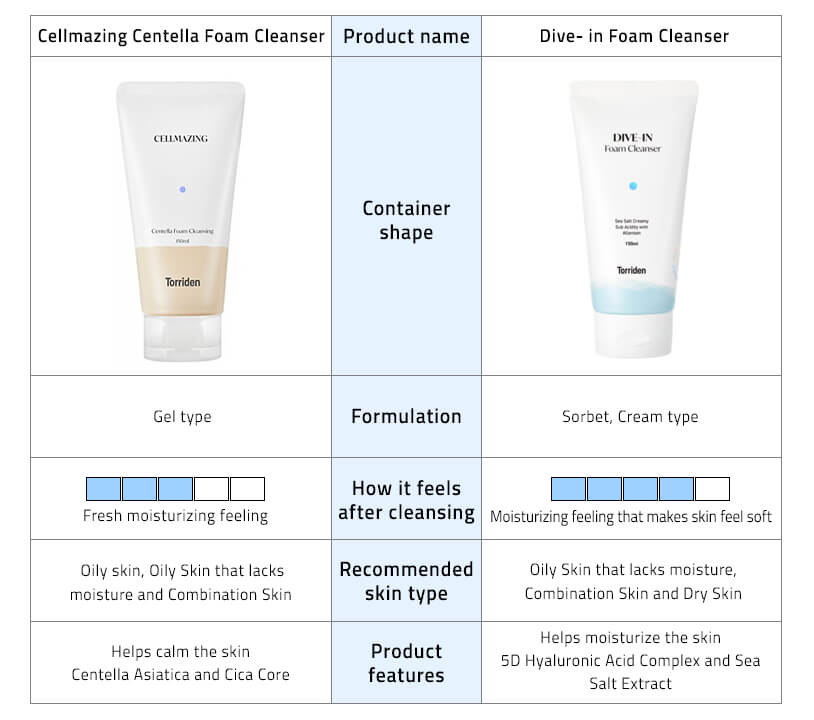 Q&A for DIVE IN Foam Cleanser
Q. Why is it a low pH Foam Cleanser?
pH is the abbreviation of "Potential of Hydrogen". It's divided according to acidity and alkaline into 14 degrees (7 for each). The acidity increases as we head towards number 0.
Since the pH of healthy skin is low (pH=5.5), Torriden develops a foam cleanser with a texture that helps maintain the low acidity using a comfortable foam to clean up.
Dive 
In

 

Hyaluronic

 acid 

cleanser

 

minimized

 harmful ingredients for the health of your skin and used vegan certified raw materials excluding animal raw materials.
Ingredients:
Sea Salt Extract(25%), Glycerin, Water, Sodium Cocoyl Isethionate, Malachite Extract, Hydrogenated Coconut Acid, Coco-Betaine, Sodium Methyl Cocoyl Taurate, Sodium Isethionate, Potassium Cocoyl Glycinate, Allantoin, Panthenol , Ceramide NP, Hamamelis Virginiana (Witch Hazel) Leaf Extract, Chamomilla Recutita (Matricaria) Flower Extract, Sodium Hyaluronate, Hydrolyzed Hyaluronic Acid, Sodium Hyaluronate Crosspolymer, Sodium Acetylated Hyaluronate, Hydrolyzed Sodium Hyaluronate, Pentylene Glycol, Polyquaternium-67, Dipropylene Glycol, Caprylyl Glycol, Glyceryl Caprylate, Sodium Chloride, Citric Acid, Disodium EDTA, 1,2-Hexanediol, Ethylhexylglycerin, Scutellaria Baicalensis Root Extract, Paeonia Suffruticosa Root Extract.