TORRIDEN DIVE IN Multi Pad 145ml, 80pcs
Moisture Pad to fill your skin with sufficient moisture! All women, including you, know that hyaluronic acid is a good ingredient for skin moisturization, but there are many products that contain hyaluronic acid. What makes this product different? Even if the product is made of expensive ingredients, it wouldn't be useful if it isn't absorbed well by skin.
Torriden develops and presents a multi pad that uses hyaluronic acid complex (5D Hyaluronic Acid Complex) of different sizes to fill your skin with sufficient moisture and soothe it.
Main Features:
Full of Dive In low molecular Hyaluronic Acid Serum.
Contains 5D hyaluronic acid complex of different sizes in the essence to relieve dryness inside the skin.
Quick spot pad that helps calm the skin since it contains Allantoin and adheres well, so it can be used as a quick spot pad.
A soft sheet: Both sides are low irritation, soft and gentle.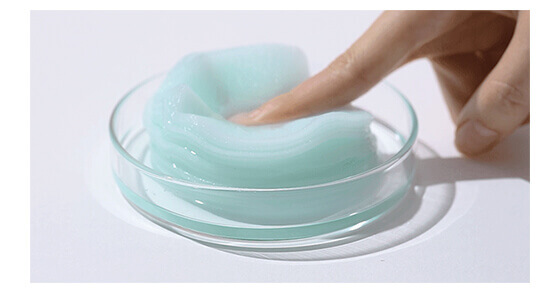 Why is 5D Hyaluronic Acid Complex important? 
According to molecular weight, Dalton is a very common unit used in biology. Unfortunately, Dalton isn't absorbed well into the skin because of its large components. DIVE IN low- molecular hyaluronic acid soothing cream contains five types of high, medium, and low-molecular-sized hyaluronic acid ingredients which provide a strong moisturizing effect to epidermis (deepest part of skin).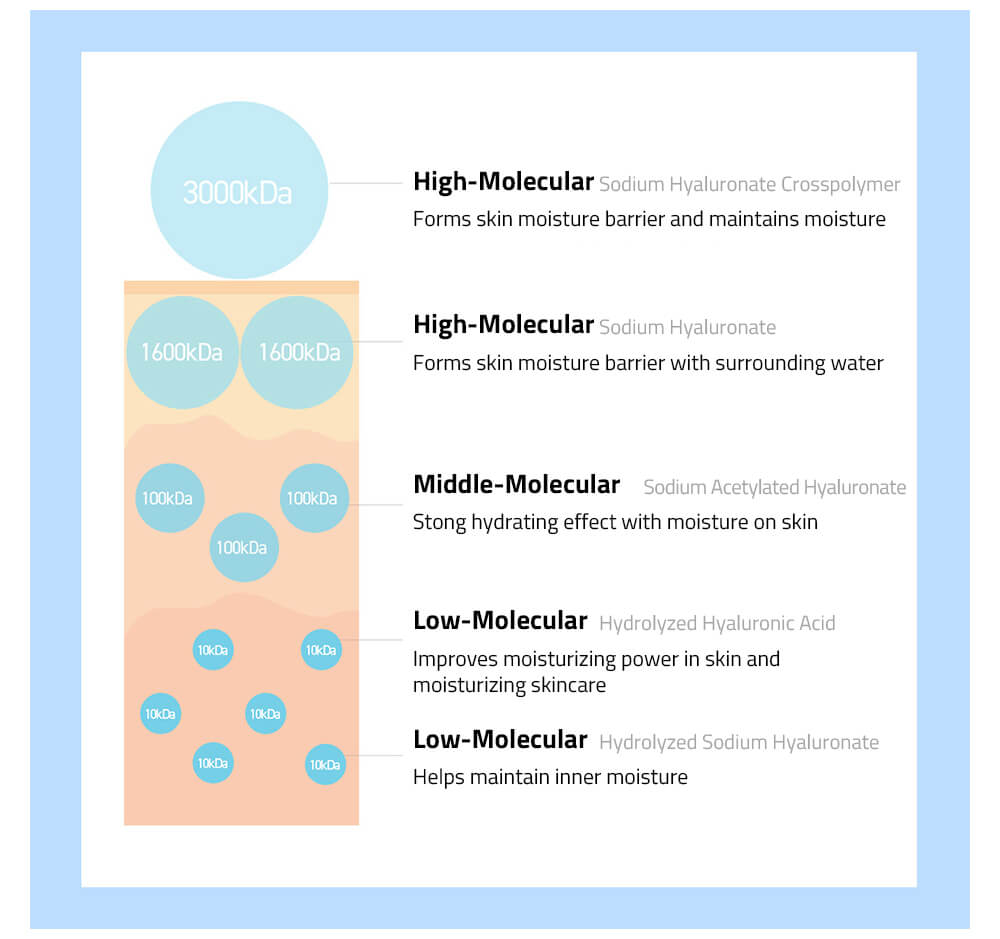 Dive In Multi Pad, which is filled with dive-in serum, is a moisture pad that charges moisture easily and quickly!
The fresh and moist essence of Dive In Serum and the soft pad meet to create a fantastic moisture pad.
Can not only moisturize but also soften your skin texture in the first step of skincare.
Main Ingredients:
5D Complex Hyaluronic Acid: forms 3D networks in the layers of the skin to maintain hydration and moisturization. 5 types of different sized molecules of Hyaluronic Acid Complex provides a deep and refreshing feeling and helps to hydrate your skin.
Allantoin: a plant-derived ingredient that gently removes dead skin cells and helps hydrate and soothe the skin.
Malachite Extract: DIVE-IN toner light pastel blue color is a pure color from the malachite extract.
Dive In Multi Pad, with Allantoin helps calm down irritated skin and rich with essence!
The reason why you should use DIVE IN Multi Pad as moisture pad:
Dive-In Multi Pad fits perfectly with a fresh essence:
Looks after your skin texture with a sheet pad made from soft fabric.
Sheet pads contain essence 20 times more than the sheet fabric.
Using this pad has the same quick effect as a mask sheet when attaching it to dry skin for 2-3 minutes.
Generous amount: Includes 80 pad sheets and 145ml of essence.
Not only can it recharge moisture, but also looks after skin texture in the first step of skincare.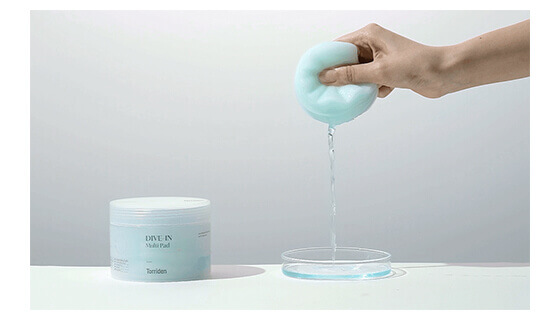 Completed tests:
Hypoallergenic test:
Test Institution: Korea Dermatology Research Institute
Test Period: 2020.07.28~ 2020.07.31
Test Target: 31 people who meet the selection criteria and do not meet the exclusion criteria.
Test Results: DIVE IN Low Molecular Hyaluronic Acid Multi Pad proved to be a non-stimulating sample in terms of primary skin irritation and it differs from one person to another.
Skin temperature reduction test:
Test Institution: Korea Dermatology Research Institute
Test Period: 2020.07.28
Test Target: 21 people who meet the selection criteria and do not meet the exclusion criteria.
Test Results: According to statistics, DIVE IN Multi Pad proved to reduce skin temperature by 30.10% since it has a cooling effect.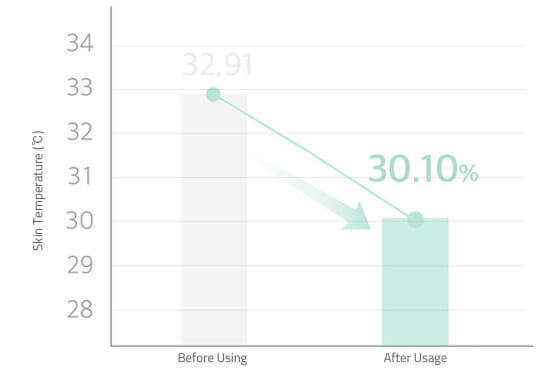 How to use:
Pick up the pad with your hand and gently wipe your face along the skin texture.
Fix the pad sheet between your fingers and tap the skin to push the essence out and help the skin absorb it easily.
Tip: Use the pad sheet to soften your skin first and then attach it to both cheeks, forehead, and chin that feel dry for 2-3 minute. This will provide you with a satisfying moisturizing effect.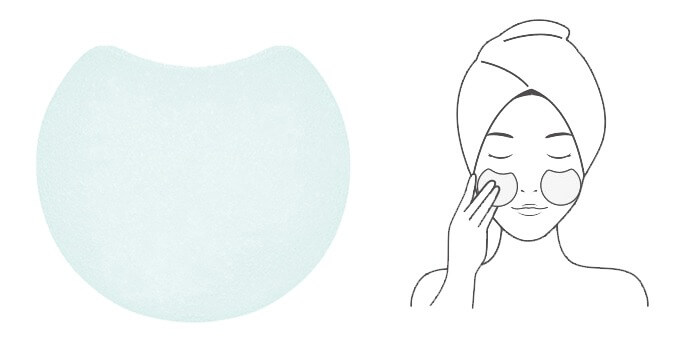 This moisture pad is best for those who want to recharge their moisture easily and quickly.
Recommended for:
People who don't feel comfortable using stimulating toner pads.
People who want clean skin.
People who want to recharge their skin quickly and easily with moisture.
People who want a non-sticky and recharging moisturizing effect.
We recommend you to add DIVE IN cream and DIVE IN serum to your skin care collection.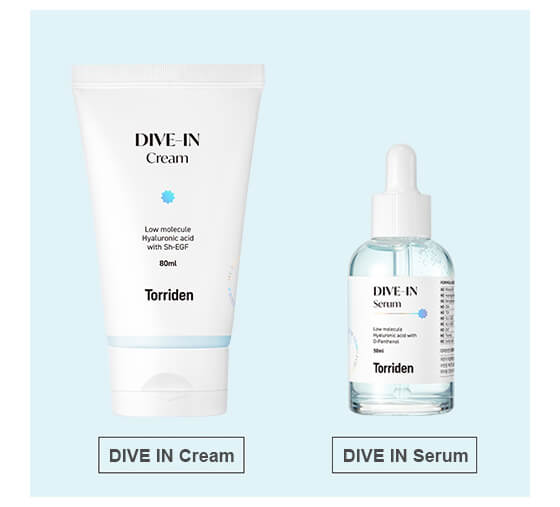 Ingredients:
Water, Butylene Glycol, Glycerin, Dipropylene Glycol, 1,2-Hexanediol, Propanediol, Allantoin, Sodium Hyaluronate(100Ppm), Sodium Hyaluronate Crosspolymer, Hydrolyzed Sodium Hyaluronate, Hyaluronic Acid, Hydrolyzed Hyaluronic Acid, Panthenol, Aloe Ferox Leaf Extract, Salix Alba (Willow) Bark Extract, Melaleuca Alternifolia (Tea Tree) Extract, Betaine, Ceramide NP, Hamamelis Virginiana (Witch Hazel) Water, Pyrus Malus (Apple) Fruit Water, Althaea Rosea Flower Extract, Gluconolactone, Sodium Citrate, Caprylyl Glycol, Polyglyceryl-10 Laurate, Hydrogenated Lecithin, Sodium Carboxymethyl Beta-Glucan, Benzyl Glycol, Hydrolyzed Glycosaminoglycans, Pentylene Glycol, Octanediol, Polyglutamic Acid, Melia Azadirachta Leaf Extract, Melia Azadirachta Flower Extract, Coccinia Indica Fruit Extract, Solanum Melongena (Eggplant) Fruit Extract, Aloe Barbadensis Flower Extract, Ocimum Sanctum Leaf Extract, Curcuma Longa (Turmeric) Root Extract, Corallina Officinalis Extract, Caffeine, Glyceryl Acrylate/​Acrylic Acid Copolymer, Pvm/​Ma Copolymer, Dipotassium Glycyrrhizate, Citric Acid, Disodium EDTA, Ethylhexylglycerin, Malachite Extract, Scutellaria Baicalensis Root Extract, Paeonia Suffruticosa Root Extract.