CNP LABORATORY Dual Oil Control Paper 160 Sheets, Blotting Paper
Worrying about excessive sebum? Wanna a quick fix?
Blotting Paper to help control oil on your face, CNP presents to you the perfect solution for the sebum & oil-controlling problem " Dual oil control paper". It's known as oil control film or oil control paper comes in 2 shades: natural and powder. It comes with powder on the top of skin-friendly natural dry paper, it helps maintain your makeup clean and fixed.
Dual blotting paper keeps your makeup fixed and neat!
No more worrying about makeup ruining with Dual oil control film, it helps keep your makeup clean and fixed with 2  different shades of oil paper to give you a more natural makeup look.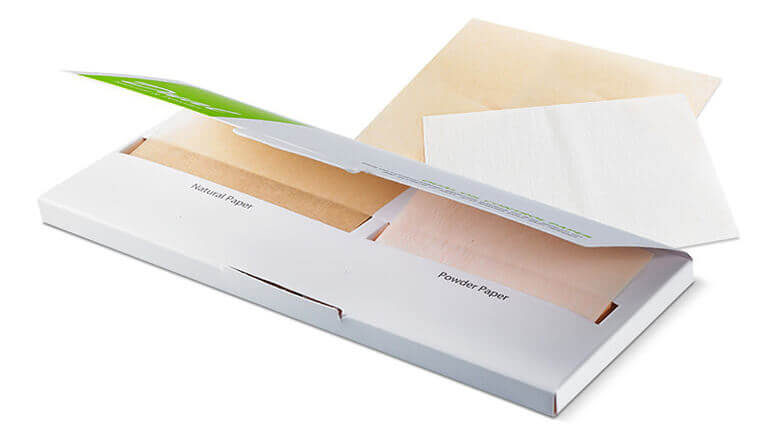 Go out fearlessly with Dual Oil Blotting Paper now!
Main Features
Excellent excessive oil removal effects: a light press on the skin, will effectively absorb the oil on the surface and leave the skin soft.
Skin-friendly material: It uses natural skin-friendly materials to reduce skin burden.
Tissue type that you can easily pullout: you can pull it out like tissue and use it neatly, also easy and light to carry around.
Maintain your makeup from getting ruined: it removes oil from the surface of the skin to keep it clean and also prevents makeup from getting erased.
A blotting paper160 sheets: Natural Paper(100 sheets) and Powder Paper(60 sheets)
Recommend for
For those who are suffering from excess sebum and oil production.
For those who stay out for a long time and want neat & fixed makeup.
For oily skin people, especially in hot summer.
For acne-prone skin too.
How to use
 Remove sebum by pressing lightly on the oily areas of the nose and forehead using Natural Paper.
Gently presses the area where the makeup is removed or where replenishment is needed to prevent makeup from being disturbed using Powder Paper.