BENTON Snail Bee Ultimate Hydrogel Eye Patch (Eye Mask) 60pcs
The skin around our eyes is delicate, so it easily loses elasticity, resulting in wrinkles, freckles, and blemishes. if the skin around your eyes loses its vitality and elasticity, try applying Snail Bee Ultimate Hydrogel Eye mask from today.
It contains yeast and snail secretion filtrate ferment filtrate that give your skin elasticity and nourishing, and ingredients such as NiacinamideAdenosine take care of dark spots and blemishes. it could be used even on irritated or sensitive skin without causing any irritation.
Make your skin healthy and lively by giving it elasticity and vitality with the best eye patch, which gets rid of eye bags and makes your skin clean and clear.
Say goodbye to the bothering eye area wrinkles and fine lines with the snail eye mask
This multitasking eye patch is infused with seaweed that helps absorb and brighten the skin around your eyes and prevents wrinkles from recurring. It reduces the wrinkles & fine lines around the eye area. A naturally-derived hydrogel eye patch can be used with no burden all over the face.
Eye patch containing premium ingredients that are effective for nourishing, skin elasticity, moisture, and skin vitality with just 3 steps
First step: instant cooling and soothing
Second step: enriched, moisture and nutrition
third step: prevent moisture loss
Snail Bee Ultimate Hydrogel Eye mask is your solution for a vibrant and bright eye area
Main Features
The Best Golden Recipe for dull and tired eye areas: Eye mask containing premium ingredients which are effective for nourishing, skin elasticity, moisture, and skin vitality containing premium ingredients.
Containing high concentration essence Hydrogel Eye Patch: Gel-type patches filled with highly concentrated essence do not dry out easily.
Brighteningwrinkle care function: functional cosmetics recognized by the Korea Food& Drug Administration.
Full with the freshness of deep-sea: eye patch with cooling effect, leaves your skin moist and fresh
Main Ingredients
Increase the natural strength of your delicate eye area with snail bee ultimate hydrogel eye patch effective ingredients
Saccharomyces / Snail secretion filtrate ferment filtrate: Snail secretion filtrate, which is excellent for skin protection and elasticity, is fermented by yeast derived from grapes to increase the density and absorption of nourishment to help nourish the skin.
Seaweed Extracts: It protects, soothes, and refreshes the skin. It delivers moisture and nourishment deep into the skin, helps to improve dull skin, skin elasticity, and care for problematic skin.
Gold, Diamond, Pearl, Charcoal Powder: It gives vitality and elasticity to the skin and helps to make your skin tone clear.
NiacinamideAdenosine liquid: Niacinamide helps care for dark spots and blemishes. Adenosine helps manage wrinkles and elasticity.
Skin Tests
1. Dermatological Test
Testing Institute: Skin Research Center, Inc.

Tested Period: 2018.06.13 – 2018.06.15

Test Subjects: 30 female (age range from 19-59)

Test Result: Snail Bee Ultimate Hydrogel Eye Patch is non-irritating in primary skin irritation.




(There might be individual differences)
2. Cooling effect test
The patch with a high concentration of premium essence reacts to the skin temperature, and is absorbed, providing the skin a nice cooling effect.

Right after use, 5.2°C DOWN, 10 minutes after use, 8.3°C DOWN
How to use
After cleansing, prepare your skin with skin toner.

Use the tweezer inside, apply an eye patch on your eye area.

Remove the patches after 10~20 minutes and gently pat the leftover essence until absorbed.

TIP2#: put the eye patch in a zipper bag and soak it in lukewarm water to warm it up, then put it on the eyelids and use it as a heat pack!
Storage TIPS 
It minimizes unnecessary contact with the patch surface and prevents cross-contamination by double sealing.

Use a tweezer to prevent the eye mask from being directly touched and contaminated!
Celebrity's Eye Mask Is Essential For baby face
Ha Yeon Su's Trend cam, talked about the hydrogel eye mask in the episode of "Inside an Artist's studio!"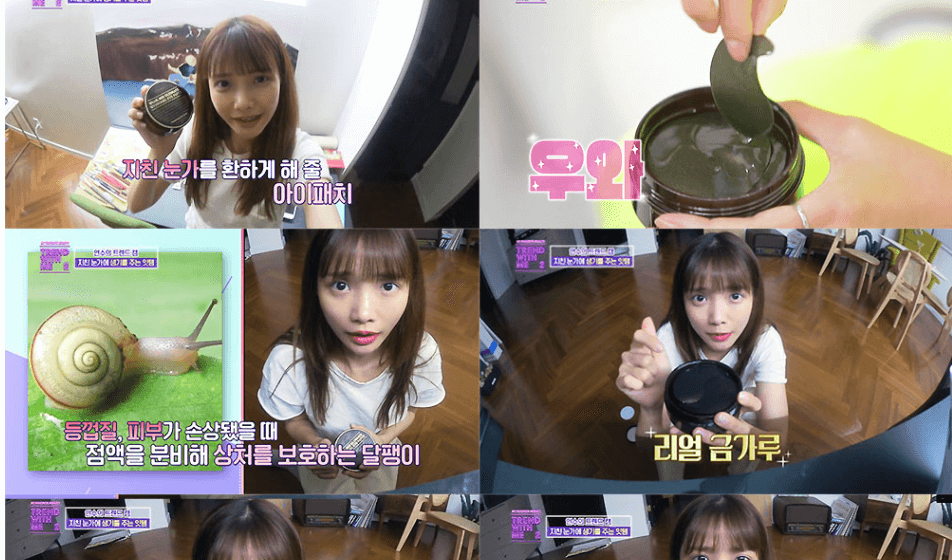 Recommended for
Who wants to get moisturizing and elasticity.

Who has dull and tired skin.

Who has sensitive skin by external environments.

Who wants to prevent skin damage.
Ingredients
The golden recipe from Benton's heart excluded 20 harmful and controversial ingredients, volatile alcohol, PEGs, silicones.
Water (Aqua), Glycerin, Dipropylene Glycol, Niacinamide, Carrageenan, Saccharomyces/Snail Secretion Filtrate Ferment Filtrate, Butylene Glycol, Charcoal Powder, Glucose, Potassium Chloride, Hydroxyethylcellulose, Diamond Powder, Propanediol, Sodium Hyaluronate, Pearl Powder, Citrus Unshiu Peel Extract, P-Anisic Acid, Beta-Glucan, Gold, Levulinic Acid, Melaleuca Alternifolia (Tea Tree) Leaf Water, Eucalyptus Globulus Leaf Extract, Althaea Rosea Flower Extract, Aloe Barbadensis Leaf Extract, Punica Granatum Fruit Extract, Porphyra Yezoensis Extract, Chlorella Vulgaris Extract, Laminaria Japonica Extract, Chamomilla Recutita (Matricaria) Flower Extract, Glycine Soja (Soybean) Phyto Placenta Extract, Camellia Sinensis Leaf Extract, Copper Tripeptide-1, Dextrin, Ceratonia Siliqua (Carob) Gum, Cyamopsis Tetragonoloba (Guar) Gum, Mica, Titanium Dioxide, Iron Oxides, Panthenol, Arginine, Bee Venom (Apitoxin), Ethylhexylglycerin, Adenosine, 1,2-Hexanediol, Aniba Rosaeodora (Rosewood) Wood Oil
For better results, we recommended to you the following skincare routine