BENTON Snail Bee Ultimate Serum 35ml
Our skin tends to be easily damaged due to daily makeup, dust, and external environment changes, so it easily loses elasticity and moisturizing which causes wrinkles, fine lines, freckles, dark spots, and blemishes. if your skin loses its vitality and elasticity, try applying wrinkle serum "Snail Bee Ultimate Serum" from today.
It contains yeast/snail secretion filtrate ferment filtrate to give your skin elasticity and nourishing.
Aloe Barbadensis provides your skin with soothing and makes your skin smooth. And ingredients such as NiacinamideAdenosine take care of dark spots and blemishes. it could be used even on irritated or sensitive skin without causing any irritation.
Make your skin healthy and lively by giving it elasticity and vitality with the best wrinkle serum, that makes your skin moist and clear.
Say goodbye to the bothering wrinkles and fine lines with Snail wrinkle serum
This multitasking serum is infused with seaweed that helps absorb, brighten your skin, and prevent wrinkles from recurring. It reduces wrinkles & fine lines and deeply moisturizes and nourishes your dull skin.
Multi serum containing premium ingredients that revitalize and firm your skin.
Snail Bee ultimate serum is your solution for a vibrant and bright skin
Main Features
The Best Golden Recipe for glowless skin: Multi serum containing premium ingredients that revitalize and firm your skin.
Awake original glow of your skin: whitening Wrinkle Care Function. Functional Cosmetics recognized by the Korea Food & DrugAdministration
Premium wrinkle care: Restores skin elasticity, Viscous transparent formation, Smooth application without stickiness
Slightly acidic pH balance: That protects to be a healthy skin with a pH balance similar to that of a healthy skin environment, protects sensitive skin that was stimulated by external factors to be healthy without irritation. It's Artificial fragrance & Artificial coloring FREE
Main Ingredients
Increase the natural strength of your delicate skin with snail bee ultimate serum effective ingredients.
Saccharomyces/Snail secretion filtrate ferment filtrate: Snail secretion filtrate, which is excellent for skin protection and elasticity, is fermented by yeast derived from grapes to increase the density and absorption of nourishment to help nourish the skin.
Melaleuca Alternifolia (Tea Tree) Leaf Water: It protects, soothes, and refreshes the skin. It helps care for problematic skin by calming stressed skin.
Aloe Barbadensis Leaf Juice Powder: Containing a powder that is freeze-dried at 200:1in rich moisturizing Aloe Barbadensis Leaf Juice, your skin feels smoother and more moisturized skin barrier.
NiacinamideAdenosine liquid: Niacinamide helps care for dark spots and blemishes. Adenosine helps manage wrinkles and elasticity
Tester's Satisfaction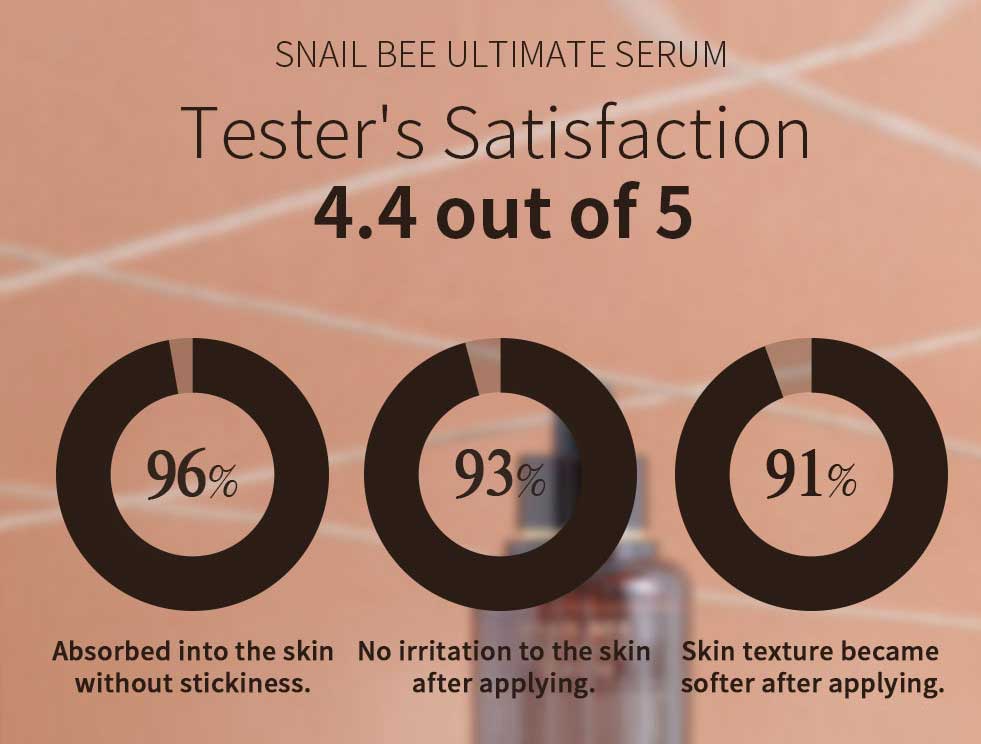 Dermatological Test
Testing Institute: KC Skin Research Center, Inc.
Tested Period: 18.06.13-18.06.15
Test Subjects: 30 female (age range from 19-59)
Test Result: Snail Bee Ultimate Serum Is non-irritating in primary skin irritation.
(There might be individual differences)
Moisturizing & Firming wrinkle serum!
Maximizes the skin to be prepared for the next step with a highly nourishing serum.
How to use
After cleansing, prepare your skin with skin toner.

Pump 2~3 drops of the serum, apply it all over your face

Lightly pat to fully absorbed into the skin.

TIP: Mix a drop of snail bee ultimate serum with your foundation or cushion! Then turns it to serum foundation which helps moist base makeup
Recommended for
Who wants to prevent skin damage

Who look for pigmentation skin due to freckle discoloration and marks.

Who wants to restore vitality and elasticity.




Who wants to use a smooth serum without a stickiness feeling.
Ingredients
A good product is known for its good ingredients, not from a brand or price.
The golden recipe from Benton's heart excluded 20 harmful and controversial ingredients, volatile alcohol, PEGs, silicones.
Saccharomyces/Snail Secretion Filtrate Ferment Filtrate, Melaleuca Alternifolia (Tea Tree) Leaf Water, Aqua (Water), Camellia Sinensis Leaf Water, Butylene Glycol,1,2-Hexanediol, Niacinamide, Glycerin, Pentylene Glycol, Aloe Barbadensis Leaf Juice Powder, Sodium Hyaluronate, Chamaecypar Is Obtusa Leaf Extract, Diospyros Kaki Leaf Extract, Ulmus Campestris (Elm) Bark Extract, Plantago Asiatica Extract, Laminaria Digitata Extract, Salix Alba (Willow) Bark Extract, Aloe Barbadensis Leaf Extract, Althaea Rosea Root Extract, Allantoin, Adenosine, Bee Venom, Beta-Glucan, Betaine, Panthenol, Citric Acid, Caprylyl Glycol, Xanthan Gum
For better results, we recommended to you the following skincare routine