BENTON Goodbye Redness Centella Mask Pack 5 Pcs
Skin redness is a serious skin trouble that you can't ignore
Benton presents to you a redness soothing mask pack to calm your skin and say goodbye to redness forever. It contains Centella extracts that are well known for cooling down troubled areas.
There are a few reasons that could cause skin redness; A red face can be caused by a variety of underlying diseases, disorders, and conditions. They include skin infections, skin conditions, such as rosacea, acne, and eczema; and allergic and inflammatory conditions, such as sunburn, vasculitis, and allergies to foods, insect bites, and face creams. 
Goodbye redness soothing mask is easy to use & firmly adheres to the skin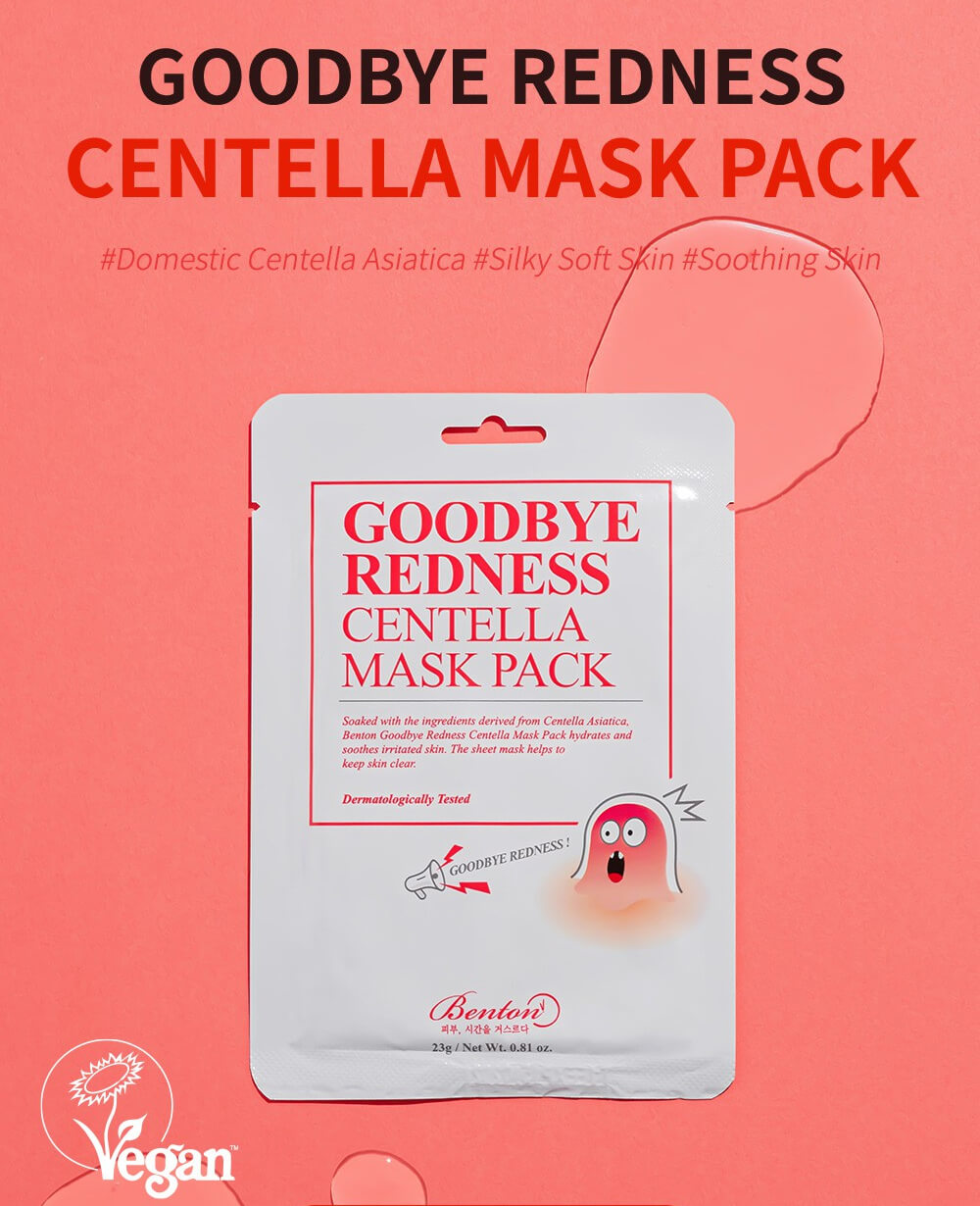 A facial mask with a soft and comfortable feeling stays on the skin securely while you move around
Main Features
Soothing Skin Redness: A mask pack containing Centella Asiatic ingredients excellent for soothing to give vitality to the skin.
Healthy Skin Solution: Full of moisture and nutrition for the skin's redness, it makes the skin smooth and clean.
Excellent Skincare with soft S-CELL sheet: An eco-friendly material sheet without irritation on the skin, it's well adhered to and provides moisture and nutrition.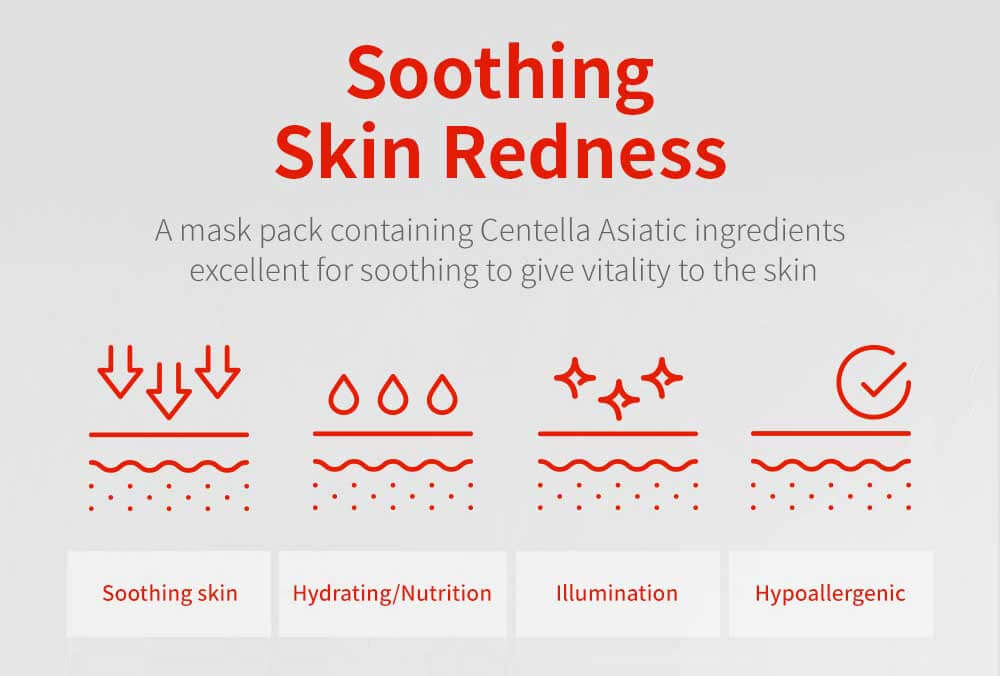 Main Ingredients
Say Goodbye to the painful redness with these soothing ingredients
Centella Asiatica Extract: it helps moisturize, nourish, and soothe the skin.
Hyaluronic acid: it attracts moisture and helps to keep your skin moist and vibrant.
Licorice root: it helps soothe and protect delicate skin and enables healthy skincare.
Goodbye redness soothing mask provides Instant soothing for sensitive and itchy skin while nourishing the skin to maintain moisture
Dermatological Test
Test Type: skin irritation

Testing Institute: KC Skin Research Center Co., Ltd

Tested Period: 2018.10.22 – 2018.10.24

Test Subjects 32 female (age range from 19-59)

Test Result: Goodbye redness Centella mask pack evaluated as non-irritating with skin

irritation index of 0.00 (There might be individual differences)
Wanna a Quick solution for tired skin? Try Goodbye Redness Soothing Mask
Then, you're in the right place, Goodbye Redness Centella mask pack focuses on calming, nourishing, and moisturizing the skin without irritation, it turns your tired skin into a vibrant and healthy one within just15 mins, it's well adhered to the skin and cools it right away so it's safe for your delicate or sensitive skin.
If you use sheet mask products such as Benton Aloe soothing mask pack, try the Goodbye redness Centella mask pack now!
pH& Formulation
Mask sheet full of essence. It's Artificial fragrance & artificial coloring free, also it maintains a weakly acidic pH environment similar to when the skin is healthy to help skin protection, it could be used even on irritated or sensitive skin
How to use
Know how to take care of your skin when it gives you the Red light!
After cleansing, use skin or toner to prepare the skin texture.

Open the pouch and attach the sheet to your face evenly

10-20 minutes, remove the mask sheet and Pat leftover essence gently into the skin
TIPS
If you keep the mask pack in the refrigerator before using it, you may have a refreshing feeling of the pore shrinking effect.

Before using the mask pack, to prevent the essence to be collected in the lower part, shake the pouch to distribute the solution evenly on the sheet.

Recommended to lightly steam face with a steam towel or cleanse with warm water to open pores and use a mask pack.

Do not exceed the predetermined time for the mask pack sheet before the sheet dries, when the sheet dries after using it for a long time, the sheet takes away moisture from the skin.

Recommended using the remaining essence in the pouch for legs, arms, and neck.

If you use the cream after using the mask pack, the oil-water protective coating of the cream helps to keep the moisture and nutrition supplied to the skin longer.
Ingredients
Sweet recipe with Benton's heart excluding 20 harmful and controversial ingredients, volatile alcohol, PEGs, silicones from the very beginning of the product planning
Centella Asiatica Leaf Water, Aqua (Waler), Glycerin, Pentylene Glycol, Buty Ene Glycol, Microcrystalline Cellulose, Centella Asiatica Extract, Sodium Gluconate, Sodium Hyaluronate, Propanediol, Dipotassium Glycyrrhizate, Asiatic Acid, Madecassic Acid, Asiaticoside, Madecassoside, Portulaca Oleracea Extract, Xanthan Gum, Cellulose Gum, Caprylic/Capric Triglyceride: De, Hydrogenated Phosphatidylcholine, 1,2-Hexanediol, Cetearyl Alcohol, Sucrose Stearate
For better results, we recommended to you the following skincare routine

.