SOME BY MI Snail Truecica Miracle Repair Serum 50 ml
Damaged skin recovery solution!
Some By Mi developed a snail serum using Black Snail secretion filtrate and Truecica, a complex developed independently to calm sensitive skin due to the external irritation by increasing the skin's natural strength and strengthening the skin barrier. So Snail Truecica serum helps repair your damaged skin and strengthen your skin and its barriers. It provides damaged skin with soothing, skin regeneration, moisturizing, and dead skin cells care. Moreover, it contains Whitening functional ingredients, including Niacinamide and other ingredients that help with clear and transparent skincare, help cleanly care for dull and uneven skin tones.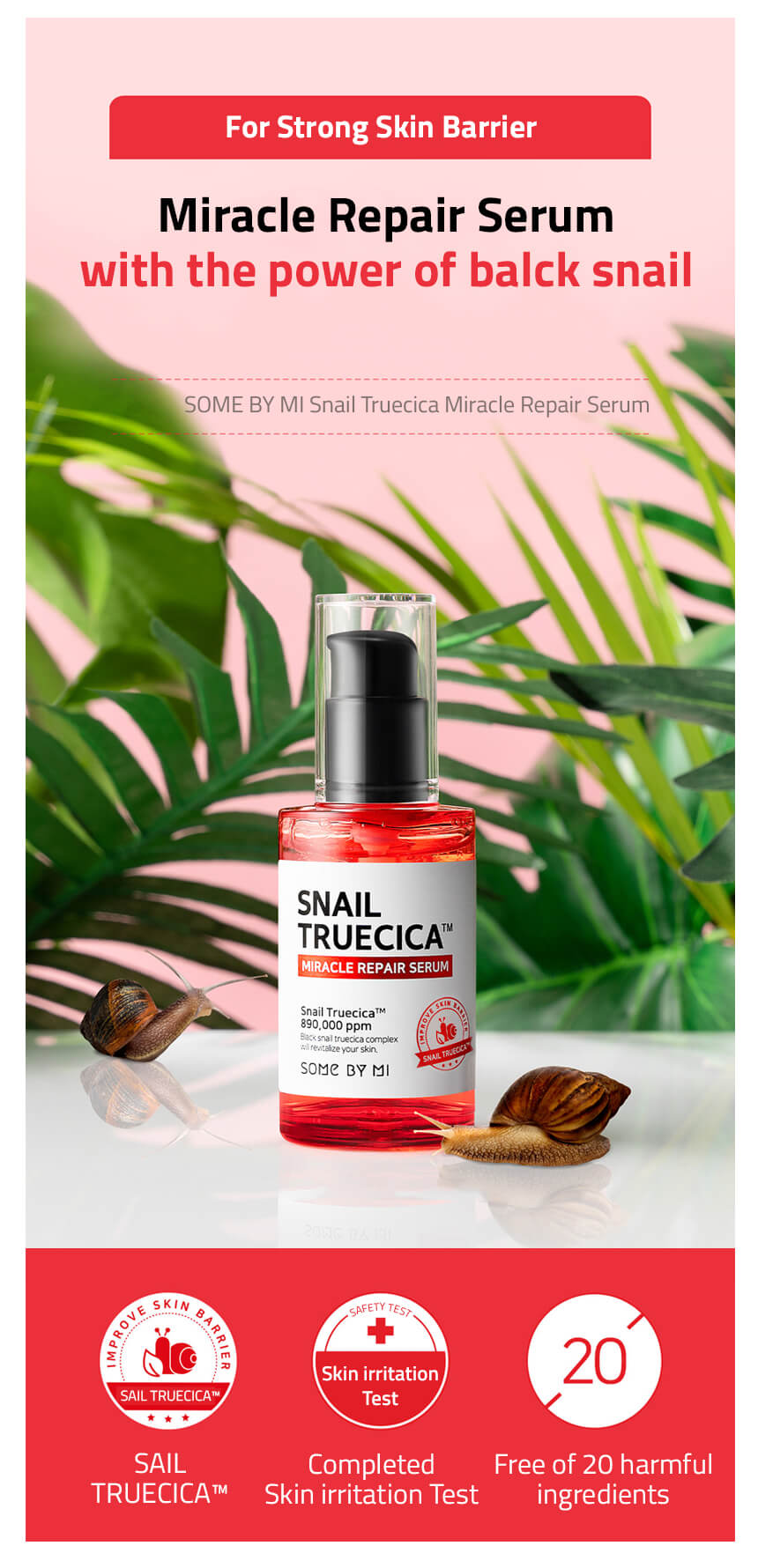 What is the black snail?
You might hear about snail serum before but the black snail serum is could be new. Black snail ( Musin), it's an ingredient that makes up snail mucus, minimizes loss of moisture in the skin, protects your skin barrier, and helps make your skin glossy and healthy. A dermatologist named Fernando Bascunan analyzed this carefully and found that mucin, the snail's slime which generates when the snail is hurt, can regenerate the snail's damaged skin cells and broken shell.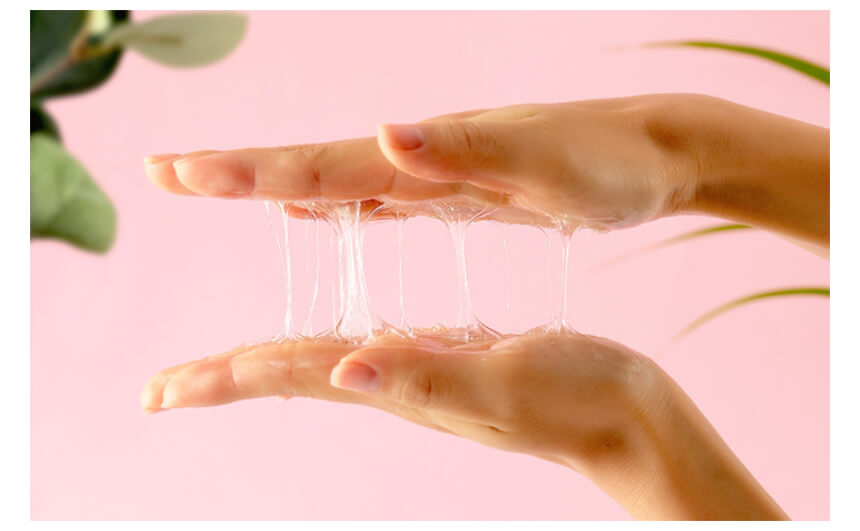 Main Features
Repairing The Damaged Skin: Black Snail Truecica ™ develops skin's regenerating power to quickly repair damaged skin, and turn it into strong skin. Erases the dark blemishes.
Calming Down The Skin: Truecica ingredient developed by Some By Mi contains 4 types of ingredients: Tea Tree Leaf Water, Centella Asiatica Extract, Centella Asiatica Leaf Extract, and Artemisia Princeps Leaf Extract that independently soothe the skin effectively.
Skin Barrier Care: Contains Black Snail Secretion Filtrate, and Collagen which build up a solid skin barrier, to prevent skin damages and repair the damaged skin in order to become healthy skin.
Containing Naturally-derived Ingredients: Contains moisturizing ingredients and BHA, Sages Extracts, and Allantoin.
A double functional cosmetic for Wrinkle Improvement and Whitening.
Super Light Texture: Unbelievably light on the skin, Non-sticky fresh, and light texture.
Snail Truecica™, a special ingredient for soothing sensitive skin and skin barrier care.
SOME BY MI's Snail Truecica Miracle Repair Serum contains 890,000ppm 'Snail Truecica™', which combines 880,00ppm of black snail ingredient and 10,000ppm of Truecica, an ingredient developed independently which is formulated with Some By Mi's exclusive ingredient to soothe the sensitive skin, to enhance skin's ability to protect itself, to heal damaged skin, to strengthen the natural power of the skin.
Try the skin barrier strengthen solution, Try Miracle Snail Serum!
Main Ingredients
Black Snail Secretion Filtrate: Contains 880,000ppm of Black snail which has a strong vitality, has an ability to survive for up to 6 months out of internal nutrients while hibernating.
Truecica™: Contains 10,000 ppm of Truecica that is a soothing ingredient made by Some By Mi with 4 types of ingredients: Tea Tree Leaf Water, Centella Asiatica Extract, Centella Asiatica Leaf Extract, and Artemisia Princeps Leaf Extract.
Sage Extracts: Herbalmedine works on soothing the sensitive skin and weak and provides the damaged skin with a powerful soothing effect.
BHA: Willow Bark Extract Natural BHA Ingredient,  melts dead skin cells to make sure Snail Truecica's active ingredient absorbs well into the skin.
Allantoin: Cell regeneration on scars without causing any irritation.
Niacinamide, and Adenosine: Both are functional ingredients Niacinamide improves skin tone while Adenosine improves wrinkles.
Free of 20 harmful ingredients, Use snail serum with confidence!
Even small irritation can turn into sensitive skin if repeated. SOME BY MI made a really good snail serum honestly, excluding skin worries as much as possible. This snail serum is completely safe for sensitive skin.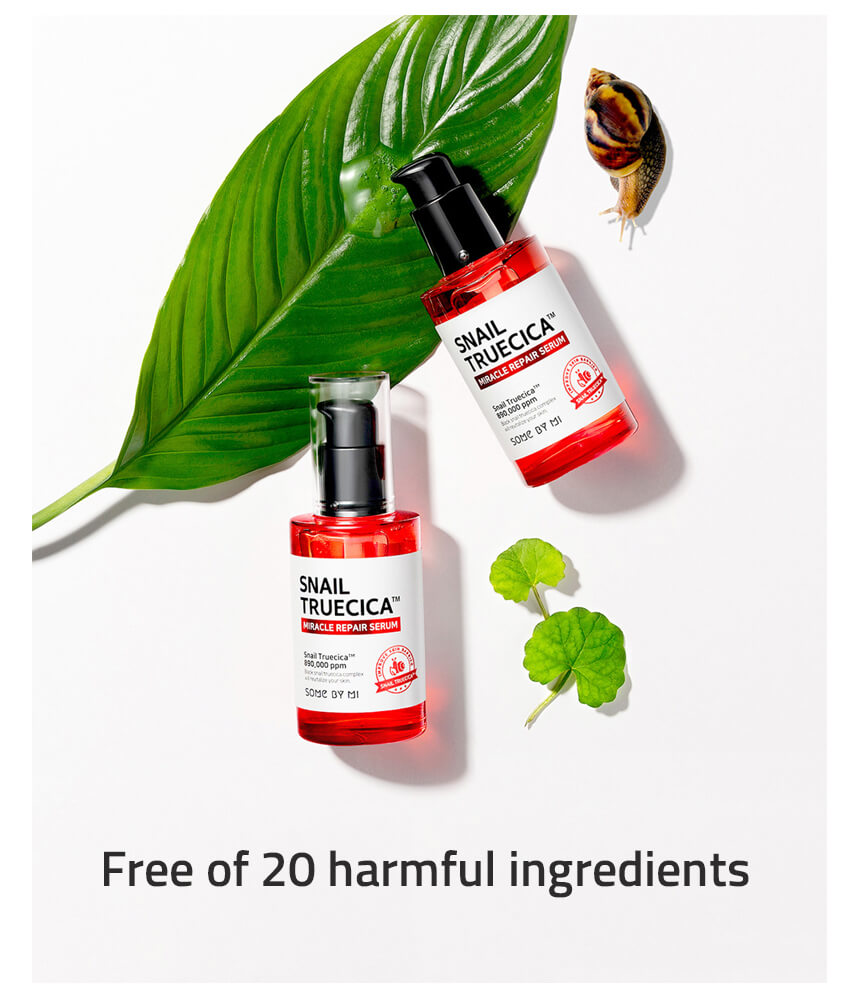 Skin Tests
Hypoallergenic Test
Test Institute: Korea Dermatology Research Institute.
Test Period: They checked it 3 times after 30 mins, 24 hours then 48 hours.
Test Subject: 33 women.
Test Result: Excerpts from the Korea Institute of Dermatology's Snail Trucica Miracle Repair Serum Clinical Trial that it's not an irritating serum with an irritation index of 0,34.
*The result may vary from person to person depending on environmental factors.
Test for stickiness
Formulation
It's a transparent formula full of moisture and nutrients, and when you apply it to the skin, it is light and non-sticky like water, so it can be used in any season.
How to use
After applying the toner, take an appropriate amount.
Spread it all over the face.
Tp lightly till the skin absorbs it.
Tip# Apply several times till you reach the needed level of moisture according to your skin type.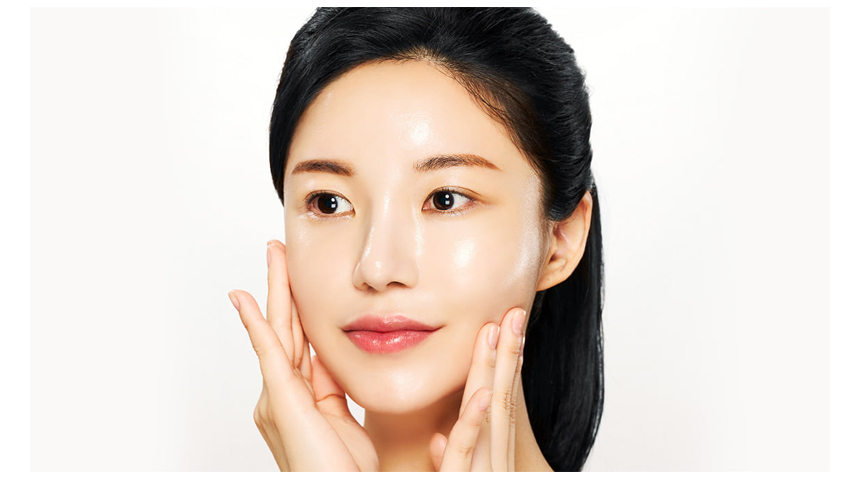 Recommended for
Who's skin is rough.
Who is concerned about enlarged pores.
Skin becomes sensitive easily due to stress.
Oily skin that suffered from lack of moisture.
Who's looking for a non-sticky and fresh serum.
Ingredients
Water, Butylene Glycol, Niacinamide, 1,2-Hexanediol, Snail Secretion Filtrate, C12-14 Pareth-12, C12-14 Pareth-7, Carbomer, Tromethamine, Dioscorea Japonica Root Extract, Trehalose, Ethylhexylglycerin, Beta-Glucan, Hydrolyzed Corn Starch, Citrus Aurantium Bergamia (Bergamot) Fruit Oil, Allantoin, Adenosine, Disodium EDTA, Sucrose, Melaleuca Alternifolia (Tea Tree) Leaf Extract, Glycyrrhiza Glabra (Licorice) Root Extract, Agrimonia Eupatoria Extract, Salvia Officinalis (Sage) Oil, Centella Asiatica Extract, Salvia Officinalis (Sage) Leaf Extract, Camellia Sinensis Leaf Extract, Chamaecyparis Obtusa Leaf Extract, Silybum Marianum Seed Extract, Perilla Frutescens Leaf Extract, Sodium Chondroitin Sulfate, Broussonetia Kazinoki Root Extract, Propolis Extract, Artemisia Capillaris Extract, Cimicifuga Dahurica Root Extract, Salix Alba (Willow) Bark Extract, Pentylene Glycol, Madecassoside, Oenothera Biennis (Evening Primrose) Flower Extract, Asiaticoside, Asiatic Acid, Madecassic Acid, Phenoxyethanol.