BENTON Tea Tree Mist 80ml
It's time for your tired skin to get deep relaxation.
Your skin is deserved to be treated better
Try Benton's Tea Tree Mist, which is manufactured with a concentration on soothing irritated skin. It takes charge of tired skin, restores skin oil-water balance, and provides it with vitality, elasticity, nutrition, and deeply moisturizing
Hypoallergenic Hydrating and Soothing
It maintains a weakly acidic pH environment similar to when the skin is healthy to help skin balance care and skin protection, it turns your tired skin into a healthy one.
Start Nourishing your dull skin with Benton Tea Tree Mist now!
Main Features
Tea Tree for Soothing: Containing 74% of domestic tea tree ingredients to provide moist cooling and soothing effects on tired skin.
Moisture Bomb for Dry Skin Care: Hyaluronic acid, a moisturizing factor, moisturizes the skin to provide elasticity, hydrating, and vitality to the skin.
Gentle even for sensitive skin: Harmful controversial ingredients OUT!, The comfortable mist containing nature-derived ingredients without irritation, even for sensitive skin.
With even mist spraying comfortably: Spray evenly over the entire face, Soft and light like mist to give moist rest to the skin
Moisturizing and soothing mist with fresh green ingredients for sensitive skin
Main Ingredients
Tea Tree: Tea tree leaves are excellent for soothing skin, soothe sensitive skin, and help manage various skin troubles.
Hyaluronic Acid: Hyaluronic acid moisturizes the skin by attracting moisture and provides elasticity and vitality to the skin.
Aloe Barbadensis Leaf Juice: Aloe is rich in polysaccharides, provides abundant moisture and nutrients to moisturize and soothe the skin.
Spraying evenly your entire face with Benton Tea Tree fine mist.
Dermatological Test
Test Institute: HUMAN Skin Research Center

Test Period: 2020.09.22 – 2020.09.24

Test Subjects: 33 female and male adults (age range from 19-59)

Test Result: Benton Tea Tree Mist was determined as a non-irritating product according to the criteria for skin irritation index of 0.38. 

(

Benton Tea Tree Mist is not only for dry skin but sensitive skin, normal skin, combination skin, oily skin too.)
How to use
Spray the mist on dry skin at a distance of about 20cm

Tap it for absorption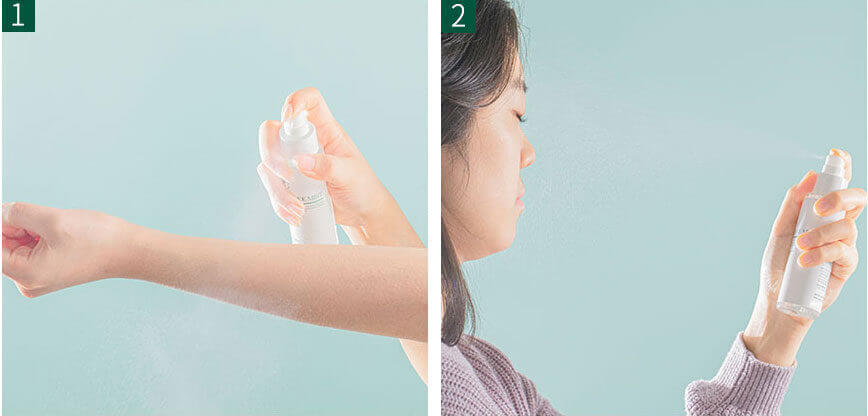 TIP#1: spray it on areas that need soothing (body, scalp, etc)
TIP#2: use the mist right after cleansing or showering. It keeps the skin moist until the next skincare.
Provide a moist rest to your tired skin all day!
Recommended for
Those who have dry skin and feel the skin tightening due to a lack of moisture deep inside the skin.

Those who want to provide moisture frequently to the skin.

Those who want a liquid-type product due to skin sebum.
Ingredients
A good product is known for its good ingredients, not from a brand or price.
MELALEUCA ALTERN IFOLIA (TEA TREE) LEAF WATER,BUTYLENE GLYCOL,1,2-HEXANEDIOL,PENTYLEN E GLYCOL,GLYCERIN, SODIUM HYALURONATE, MELALEUCA ALTERNIFOLIA (TEA TREE) EXTRACT, ALOE B ARBADENSIS LEAF JUICE, ALTHAEA ROSEA ROOT EXTRACT, ALOE BARBADENSIS LEAF EXTRACT, BETA­ GLUCAN, POLYGLUTAMIC ACID, ASPALATHUS LINEARIS LEAF EXTRACT, PORTULACA OLERACEA EXTRAC T, PSIDIUM GUAJAVA FRUIT EXTRACT, SCHISANDRA CHINENSIS FRUIT EXTRACT,PERILLA OCYMOIDES LEAF EXTRACT, ACORUS CALAMUS ROOT EXTRACT, CITRUS PARADISI (GRAPEFRUIT) FRUIT EXTRACT, CAP RYLYL GLYCOL