MISSHA SUPER AQUA ULTRA HYALRON MILD PEEL 250ml
Looking for a gentle skin peeler that doesn't hurt your sensitive skin? MISSHA presents to you the new Super Aqua Mild peel that will not only mildly peel your skin but will also keep your skin hydrated and moisturized as it contains a special technology of 10 various sizes of hyaluronic acid molecules that gets absorbed by your skin deeply.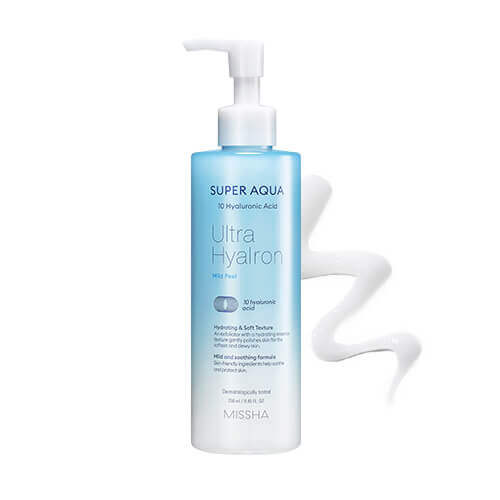 What is Hyaluronic acid?
Hyaluronic acid is a sugar molecule that occurs naturally in the skin, it helps to bind water to collagen, trapping it in the skin, so that skin can appear plumper, dewier, and more hydrated.The HA within our bodies holds a thousand times its weight in water to not only retain all that moisture in our skin and joints, but also prevent all that moisture from evaporating into the air.
The various sizes of 10 hyaluronic acid molecules in the Super Aqua Mild Peel goes thoroughly in your skin ensuring that every layer of skin gets its own moisture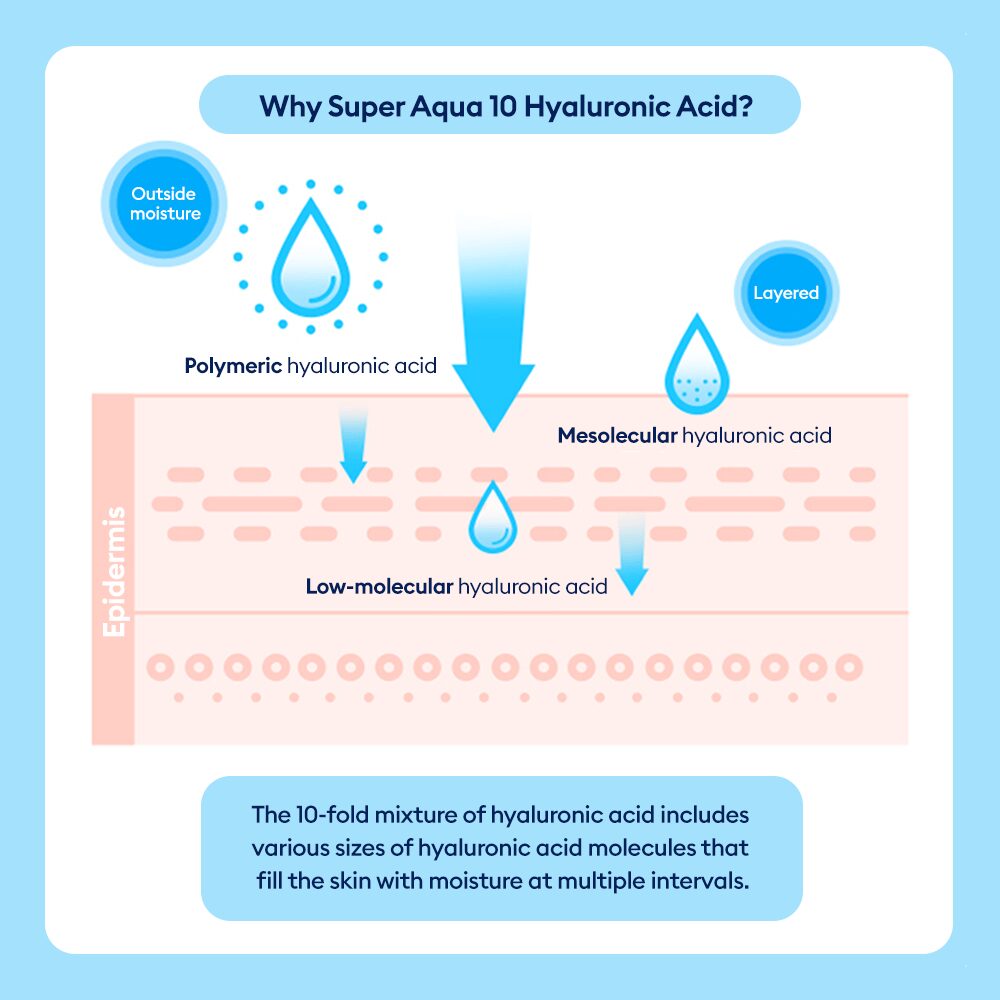 Main Features:
Super Aqua Mild Peel for mild cleansing & peeling like the water we drink every day.

A daily peeling product that can also be used on sensitive skin.

A mild peeling product that exfoliates and controls skin oil and sebum production by hydrating the skin with 10 types of hyaluronic acids.

Low irritation peeling foam: completed skin irritation test.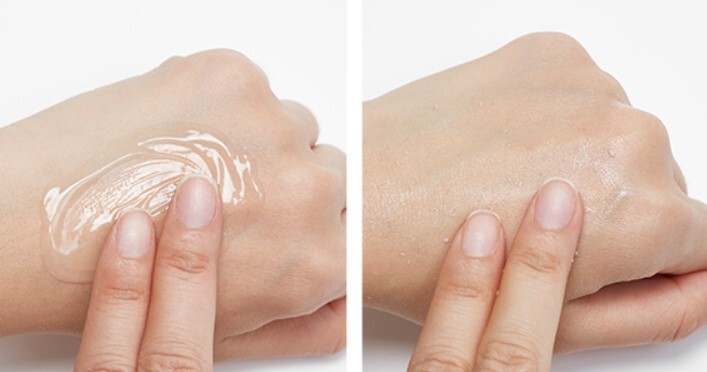 Main Ingredients
10 types of hyaluronic acids: Hydrates your skin and keeps the skin hydrated.
Aqua ceramide: Helps to moisturize the skin.
Completed skin irritation test:
Test institution: Ino derm dermatology center.
Test period: 2019/09/24~2019/09/27
Test results: positive with no signs of skin irritation.
Recommended for:
Those who are looking for a mild peeler.
Those who suffer from dead skin cells.
Those with sensitive skin.
How to Use:
Apply an adequate amount of Super Aqua Mild Peel on the dry face after washing it with water, apply on the entire face while avoiding lips and eyes.
Massage gently until impurities and dead skin cells are removed.
Rinse with lukewarm water.
Formulation:
A liquid which changes into soft mild form when applied.
Ingredients:
Water, Propanediol, Propylene Glycol, Quaternium-60, Carbomer, Dipropylene Glycol, 1,2-Hexanediol, Lavandula Angustifolia (Lavender) Oil, Citrus Aurantium Dulcis (Orange) Peel Oil, Glycerin, Disodium EDTA, Pinus Sylvestris Leaf Oil, Glycine Soja (Soybean) Seed Extract, Pentylene Glycol, Sodium Hyaluronate, Butylene Glycol, Octanediol, Ethylhexylglycerin, Caprylyl Glycol, Caprylic/Capric Triglyceride, Maltodextrin, Benzyl Glycol, Hydrolyzed Glycosaminoglycans, Hydrogenated Lecithin, Disodium EDTA, Hydroxypropyltrimonium Hyaluronate, Sodium Hyaluronate Crosspolymer, Ceramide NP, Hydrolyzed Hyaluronic Acid, Sodium Acetylated Hyaluronate, Aspergillus Ferment, Triticum Aestivum (Wheat) Seed Extract, Hyaluronic Acid, Hydrolyzed Sodium Hyaluronate, Sodium Stearoyl Glutamate, Lipase, Protease, Potassium Hyaluronate