DR. JART CTRL-A TEATREEMENT SOOTHING SPOT TREATMENT  
This soothing spot treatment is the Best Soothing Spot manufactured with the 'Teatreament' ingredient, which is a key solution of Dr. Jart's Control-A line.
An intensive treatment for spots with this powerful solution containing sulfur and the Teatreement Complex for instant soothing, as well as pink calamine powder for controlling excessive sebum. 
What is Teatreement?
Teatreament means to care for the skin with a Teatree. This is Dr. Jart's Spot Care Teatree solution, which is created by optimizing the following three ingredients ratio for each product in the Control-A line.
Tea Tree Oil and Tea Tree Extract: Ingredients with an excellent calming effect on skin problems.

4-Terpineol: Highly concentrated ingredients by extracting only antibacterial ingredients from tea tree leaves.
Smart TT solution detects spots and provides skincare!
SpoT-Targeting Solution with Unique Technology that Reacts to Alkaline Spots

Minimum Irritation and Maximum Effects Teatree + Treatment
Where does the Tea Tree come from?
Pristin Australian tea tree was used as a skin solution by Aboriginal people for centuries and it has proven benefits.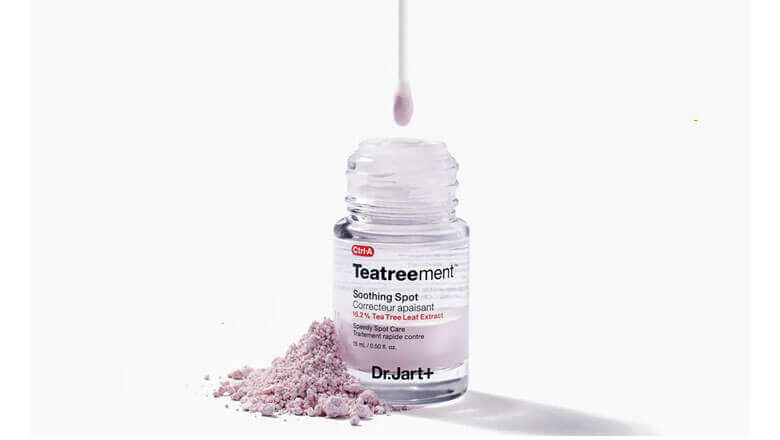 Main Features:
The best soothing spot that can be used safely on acne skin.

Rich in tea tree ingredients

:

The Teatreement complex, which is rich in ingredients such as Tea tree extract, Tea tree oil, and 4-Terpineol, helps calm the skin strongly and quickly.

Intensive spot care:

Pink calamine powder and tea tree synergy absorb excess sebum, quickly giving intensive care to problematic spots.

Contains 16.1% of Tea Tree Leaf Extract: Its high content of tree leaf extract helps quick hydration and diminishing pores.
Main Ingredients:
Tea tree leaf extract 162,287ppm: quickly hydrates and diminishes pores.

Tea tree leaf oil 1,000 ppm: protects sensitive skin and controls sebum for problematic skincare.

 Terpineol 0,5ppm: Intensively soothes with a small amount as an extract of the primary components of a tea tree leaf.

Calamine 99,000ppm, Zinc 50,000ppm,  Sulfur 20,000ppm: Quickly intensive care for troubled areas.
CTRL-A TEATREEMENT SOOTHING SPOT TREATMENT 
Spot treatment solution that contains soothing treatments, calamine, and sulfur to soothe skin troubles
How to use:
Do not shake the content, use a swab to dab pink powder on the bottom and apply on troubled areas.

TIP: If you use it without shaking the container, you can get the synergy effect of spot care.
Recommended for :
Adolescent troubled skin.

Skin with spots due to irregular life.

Skin that gets sensitive once a month.
Ingredients:
Anthemis Nobilis Flower Extract, Camellia Sinesis Leaf Extract, Glycyrrhiza Glabra (Licorice) Rhizome/Root, Hamamelis Virginiana (Witch Hazel) Extract, Sodium Citrate, Cinnamomum Zelanicum Bark Extract, Pinus Pinaster Bark Extract, Melaleuca Alternifolia (Tea Tree) Leaf Oil, Ethylhexylglycerin, Citric Acid, Disodium EDTA, Hydrogenated Lecithin, Capryloyl Glycine, Hexylene Glycol, Octylododeceth-16, Allantoin, Sarcosine, Ceramide NP, Camphor, Carthamus Tinctorius (Sunflower) Seed Oil, 1,2-Hexanediol, Silica, Glycine Soja (Soybean) Sterols, Linoleic Acid, Phospholipids, 4-Terpineol, Methyl Methacrylate Crosspolymer, and Salicylic Acid.