VANAV UP6 Galvanic Ion Massager With 6 Functions
The best galvanic facial massager for you,
Get the beauty salon care in your home with all beauty treatments in one device!
VANAV presents to you UP6 is the best galvanic facial massager. The device carries the current of micro-galvanic ions with 3D vibration technology in the inner part of the skin, pushing the nutrients of cosmetics to deep penetration to promote the full efficiency of cosmetics and Nourishing cells deep from the inside, helping the skin become smoother, brighter and helps to effectively tone the facial muscles.
The multifunctional UP6 gives you an easy professional skincare solution right at home. It can be used for all types of cosmetics for skincare with an act of restoration of water balance, moisturizing, bleaching, anti-aging, muscle lifting, vitamin C administration. Try to avoid cosmetics that contain alcohol for protecting the device's efficiency.
The improved machine uses a USB charging cable and has a lighter weight than its previous version VANAV UP5.
UP6 is a device that attracted the attention of viewers around the world as the scene used by the heroine Son Ye-jin was broadcast in "Crash Landing On You, also known as CLOY", the K-drama of Korea.
Do you want to get the same skincare effects as getting treated at home at a skin clinic? Here's the best galvanic facial massager for you
Main Features
The product that achieved the No. 1 sales of beauty devices in Korea.
6 functions(Clean Up, Eye Zone, Moisture, Lifting, Mask, VitaminC) integrated into one device.
The patented technology for vertical vibration, not left and right vibration, was applied.
For safe use on sensitive skin, UP6 is made of a titanium head.
Automatic temperature control is installed to prevent overheating.
Is equipped with 3D sonic vibrations massage, patented by 3 countries.
Applied with slide touch technology to make it easier for you to choose six modes.
6 Modes
Using six Galvanic modes, it's able to care not only for deep cleansing but also moisture, nutrition, wrinkles, acne, elasticity, eye care, and whitening.
Cleans Up mode: Helps clean the skin deep inside the pores and removes the impurities after washing your face
Eye Zone mode: improves dark circles and reduces the wrinkles of the eyes with eye care products.
Moisture mode: provides hydration, nourishing the skin, it helps the effective components of the skin to penetrate deep into the skin's epidermis to nourish the skin with moisturizers, bleaching of the skin.
Lifting mode: Helps to tone muscles, relax muscles, improve skin elasticity, bring smooth skin and lifting with anti-aging products
Mask mode: Helps to absorb the active ingredients contained in the essence of the mask sheet into your skin well.
Vitamin C mode: Helps ionize vitamin C and helps penetrate products containing deep vitamin C inside the skin, helping the skin to stretch and shine bright pink.
From now on, instead of buying another cosmetic product, try the best galvanic facial massager UP6. You'll definitely feel your skin completely different.
How it works
In cleansing mode the light becomes blue, this is an antibacterial light. Use this mode with toner or with pad cleansing soaked.
In eye zone mode the light becomes radiating between red and blue, use it after putting your eye cream and gently massage it.
Facial mode is preferably be used with serum, cream, or lotion. It boosts skin absorption for best results. Recommended for 3 mins, the light becomes red and blue; blue for anti-acne, and red light for anti-aging.
In the skin lifting mode infrared lights and depending on Ultrasound technology. This mode is perfect for reducing wrinkles and agingsun spots. Use it with anti-aging or night cream.
Vitamin c mode works on absorbing and ionizing vitamin c, it's also working on fading acne scars and brightening the skin, recommended for 7 mins.
UP6's 5 LED Colours Therapy
Red: Eye zone & Lifting Mode (625~700nm)

Yellow: Moisture & Lifting & Eye Zone mode (565~590nm)

Green: Clean Up & Moisture & Mask mode (520~565nm)

Purple: Vitamin C mode ( 400~420nm)

Blue: Moisture & Mask & Vitamin C mode ( 440~500nm)
For the sixth consecutive year, Vanav has won the "Customer-Trustworthy Brand" Grand Prize in the Beauty Device category.
It is the best galvanic facial massager for you.
How to use
To turn it on, press the power button.
Select the vibration level from the vibration level bottom. The vibration intensity changes according to the number of the vibration level button, when power is on level 1 (low), 1 time = level 2 ( medium), 2 times = level 3 ( strong), if you want no vibration press 3 times.
Slide touchpad for mode selection. Choose the wanted mode according to the number of sliding touches. If you press 1 time = cleansing, 2 times = Eye zone, 3 times = moisture, 4 times = elasticity , 5 times = mask mode, 6 times = vitamin c products.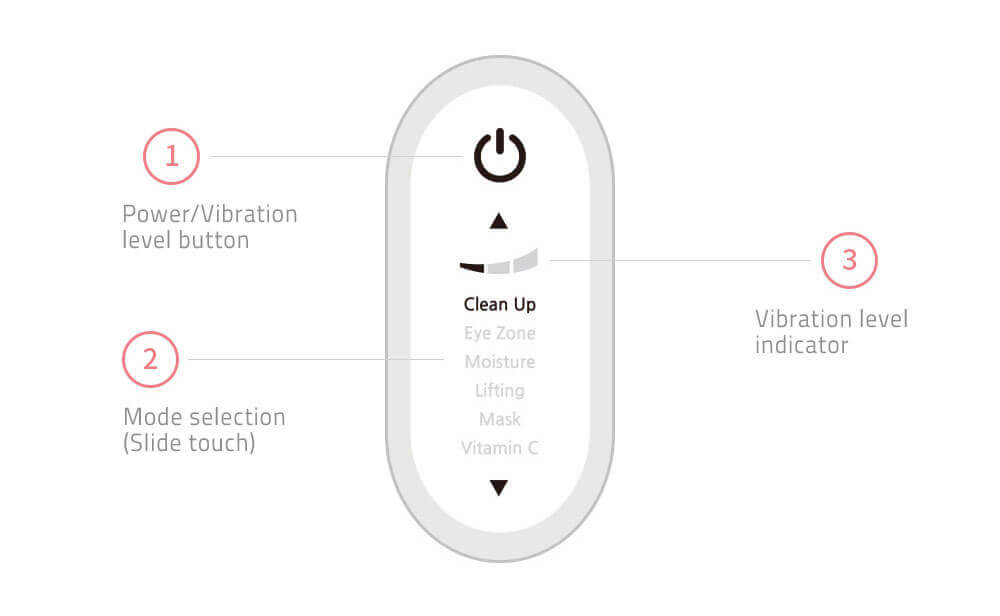 VANAV UP6 represents the technological evolution of the previous version, VANAV UP5.
Device Specification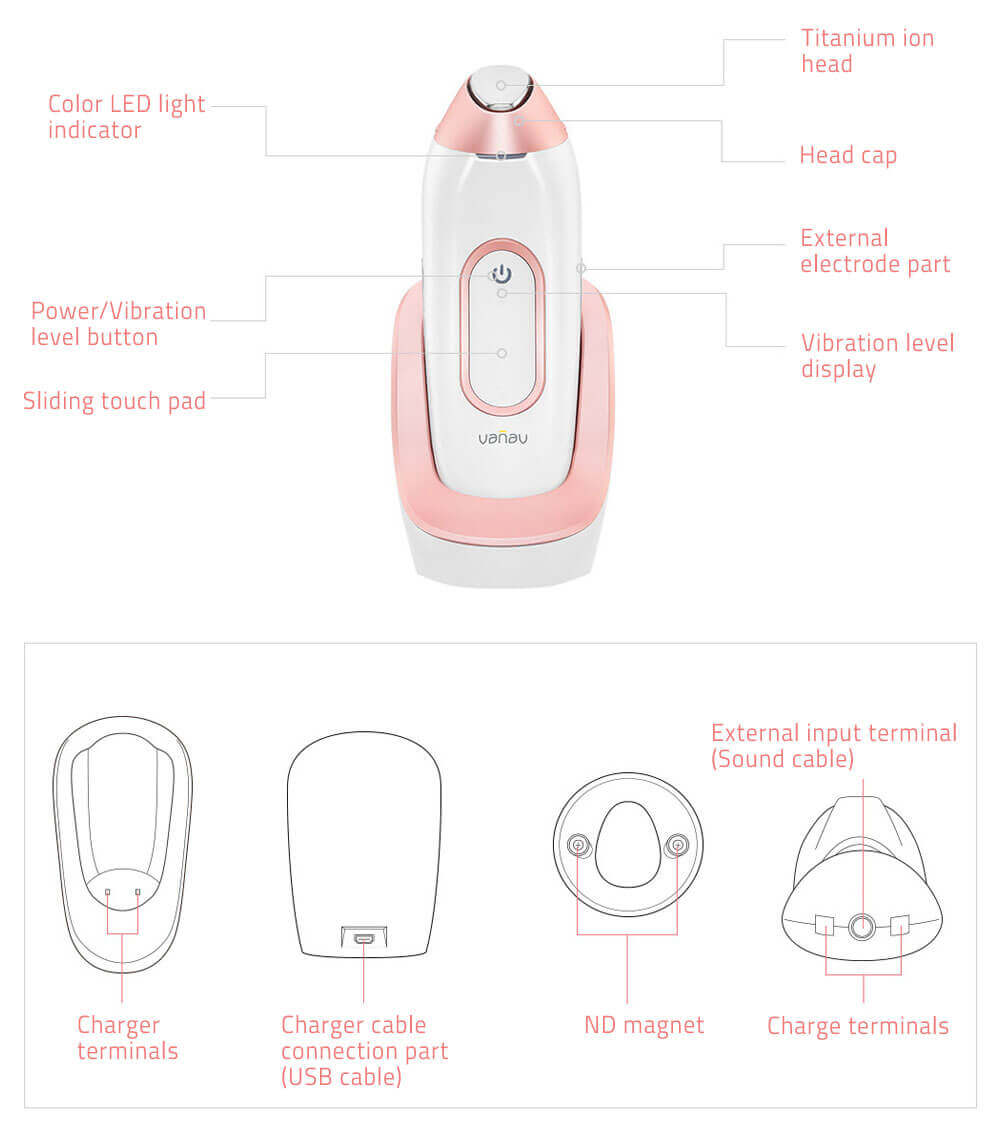 Press and hold the Power/Vibration level button to turn the power on or power off.
To operate this device, the massage head must touch your skin after holding the external electrode part on both sides of this device by and.
This product is a rechargeable product, so we provide a dedicated rechargeable cable.
If you connect to a smartphone or MP3 player with the sound cable, you can enjoy 3D vibration massage of various waves depending on the playback music.