MTS 600 Micro Needle Therapy System, Multifunctional Derma Roller
Are you worried about decreased skin elasticity or widened pores and pigmentation such as freckles and acne marks?
Then try MTS, the best derma roller that gives you the same skin clinic's results at home now by yourself.
What is MTS (Micro Needle Therapy System)?
MTS uses a microscopic instrument to create tiny holes in the skin to stimulate fibroblasts, activating collagen and elastin, and effectively penetrating the skin with high molecular weight drugs or hard-to-polar drugs.
It is a treatment that is expected to create a pathway and regenerate the skin.
If you use a thick needle, the wound can become large and irregular, causing pigmentation such as hyperpigmentation and low pigmentation. Using quality MTS is very important for your skin health.
Why MTS is considered the best derma roller?
MTS 600 is made with 13 patent technologies and exported to advanced countries such as the United States, Europe, and Japan. A cosmetic ingredient absorption induction machine used in dermatological clinics
MTS 600 is the best home skincare MTS recognized by the world.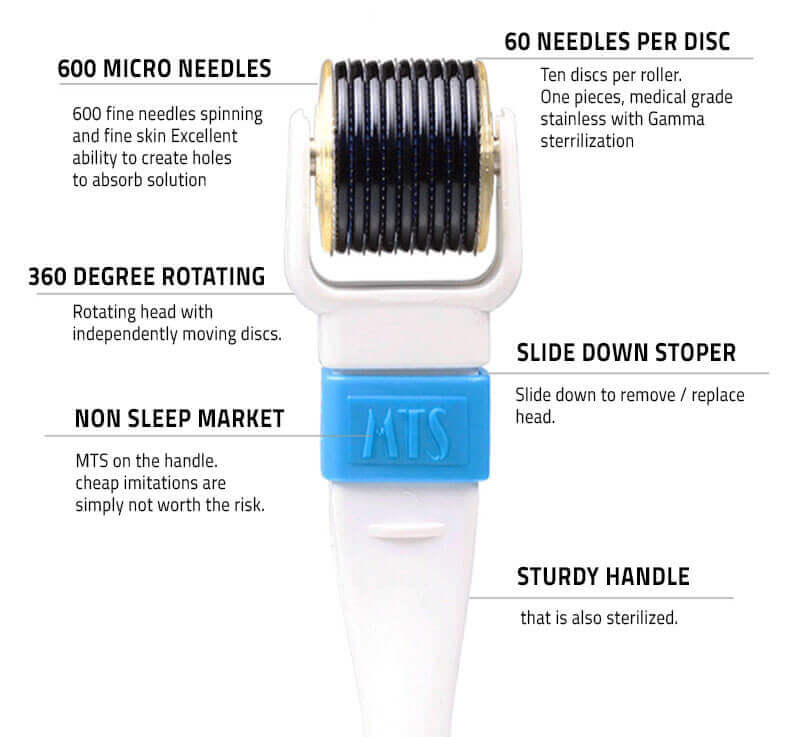 Main Features
A derma roller with 13 patented technologies.
Equipped with a triangular-shaped needle that minimizes pain.
Has 600 needles so that the active ingredients of cosmetics can be absorbed into the skin more effectively.
Can minimize the scratches on the skin during the treatment process.
Rotate Disk Needle Individually.
Roller Head 360 Degree Rotation.
Produced in Korea and processed with gamma sterilization for safe use
Manufactured using a safe material certified by SGS..(Not detected cadmium, lead, mercury, hexachromium, arsenic, barium, antimony, selenium, etc.)
Main patent technology applied only to MTS 600 Roller
The needle shape of the triangular structure minimizes pain
Disc type needle plates rotate individually
360 the roller head is rotatable
cony 600 needles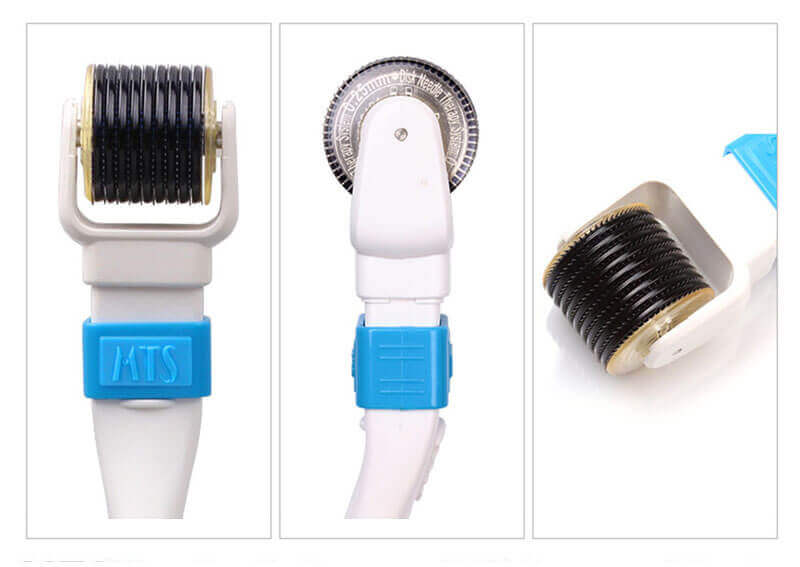 Needles comparison of MTS 600 with needles of general similar derma rollers
MTS 600 is considered the best derma roller recently!
We can see that the needle tip of the MTS600 drills smaller holes than general derma rollers.
Individual rotation of disc needle prevents skin scratches
Ten disc needles rotate freely and there is no pain during use
If the disk needle rotates in the same pattern without rotating individually, In curved areas of the skin, some of the needles may not rotate. This may cause scratches on the area concerned.
The MTS600, like the image, has individual disk needle rotation. It can also be used on curved areas of the skin without scratches.
MTS is the best derma roller, it can 360 Turn on Pivot, Start rolling now!
Needle Comparison of MTS 600 VS other derma rollers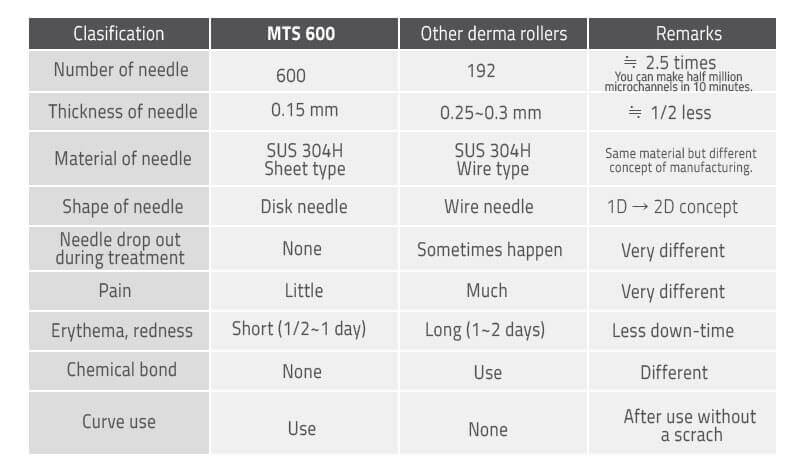 How to use
Wash your face clean and clean your skin with toner.
Hold the body, place the roller on the treatment area, and roll twice in each direction.
Roll with MTS600 in order of eyes, under eyes, cheeks, nose, chin, forehead.
After rolling, apply soothing gel or cream to soothe the skin or attach a skin-soothing mask sheet.
TIPS
Avoid areas around the eyes and mouth as well as thin skin.
When rolling, the same area does not pass more than twice.
Skin treatment should last from 5 to 10 minutes,2 times a week.
The total rolling time is less than 10 minutes.
Do not use it more than once a week.
Do not apply excessive pressure on your skin.
When treating curved areas such as your cheek and thin, push up the DNC logo to rotate the head. Rotating the head by 360° makes treatment more convenient and easier.
Precautions
After using MTS600, your face may get a little swollen and prickly for about a day.
The red face disappears within 24 hours.
If you feel like pulling on the area where you used it, you should apply moisturizer from time to time.
Exfoliation may occur, but it should not be removed or scratched artificially.
Avoid ultraviolet rays and make sure to wear sunscreen when you go out.
Do not use saunas and avoid excessive exercise.
Do not use cosmetics that are not proven to be stable or effective.
Disinfection Method
1. Fill the head case of the MTS600 with 7 to 8 ml of ethanol.
2. Immerse the header part of the MTS600 in ethanol of 1 and shake it 20 to 30 seconds later to evaporate ethanol.
3. Store it in a zipper bag so that dust or foreign substances do not get on it.