BENTON Mineral Sun Stick SPF50+/PA++++ 15g
If you're looking for a sunscreen that reflects UV rays physically rather than a chemical sunscreen because of your sensitive skin, try Benton Mineral Sun Stick. Its UV mineral filter reflects UV rays' soft and smooth finish on delicate skin without worrying about any irritation!
Mineral sunscreens and chemical sunscreens differ greatly from the following.
Mineral Sun Stick, non-nano Sunscreen that greatly reduces skin irritation by not reducing UV protection ingredients to nano-size.
Main Features
100% Mineral Sun Care: Safe sun care without worries of UV rays, gentle Mineral Sunscreen available for the whole family to use.
NO White Cast, Refreshing Sun Stick: Significantly less white cast, non-sticky fresh texture.
Powerful UVA Protection Effect: It blocks UVA with PA+++, which is significantly higher than the UVA blocking level of a typical mineral-type sunscreen.
UVB Protection Lasts More Than 12 Hours: UVB stronger in spring and summer, causing sunburn and erythema. Safe to use for outdoor activities for a long time with SPF 50+.
Main Ingredients
Mild recipe for healthy skin with healthy ingredients
Mineral Sunscreen [Titanium Dioxide] Skin Protection, UV Protection Contains mineral sunscreen ingredients that reflect and block UV rays, protecting sensitive skin from UV rays.
3-Hyaluronic Acids (Moisturizing, Skin Balance, Elasticity) 3 different types of hyaluronic acids with different molecular sizes pull moisture into the skin step by step to help moisture supply.
Tocopherol (Skin Protection, Nutrition Supply, Skin Balance) Tocopherol, called vitamin E, contained in sunflower seeds.etc., helps skin protection, skin balance control, and nutrition supply.
Mineral Sun Stick, Mild on the skin, Strong against UV rays!
Customers' Satisfaction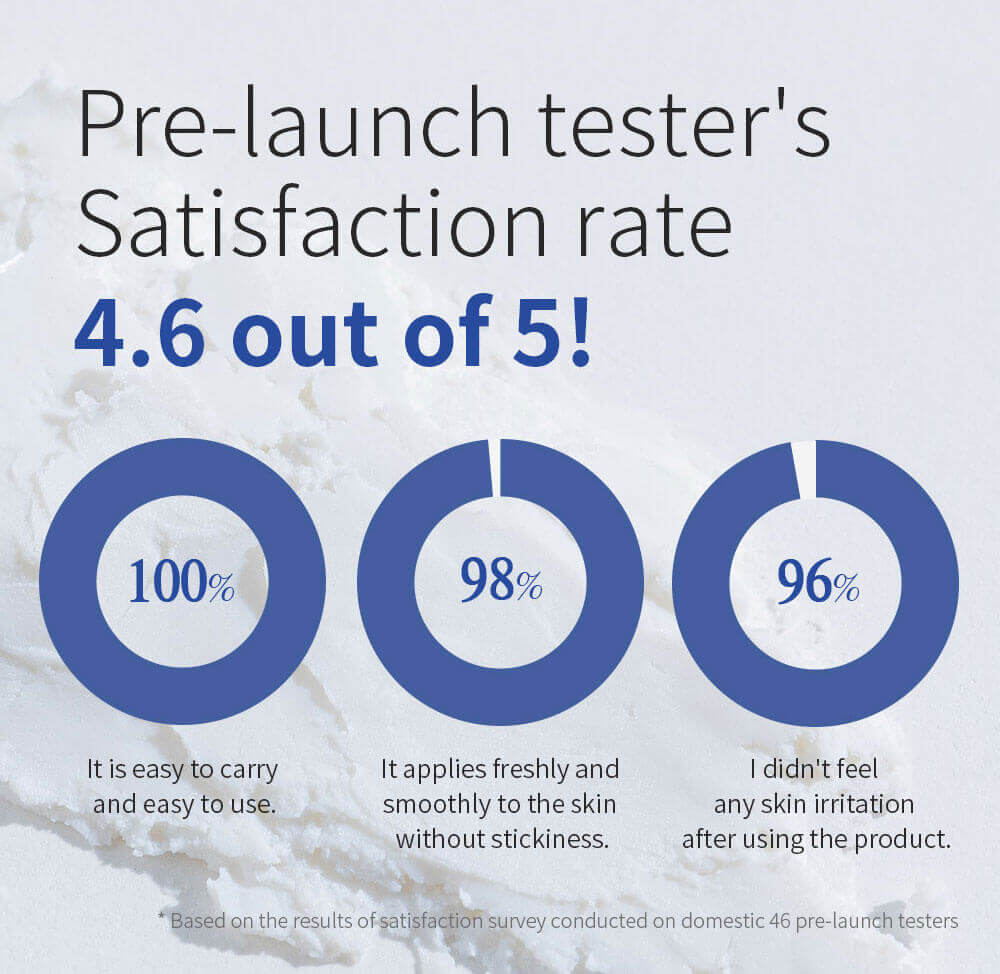 If you've been using products like la Roche Posay sunblock, we recommend that you start using  Benton Mineral Sunstick from now on. Then you'll get a feeling of satisfaction you've never felt before.
Easy to apply, easy to hold!
A small daily sun stick that is easy to hold around, fits right in your bag or pouch. It is also easy to apply without getting on your hands. This UV mineral filter sunscreen stick reflects UV rays by giving your skin a smooth and soft look.
Skin Tests
Protect your skin for 12 hours, The highest SPF in Korea!
1. Irritation Test
Testing Institute: OTAC Skin Research Center
Tested Period: 20.06.3-20.06.5
Test Subjects: 34 adults (age range from 20-60)
Test Result: Benton Mineral Sun Stick is evaluated as low-irritating, Irritation Index 0.04
2. Infant Use Test
Testing Institute: COSME*******
Tested Period: 21.01.18-21.02.1
Test Subjects: 20 Healthy boys and girls who are (3 months-36 months)
Test Result: Benton Mineral Sun Stick is showed greatly fine skin compatibility
3. Application Test
Compared to other products Benton mineral sun stick leaves no white cast.
4. Stickiness Test
Compared to normal sun care products, Benton sun stick has a light and refreshing finish
5. Oiliness Test
Not greasy even after applying it. So who dislike oiliness can use it moist & lightly
6. Persistence Test
Water-proof and long-lasting forms a protective film that lasts a UV Protection. it's totally safe and can be used by infants.
How to use
At the final step of basic skincare, put an appropriate amount of Benton Mineral Sun Stick on the area exposed to UV rays and apply gently.
2. Tip1# There may be a temporary white cast due to a unique characteristic of mineral ingredients, please tap lightly for absorption. After a certain period of time, it returns to its original skin color.
3. Tip2# Since it is a solid type, please use it little by little rather than putting it a lot on the snow from the beginning
Mineral Sun Stick, the best sunscreen for you with sensitive skin.
Recommended for
Who wants to use mineral sunscreen.
Who dislikes applying sunscreen every 2 hours.
Who's looking for sunscreen without stickiness & white casts after applying.
Who wants a light and refreshing texture.
Who wants a carry-in-flight sunscreen product.
Ingredients
A good product is known for its good ingredients, not from a brand or price.
Excluding 20 harmful and controversial ingredients, volatile alcohol, PEGs, silicones
Coco-caprylate/caprate, sunflower seed wax, propylene glycol caprylate, H-did trimethylol hexyllactone cross polymer, C12-15 alkyl benzoate, titanium dioxide, dicaprylyl, carbonate, Synthetic, fluorphlogopite, vinyl dimethicone, microcrystalline wax, aluminum stearate, polyhydroxy stearic acid, purslane extract, Centella extract, sodium hyaluronate, hydrolyzed hyaluronic acid, sodium Acetylated hyaluronate, caprylic/capric triglyceride, polyglyceryl-4diisostearate/ polyhydroxystearate/sebacate,  silica, alumina, pentylene glycol, allantoin, panthenol, Glycerin, MadecaicAcid, Asiaticoside, Asiatic Acid, Xylyl Glucoside, Anhydroxylitol, Xylitol, Glucose, GlycerylCaprylate, Triethoxycaprylylsilane, Stearic  Acid, Tocopherol, Purified Water, 1,2-hexanediol, Ethylhexyl glycerin.