BENTON Mineral Sun Cream SPF50+/PA++++ 50ml
If you're looking for a mineral sunscreen that reflects UV rays physically rather than a chemical sunscreen because of your sensitive skin, try Benton Mineral Sun cream.
Its UV mineral filter reflects UV rays, it gives a soft and smooth finish on delicate skin without worrying about any irritation! Moisten your dry skin while protecting it with Benton Sunscreen with mineral features
Mineral sunscreens and chemical sunscreens differ greatly from the following.

NON-NANO TECHNOLOGY
NON-NANO sunscreen reduces skin irritation concerns. This UV mineral filter sunscreen reflects UV rays by giving your skin a smooth and soft look.
From now on, Start Protecting your sensitive skin from harmful UV rays

Main Features
Only One Touch, strengthen your skin barriers & Form a Skin Protective Film!
100% Non-Nano Mineral Sunscreen: Does not irritate eyes or absorb within your skin. Reduces irritation using sun-reflecting ingredients.
powerful UVA Protection Effect: blocks UVA with PA++, which is significantly higher than the UVA blocking level of a typical mineral-type sunscreen.
Moist and Soft Mineral Sunscreen: Cream-type Sunscreen that is lightly applied with moisture and softness by improving the unique greasy, dry texture.
Triple Functional Sunscreen: Not only powerful UV protection effects! but, triple sun care with brightening/wrinkle care functional products.
Main Ingredients
UV protection [Zinc Oxide/Titanium Dioxide] (Skin Protection,UV Protection)
Contains mineral sunscreen ingredients that reflect and block UV rays, protecting sensitive skin from UV rays
Soothing [Tea Tree/Glycyrrhizic Acid] (Skin Soothing, Moisture, Nutrition, Vitality)
It helps to make your skin healthy by providing an excellent soothing effect and moisture to the skin.
Protection (Sunflower Seeds/ BalloonVine/ Blue Weed Seeds)
(Skin Protection, Elasticity, Health, Nutrition)
It helps to protect the skin by providing nutrition, skin elasticity, and health with rich botanical fatty acids and cholesterol.
Tocopherol (Skin Protection, Nutrition Supply, Skin Balance)
Tocopherol, called vitamin E, contained in sunflower seeds, etc., helps skin protection, skin balance control, and nutrition supply
Customer Satisfaction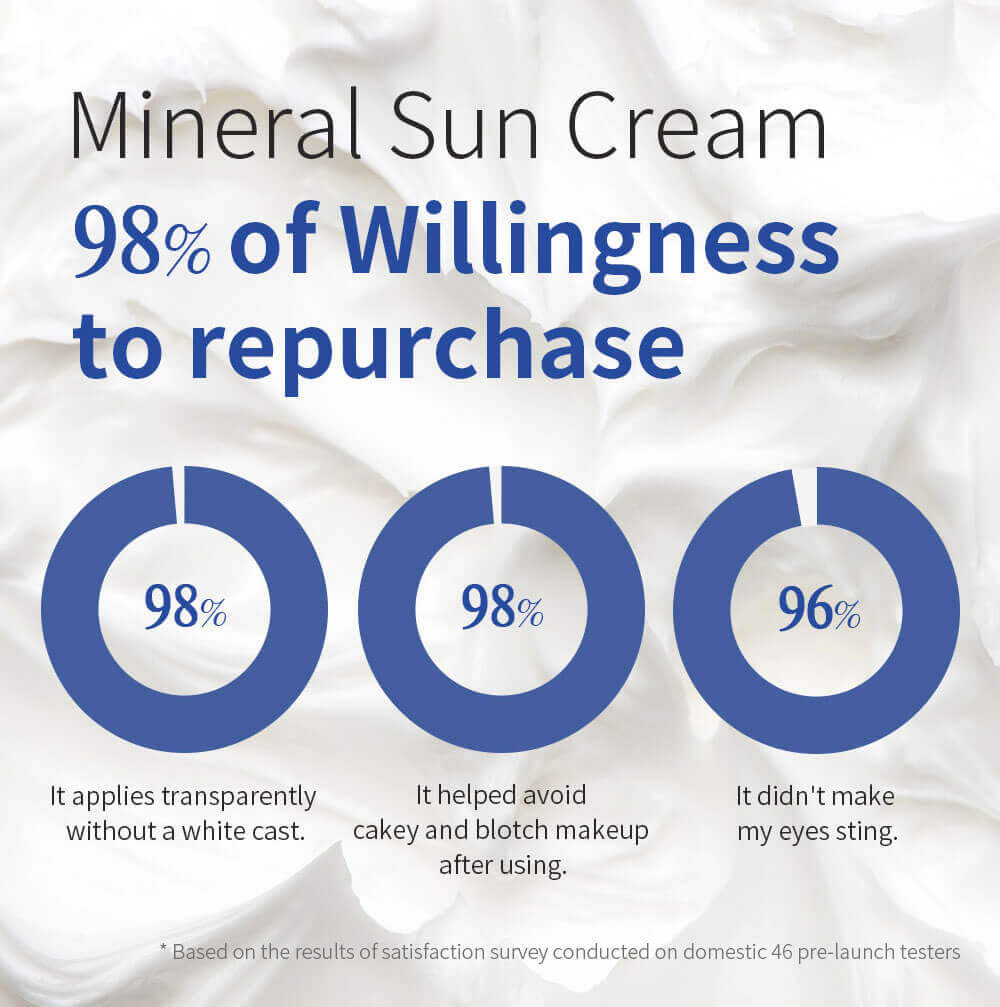 Skin Tests
Protect your skin for 12 hours, The highest SPF in Korea!
1. Irritation Test
Testing Institute: OTAC Skin Research Center
Tested Period: 20.06.3-20.06.5
Test Subjects: 34 adults (age range from 20-60)
Test Result: Benton Mineral Sun cream is evaluated as low-irritating, Irritation Index 0.00
2. Infant Use Test
Testing Institute: COSME*******
Tested Period: 20.10.23- 20.11.06
Test Subjects: 20 Healthy boys and girls who are (3 months-36 months)
Test Result: Benton Mineral Sun cream is showed greatly fine skin compatibility
3. Application Test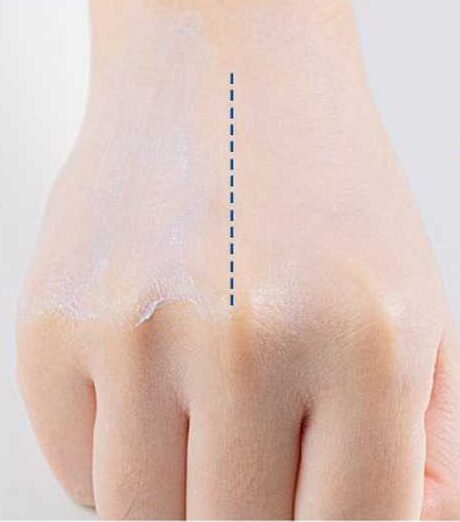 Compared to other products Benton mineral sun cream leaves no white cast. It has a light and refreshing finish
4. Oiliness Test
Not greasy even after applying it. So who dislike oiliness can use it moist & lightly
5. Persistence Test
Water-proof and long-lasting forms a protective film that lasts a UV Protection
pH & Formula
A moist cream type that applies smoothly without being greasy, it's perfect for dry skin. Benton's Mineral Sun Cream is slightly acidic similar to skin's pH healthy level.
How to use
Apply a proper amount of this product gently to absorb in your skin at the last step of basic skincare.
TIP1# There may be temporary white casts that are characteristic of minerals sunscreen. Pat Your Face lightly to absorb it. After a certain period of time, your skin returns to its original color.
TIP2# If you Feel uncomfortable applying additional sunscreen after the cream step due to excessive oil, apply sunscreen instead of cream
Recommended for
Who feels uncomfortable with excessive white casts and oils of mineral sunscreen.
Who looks for a soft and moist sunscreen.
Who needs to improve elasticity with dark skin tone
Who looks for a sunscreen that can be used by the whole family.
Who looks for a product that protects your skin gently for 365 days.
Ingredients
Excluding 20 harmful and controversial ingredients, volatile alcohol, PEGs, silicones
Water, Zinc Oxide, Cyclohexasiloxane, Butyloctyl Salicylate, Propanediol, Propylheptyl Caprylate, Polyglyceryl-3 Polydimethylsiloxyethyl Dimethicone, Isododecane, Caprylyl Methicone, Niacinamide, Disteardimonium Hectorite,Hamamelis Virginiana (Witch Hazel) Extract, Magnesium Sulfate,  Methyl Methacrylate Crosspolymer,  Vinyl Dimethicone/Methicone Silsesquioxane Crosspolymer,  Triethoxycaprylylsilane, 1,2-Hexanediol, Polyglyceryl-2 Dipolyhydroxystearate,  Lauryl Polyglyceryl-3 Polydimethylsiloxyethyl Dimethicone,  Glyceryl Caprylate, Caprylyl Glycol, Dipotassium Glycyrrhizate,  Calamine, Madecassoside, Inositol, Panthenol, Madecassic Acid, Asiaticoside, Asiatic Acid, Ethylhexylglycerin, Adenosine, Rosmarinus Officinalis (Rosemary) Leaf Oil, Tocopherol, Butylene Glycol
We recommend to you this skincare routine for better results