SOME BY MI Bye Bye Blackhead 30 Days Miracle Green Tea Tox Bubble Cleanser 120g
Pore cleanser for you, who are always stressed with blackheads, Green Tea Tox magically makes your pores clean in just 5 minutes. As soon as you apply this to your skin, it automatically turns into fine BHA bubbles, melting the blackheads accumulated in your pores and removing waste from the pores by whipped cream-like bubbles containing fresh Camellia Sinensis Leaf Water and Devil's-tongue grains.
Pore cleansing and blackhead intensive care
The pore cleanser cleans out your pores(blackheads) with 16 tea ingredients and natural BHA bubbles.
Main Features
Intensive blackhead care.
Can clean out inside your pores cleanly.
Immediately brighten the skin just by washing your face.
Free of 20 harmful ingredients.
Has been dermatologically tested.
5 Minutes of magical Green Tea Tox
Step 1: Melting blackheads (3 minutes), 16 kinds of tea + Natural-derived BHA
5000ppm of tea nutrients and BHA ingredients derived from nature dissolve blackheads, whiteheads, and wastes in the pores.
Step 2: Remove blackhead(1 minute), BHA bubbles + Camellia Sinensis Leaf Water + Devil's-tongue grains
Fine BHA bubbles, Devils-tongue grains, and large and small Camellia Sinensis Leaves act as scrubs, gently removing blackheads.
Step 3: Minimize large pores(1 minute), Containing Green tea + Tannin complex
The 240.000 ppm of Camellia Sinensis Leaf Water and "Tannin Complex" a patented ingredient help to minimize loose and enlarged pore size.
The Secret of Deep Cleansing  within 3 Steps
Step 1: Scrub all pores with Camellia Sinensis Leaf grains.
Step 2: They automatically turn into bubbles.
Step 3: Clean up all the wastes left with dense foam.
Do you spend 45 minutes caring for blackheads?
15 minutes to open your pores
15 minutes to rid off blackheads
15 minutes to close up your pores

From now on, all these steps are completed in just one step and five minutes using this pore cleanser.
Main Ingredients
Ingredients that are helpful to the waste material and sebum removal and moisturizing: Hibiscus tea. Hibiscus Flower Extract, Centella Asiatica Extract, Chrysanthemum Indicum Extract, Jasmine, Aspalathus Linearis Extract
Ingredients help clean the pores:  Lavender Extract, Pinus Densiflora Leaf Extract, Trifolium Pratense Flower Extract, Rosemary Extract
Ingredients help with pore elasticity ( Green Tea, Green Tea Water, Bambusa Vulgaris Extract, Artemisia Princeps Leaf Extract, Diospyros Kaki Leaf Extract, Chaenomeles Sinensis Fruit Extract, Carthamus Tinctorius (Safflower) Flower Extract, Castanea Crenata Shell Extract)
Patented ingredients: Contains Tannin Complex that helps in pore elasticity.
Naturally derived BHA bubble
It contains 5000 ppm of Willow Park Extract originating from nature, melting blackheads and whiteheads, and Camellia Sinensis Leaf Water and Devil's-tongue grains gently scrap waste.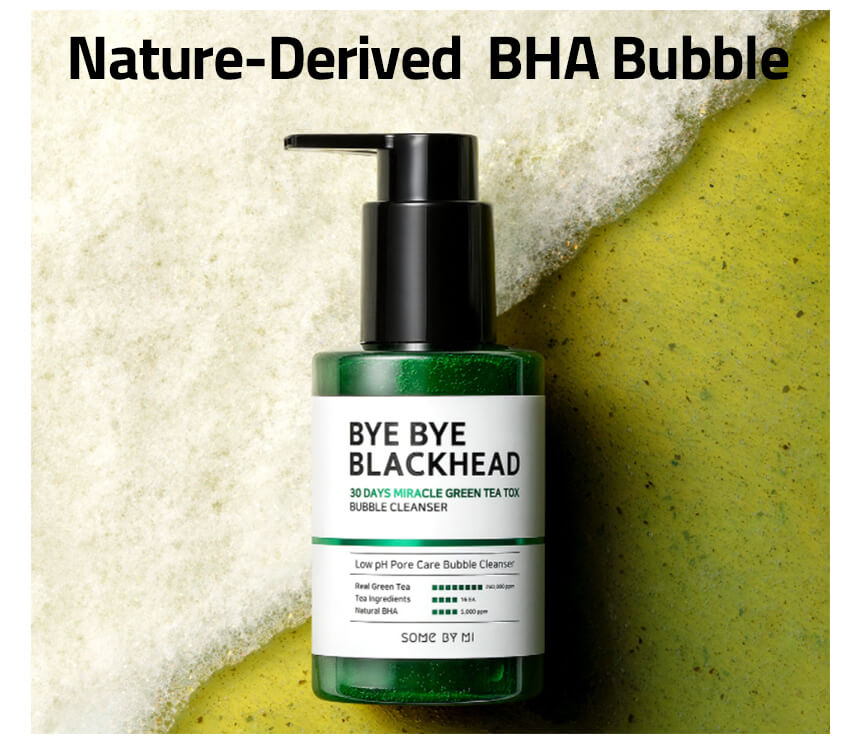 A healthy pore cleanser, it doesn't contain ingredients that concern the skin.
Phenoxyethanol, Benzyl Alcohol, Sodium Benzoate, Benzoic Acid, Chlorphenesin,  Benzalkonium Chloride (C12, 14), Benzethonium Chloride, Benzophenone-3,
Benzophenone-4, Benzophenone-8, Sorbic Acid, Imidazolidinyl Urea, Diazolidinyl Urea, Methyl Paraben, Isopropylparaben, Methylparaben, Butylparaben, p-hydroxybenzoic acid, Isobutylparaben.
Skin Tests
Hypoallergenic Test
Test Type: skin irritation
Testing Institute: Korea Institute of Dermatology
Test Subjects 35  (34 women & 1 man)
Test Result: Bye Bye Blackhead Bubble Cleanser is non-irritating with an irritation index of 0.16
Cleansing Effect Test 
For light daily makeup, cleanse thoroughly without the need for another cleanser.

pH& Formulation
Get the mild deep cleansing with its slightly acidic green gel formulation that works on balancing the skin. It not only brightens it immediately after washing but also contains naturally derived ingredients and weakly acidic formula which provide comfortable use for the skin without worrying about irritation.
Test of low pH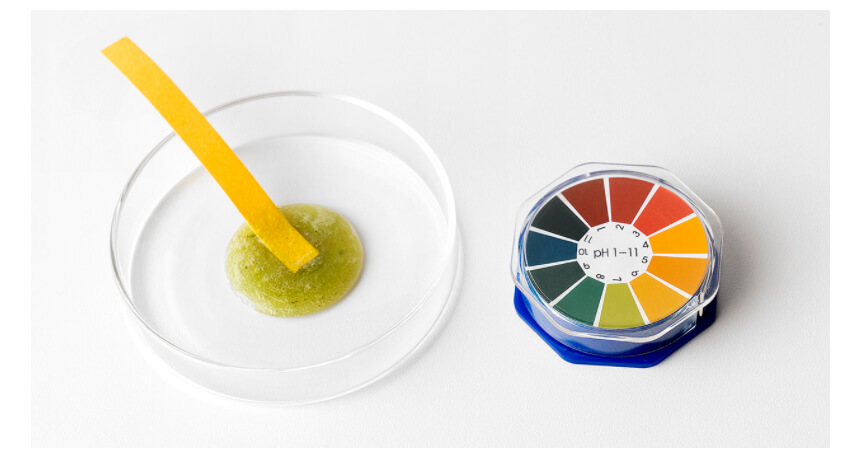 Green tea tox bubble cleanser is a weakly acidic product that can be used comfortably for sensitive skin.
How to use
 As a pore cleanser in 5 minutes
It is better to use it from 2~3 in a week
Spread thinly on dry skin without water as if applying a pack.
When bubbles come up, enjoy the bubble pack for 3~5 minutes and roll gently with a small amount of water to remove waste.
Wash your face with lukewarm water.

As a daily pore cleanser
Spread thinly on dry skin without water as if applying a pack.
When bubbles come up, gently roll with a small amount of water and cleanse with lukewarm water.
Precautions
Don't eat what's inside.
Keep it away from children.
It contains green tea leaves and the color of the content may become darker over time after manufacturing. ( there's no problem with the content or use).
The foam formed at the discharge port during use is a natural phenomenon due to the nature of the formulation and is not an abnormality in the product.
Ingredients
Water, Green tea (240.000), Camellia Sinensis Leaf Water, Disodium Cocoamphodiacetate, Glycerin, Potassium Cocoyl Glycinate, Coco-Betaine, Methyl Perfluorobutyl Ether, Methyl Perfluorobutyl Ether, Acrylates Copolymer, Salix Alba (Willow) Bark Extract, Water(Carbonated Water), Jasminum Officinale (Jasmine) Flower Water, Chaenomeles Sinensis Fruit Extract, Diospyros Kaki Leaf Extract, Cinnamomum Cassia Bark Extract , Artemisia Princeps Leaf Extract, Chrysanthellum Indicum Extract, Camellia Sinensis Leaf Extract, Hibiscus Sabdariffa Flower Extract, Lavandula Angustifolia (Lavender) Extract, Rosmarinus Officinalis (Rosemary) Extract, Chamomilla Recutita (Matricaria) Flower Extract, Geranium Maculatum Extract, Salvia Officinalis (Sage) Leaf Extract, Trifolium Pratense (Clover) Flower Extract, Alchemilla Vulgaris Leaf Extract, Aspalathus Linearis Extract, Helichrysum Arenarium Extract, Pinus Densiflora Leaf Extract, Bambusa Vulgaris Extract, Thuja Orientalis Extract, Chamaecyparis Obtusa Leaf Extract, Melaleuca Alternifolia (Tea Tree) Leaf Water, Centella Asiatica Extract, Vitis Vinifera (Grape) Fruit Extract, Coffea Arabica (Coffee) Seed Extract, Carthamus Tinctorius (Safflower) Flower Extract, Polygonum Cuspidatum Root Extract, Castanea Crenata (Chestnut) Shell Extract, Zanthoxylum Piperitum Fruit Extract, Saccharide Isomerate, Mannan, Camellia Sinensis Leaf, Camellia Sinensis Leaf Powder, Butylene Glycol, Caprylyl Glycol, Citric Acid, 1,2-Hexanediol, Ethylhexylglycerin, Benzyl Glycol, Raspberry Ketone, Caramel, CI 19140, CI 42090, Disodium EDTA, Mentha Piperita (Peppermint) Oil