HISTOLAB Aqua Science Water-Max Foam Cleanser 200ml
Hydrating cleanser that moisturizes your skin, Deep cleanser with hydrating and refreshing your skin without the uncomfortable feeling of something tightening your skin. Effectively cleanse the facial skin from its natural oils or make up, with the Water-Max Foam Cleanser, which comes in a gel form.
Histolab, a medical skincare brand distributed solely to dermatological clinics, has been devoting itself to accomplish an immediate skin improvement by taking advantage of its own development of Plant Stem Cell(Callus) and of our renowned mentoring group of doctor's advice for achieving the most effective prescription.
Currently, Histolab products are loved by almost 8,500 dermatological and aesthetic clinics in Korea. Thanks to its wide variety of product ranges, Histolab products have become famous for having excellent efficiencies in the field of professional peeling, acne treatment, and post-laser skin treatment as well as basic care like wrinkle improvement freckles, skin rejuvenation, and whitening., etc.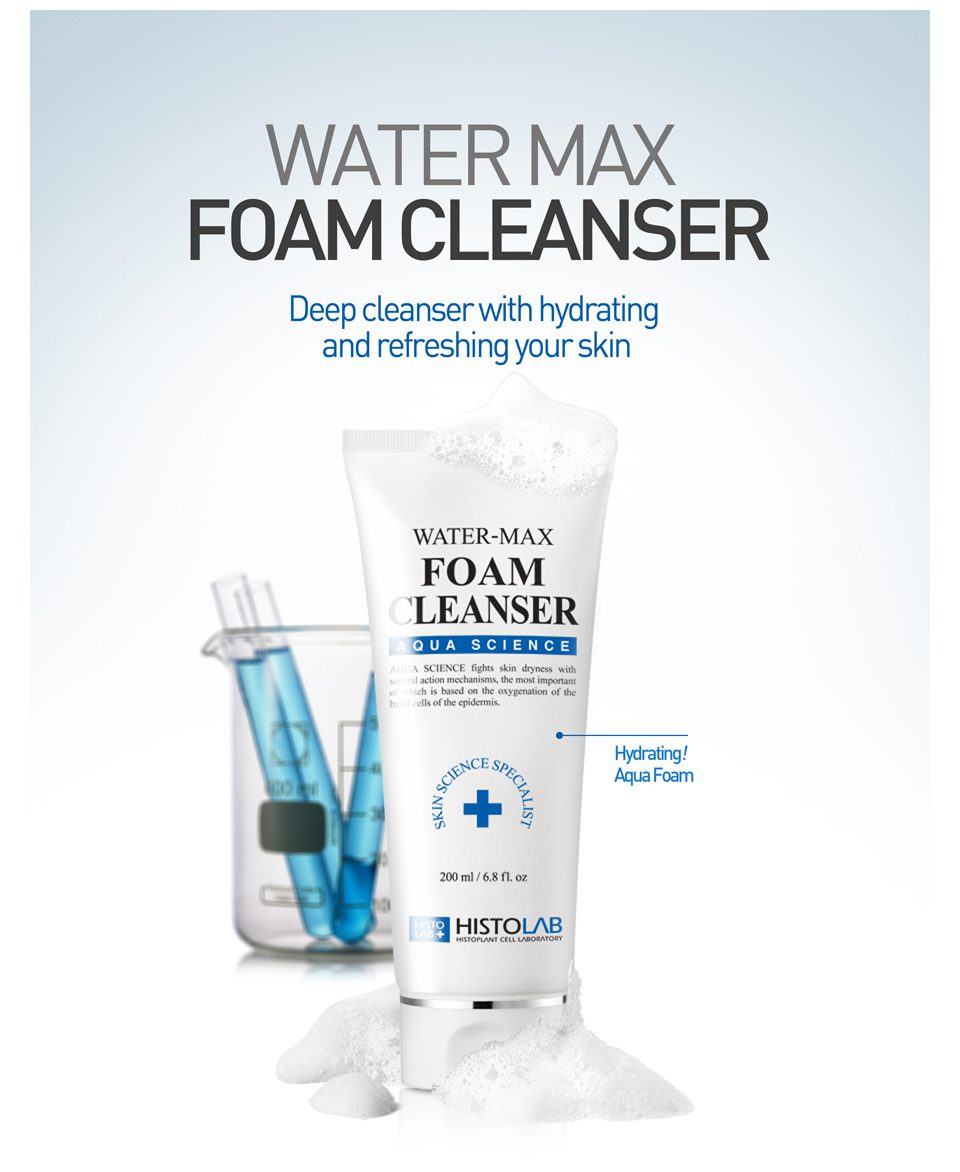 Based on natural products and using botanical ingredients, it is appropriate for all skin types, and especially effective on dry skin.
Main Features:
 Advanced hydrating cream for all skin types even suitable for dry skin with the use of natural extracts.
A light and silky foam cleanser with rapid moisture provision.
Patented SRGF H1 Complex: Helps provide soothing and moisturizing effects.
Deep Moisturizing: Helps keep moisturizing on the skin with deep water into the skin.
Hydrating cleanser excess oil with its botanical cleansing properties.
Main Ingredients:
Sodium Hyaluronate: Soothing and Moisturizing.
SRGF H1 Complex: Soothing and Moisturizing and Skin regeneration.
Portulaca Oleracea Extract: Anti-inflammatory.
Eris Ensata Extract: Skin lightening.

You can get moisturized clean face with NO dryness! Water-Max Foam Cleanser brightens and enhances local immunity.
Formula type:
Gel type foam cleanser.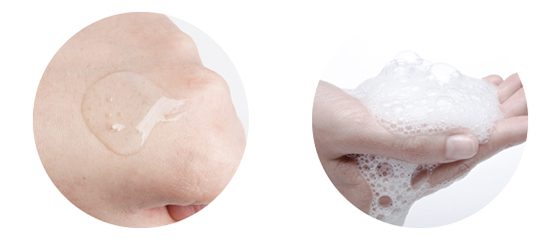 AQUA SCIENCE Use Order: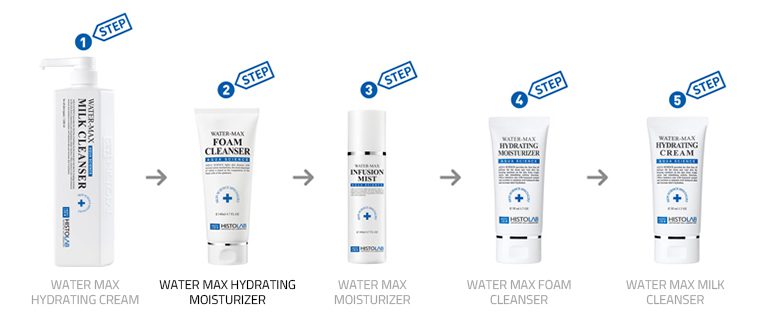 How to use:
Take a drop onto dampened hand to make a foam and apply on face. Rinse with lukewarm water.
Water-Max Foam Cleanser is a hydrating cleanser that can be used on all skin types, but is especially suitable for dry skin.
Recommended for:
Those who have tightness after washing face.
Those who want to wash their face with rich foam elasticity.
Anyone who wants to use it without any burden.
Ingredients:
Purified Water, Myristic Acid, Cocamide D, Lauric Acid, Sodium Laures Sulfate, Potassium Hydroxide, Cocamidopropyl Betaine, Disodium Cocoamphodiacetate, Sodium Cocoyl Apple Amino Acid, Purslane Extract, Hydroxypropyl Methylcellulose, iris extract, glycerin, tetrasodium glutamate diacetate, sodium hyaluronate, beta-glucan, nicotinoyl hexapeptide-44, S-oligopeptide-1, S-polypeptide-1, S-polypeptide-16, S-polypeptide-4, polysorbate 20, lecithin, butylene glycol, ethyl hexanediol, citric acid, PEG-120 methylglucosedioleate, sodium chloride, sodium benzo Eight, hexylene glycol, glyceryl caprylate, tetrasodium ID, sodium carbonate, 1,2-hexanediol, fragrance