SOME BY MI AHA BHA PHA 30 Days Miracle Acne Clear Foam 100ml
An acne cleanser makes a dense foam, focuses on eliminating the causes of acne. It helps you relax your skin by catching sebum and pimples inside your skin. Many of us have tried acne products but the skin irritation gets worse. To keep a healthy balance of the skin, Somebymi formulated a special solution with BHA to remove the dead skin cells and sebum, AHA & PHA increase skin moisture and resilience level.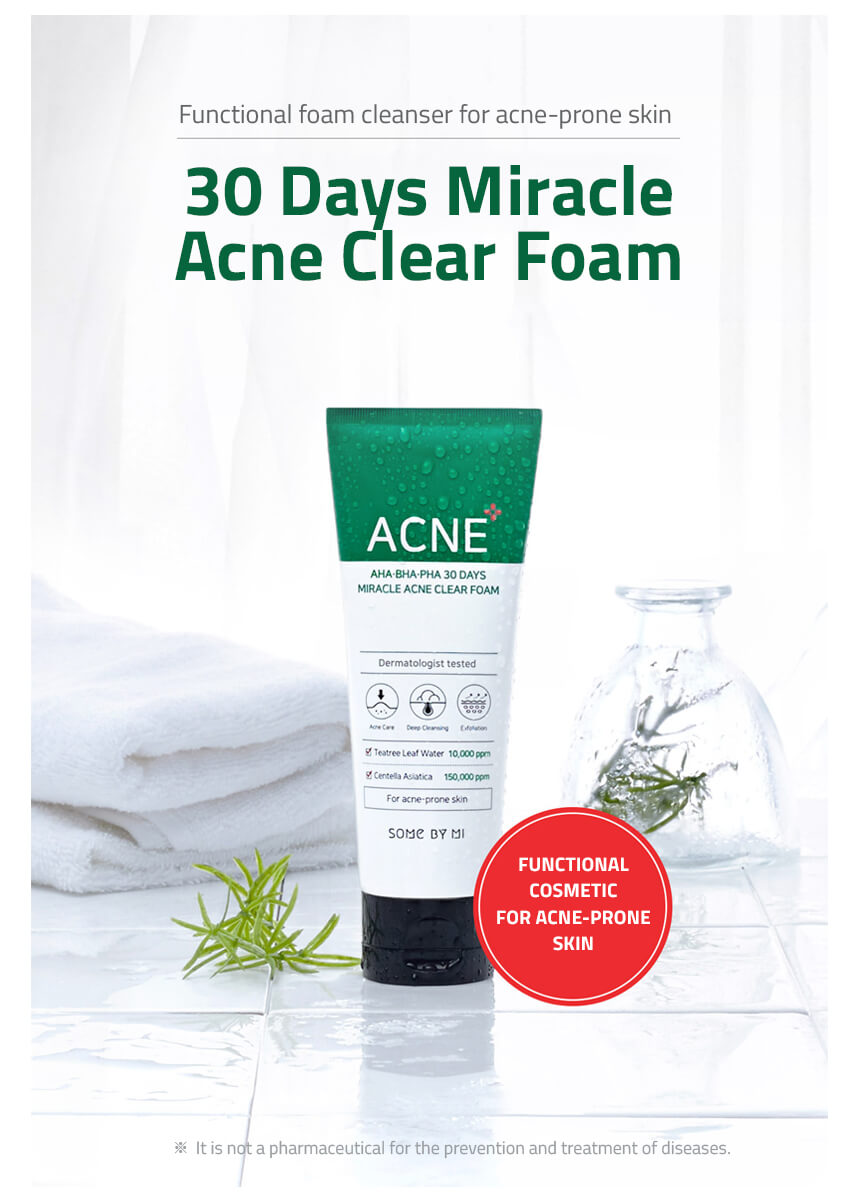 Are you sure that you are using the right acne cleanser for your skin?
Miracle Acne clear foam is safe to use and its functionality certified by KFDA to enhance acne-prone skin.

What is the real cause of your skin problem?
It is caused by thick keratin and excess sebum that clog pores.
The skin exposed to excessive sebum production and various wastes is prone to problems, so more reliable and safe face washing is required.
Deep cleansing cleanly sebum and wastes with a functional cleanser for acne-prone skin containing AHA, BHA and PHA ingredients!
Main Features
Contains AHA and PHA as well as BHA, which are acne-prone skin relief ingredient, enabling exfoliation and sebum care.

Contains 160,200 ppm of Truecica, a skin soothing ingredient developed independently by Somebymi.

Contains 70% of ingredients derived from nature for gentle deep cleansing. Has completed the skin

irritation test

.

Free of 20 harmful ingredients.
Main Ingredients
Contains 70% of natural-derived ingredients, moreover, it contains 5,000ppm of salicylic acid ( a combination of AHA, BHA, PHA).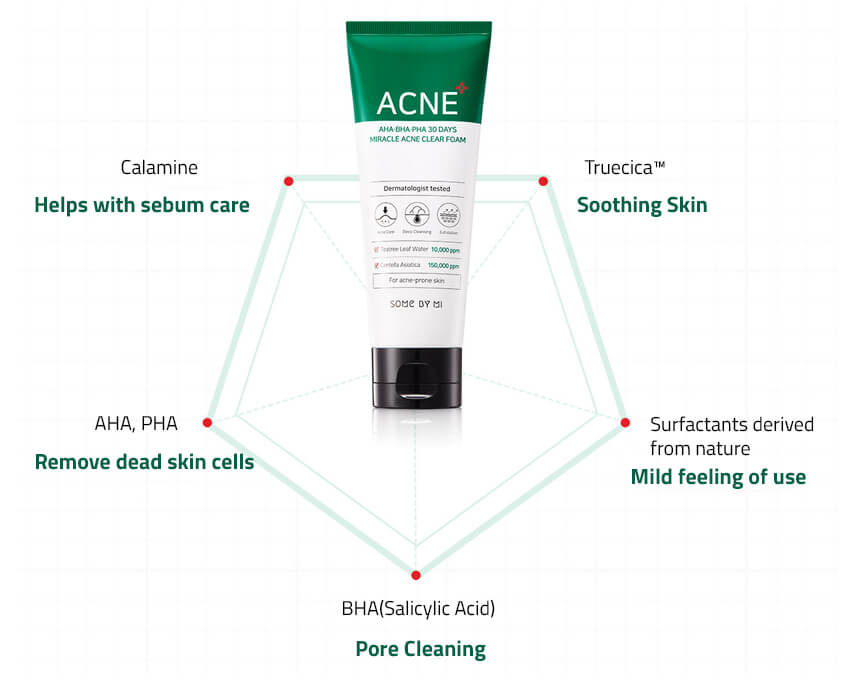 AHA: Refine skin texture and increase skin firmness.
BHA: Contains ingredients to alleviate symptoms of acne-prone skin.
PHA: Moisturize skin and remove dead skin cells without irritation.
Truecica: Contains 160,200 ppm of Truecica that is a soothing ingredient made by Some By Mi: Tea Tree Leaf Water, Centella Asiatica Extract, 4 kinds of titrated extracts(Asiatic acid, Madecassic acid, Asiaticoside and Madecasoside) extracted from Centella asiatica and Artemisia Princeps Leaf Extract.
Customers Reviews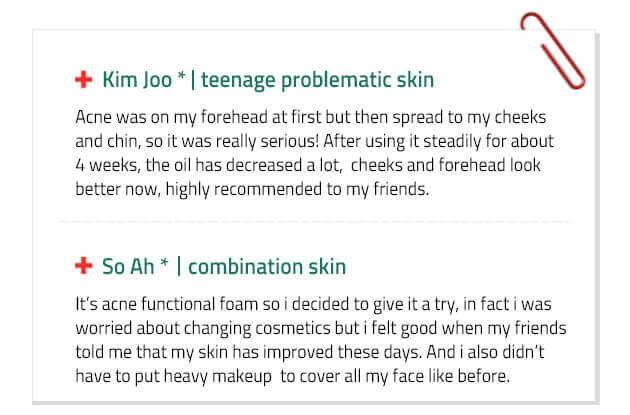 Skin Test
Primary Irritation Skin Test
Test Institute: Korea Institute of dermatological sciences.
Test Subjects: 32 persons.
Test Result: AHA, BHA, PHA 30 days acne cleanser isn't irritating with an irritation index of 0.0.
*There might be individual differences.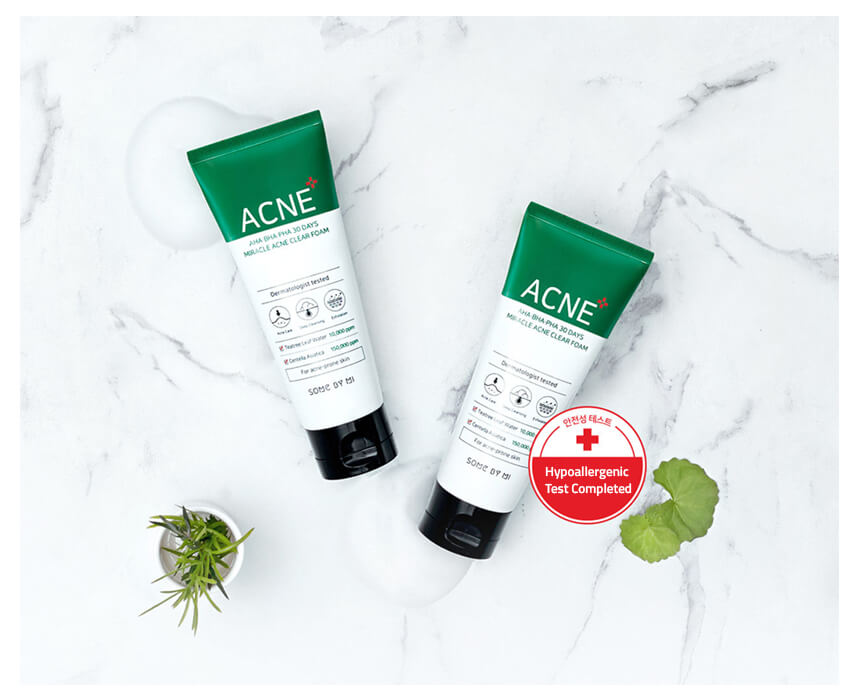 Miracle Acne Cleanser helps clean pores thoroughly without giving irritation to the skin.
Formulation
A soft foam-like texture that creates rich bubbles, you can cleansing with bubble foam without irritating your skin by your hands.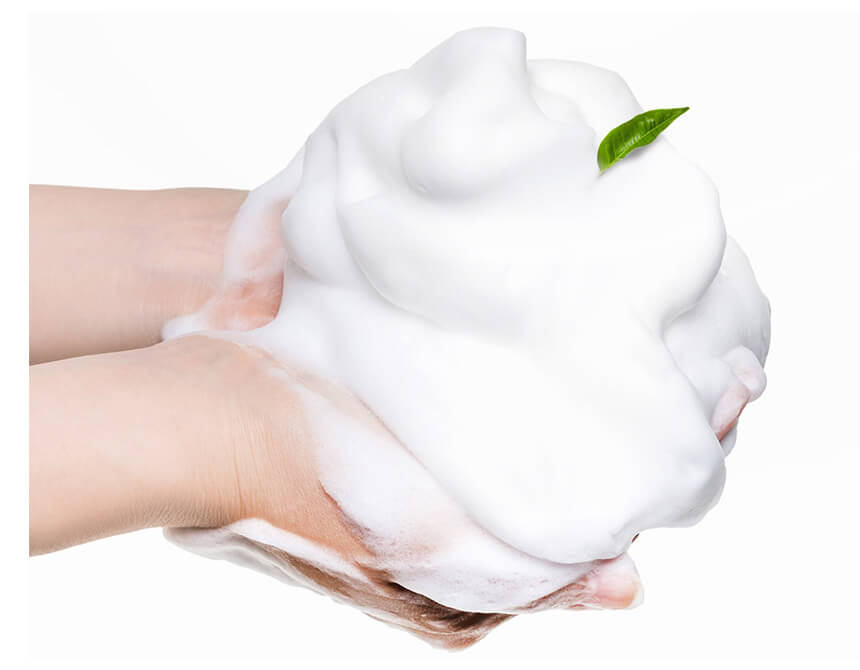 How to use
Take out some cleanser on the wet hand.
Rub until there is rich foam.
Gently spread and massage on the face for washing.
Rinse with warm water.
Recommended for
Need foam cleanser to alleviate acne cleanser.
Have excessive oil.
Want to get rid of dry flakes to get a smooth skin texture.
Need oil & water-balanced skin.
Need trouble for contingency skincare products during the period.
Have teenage skin with overly produced sebum.
Need an irritation-free cleanser for sensitive & troubled skin.
This Acne Cleanser is free of 20 harmful ingredients that concern the skin.
Like: Phenoxyethanol, Benzyl Alcohol, Sodium Benzoate, Benzoic Acid, Chlorphenesin,  Benzalkonium Chloride (C12, 14), Benzethonium Chloride, Benzophenone-3, Benzophenone-4, Benzophenone-8, Sorbic Acid, Imidazolidinyl Urea, Diazolidinyl Urea, Methyl Paraben, Isopropylparaben, Methylparaben, Butylparaben, p-hydroxybenzoic acid, Isobutylparaben.
Ingredients
Water, Glycerin, Centella Asiatica Extract, Palmitic Acid, Stearic Acid, Lauric Acid, Myristic Acid, Potassium Hydroxide, Lauryl Betaine, Butylene Glycol, PEG-100 Stearate, Glyceryl Stearate, Beeswax, Melaleuca Alternifolia (Tea Tree) Leaf Water, Sodium Methyl Cocoyl Taurate, Potassium Cocoyl Glycinate, Salicylic Acid (5,000Ppm), Dipropylene Glycol, Sodium Chloride, Hydroxyacetophenone, Mentha Piperita (Peppermint) Oil, Caprylyl Glycol, 1,2-Hexanediol, Disodium EDTA, Hydroxyethylcellulose, Calamine, Gluconolactone (10ppm), Dipotassium Glycyrrhizate, Citric Acid (10Ppm), Artemisia Vulgaris (Mugwort) Extract, Madecassoside, Asiaticoside, Madecassic Acid, Asiatic Acid.
To maximize the result try the whole set together.