CNP LABORATORY Cleansing Perfecta 150 ml
Do you know that the left tiny traces of make-up or UV blocking agents can go unnoticed and not be removed thoroughly even after using a daily cleanser? That's why you need a makeup remover because these tiny traces of make-up that are not visible to the human eye can clog pores and stain skin! Waterproof sunscreen should always be removed thoroughly prior to facial cleansing!
A deep cleansing makeup remover cleanses the hard makeup residues such as sunscreen and BB thoroughly.
This makeup remover is a specially formulated mineral oil-free deep cleanser that targets all skin types in order to remove waterproof makeup. It is a hypoallergenic cleanser that is gentle on the skin and provides strong cleansing at the same time, and it is a hypoallergenic formulation that allows oily skin to use it with confidence. This makeup remover uses a hypoallergenic silicone formula that gently melts away stubborn make-up such as BB Cream. Contains CNP Anti-Irritant Complex and herbal extracts suitable for sensitive skin, which soothes and cleanses skin without irritation.
The best makeup remover from CNP! cleanse the skin without a burden on sensitive skin
Main Features
Remove Waterproof Makeup: Thoroughly removes all traces of waterproof makeup, BB cream, and sunblock.
Hypoallergenic Suitable For Sensitive Skin: Gentle and easy on the skin, the mild gel cleanser is suitable for sensitive skin.
Dual Cleansing: Unnoticeable tiny traces of make-up, and impurities that are not visible to the naked eyes can clog the pores. this cleanser provides a dual cleansing effect with a regular cleanser ensures that every last trace of makeup is removed.
Main Ingredients
Anti-Irritant Complex : The formula containing CNP's unique soothing complex helps soothe the skin and allows for stress-free cleansing.
Lavandula Angustifolia Extract, Chamomilla Recutita, Althaea Officinalis Root Extract : Soothing care
Betula Platyphylla Japonica Juice : Moisturizing care
Formulation
A milk gel type that leaves a moist finish after cleansing.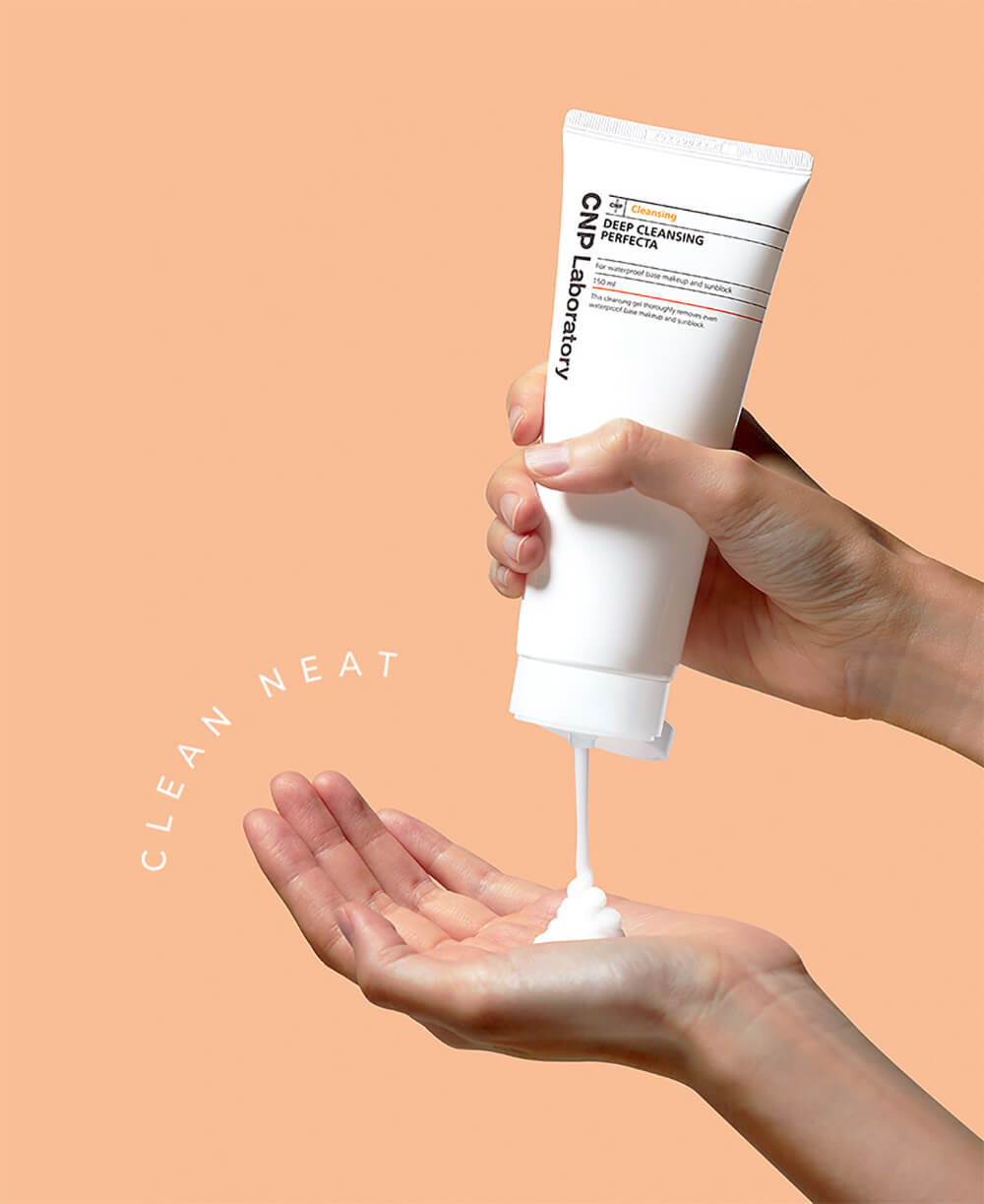 How to use
Take an appropriate amount and rub it evenly across your face.
Wipe it with lukewarm water or tissue.
Wash your face for a second time.
Tip# For a deep cleansing effect, use a gentle foaming cleanser to cleanse your face thoroughly.
Recommended for
Who feels like the makeup does not completely erase with foam cleansing alone.
Who's looking for a hypoallergenic primary cleanser.
Who's looking for a cleanser that provides moisture even after washing my face.
Ingredients
Water, Cyclopentasiloxane, Dimethicone, Dipropylene Glycol, Olive Oil PEG-7 Esters, Betula Platyphylla Japonica Juice, PEG-60 Hydrogenated Castor Oil, PEG-7 Glyceryl Cocoate, Portulaca Oleracea Extract, 1,2-Hexanediol, Arginine, Carbomer, Caprylyl Glycol, Acrylates/C10-30 Alkyl Acrylate Crosspolymer, Allantoin, Propylene Glycol, Hydroxyethylcellulose, Dipotassium Glycyrrhizate, Houttuynia Cordata Extract, Foeniculum Vulgare (Fennel) Fruit Extract, Lavandula Angustifolia (Lavender) Extract, Pyrus Malus (Apple) Fruit Water, Chamomilla Recutita (Matricaria) Flower Extract, Althaea Officinalis Root Extract, Ocimum Basilicum (Basil) Flower/Leaf Extract, Punica Granatum Fruit Extract, Ficus Carica (Fig) Fruit Extract, Codonopsis Lanceolata Root Extract, Carica Papaya (Papaya) Fruit Extract, Biotin, Fragrance.