LANEIGE PERFECT PORE CLEANSING OIL 250ml
Perfect cleansing oil for your pores, Laneige presents to you the ultimate solution for cleansing your makeup without worrying about blackheads formation! With this cleansing oil say goodbye to your blackheads and clogged pores and hello to a new smooth and moisturized skin. It is also so powerful against removing even your heaviest makeup.
"Use this perfect cleansing oil, to remove all your makeup with no worries!"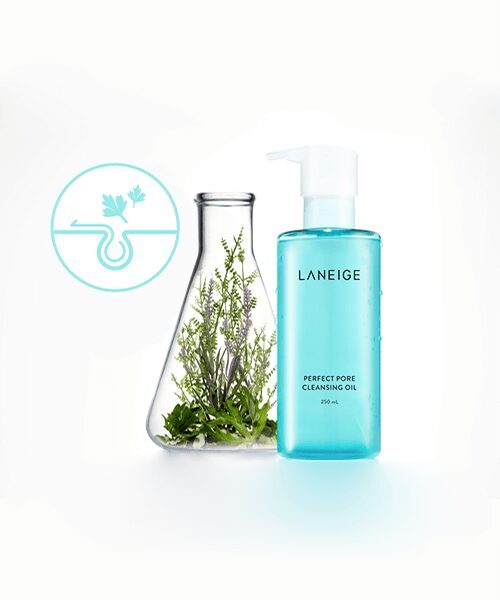 Main Features:
Deep pore cleansing oil that completely removes heavy makeup and melts away sebum and blackheads clogging the pores.
Natural virgin coconut oil for complete cleansing: With natural virgin coconut oil known for excellent cleansing effect, it completely removes even waterproof and heavy makeup.
Natural mugwort extract for pore care: Mugwort extract with natural active ingredients completely cleanse the pores.
Complete pore and blackheads cleansing: It is an oil having similar structure with sebum and gently melting away sebum and blackheads.
Customer's Reviews:
" This one is adequate for daily use. Also it washes away makeup really well"
"When using this cleansing oil with hands, it isn't oily at all. After facial wash, my skin looks so pure"
"Great hydration of coconut oil. Finishing touch is soft and smooth."
Recommended for:
Concerned about sebum and blackheads.
For cleansing of heavy makeup.
To feel refreshed after cleansing.
Formulation:
It is a glide-on oil type cleanser that cleanses your pores thoroughly!
"Perfect Cleansing Oil cleanse your pores thoroughly in no time!"
How to use:
Opening the pores : Use a steamed towel to wrap the face for three to five minutes when in need of blackhead treatment to open up the pores.
Massage : Pump the product two to three times onto the hand and massage the oil onto the dry face for thirty seconds.
Blackhead removal : Pump the product once more and thoroughly massage problem areas around the nose, forehead, and cheeks.
Emulsion : Wet your hands with lukewarm water and massage for thirty seconds more.
Rinse : Rinse thoroughly with lukewarm water.
Ingredients
Isopropyl Palmitate, Pentaerythrityl Tetraethylhexanoate, C12-15 Alkyl Benzoate, Pentaerythrityl Tetraisostearate, Caprylic/Capric Triglyceride, PEG-20 Glyceryl Triisostearate, PEG-8 Isostearate, Dextrin Palmitate, Glyceryl Behenate/Eicosadioate, Cocos Nucifera (Coconut) Oil, Artemisia Princeps Leaf Water, Anthemis Nobilis Flower Extract, Althaea Officinalis Root Extract, Lippia Citriodora Leaf Extract, Centella Asiatica Extract, Aloe Barbadensis Leaf Extract, Butylene Glycol, Coco-Caprylate, Ethylhexylglycerin, Fragrance.
We also recommend the following from the same line as perfect cleansing oil :