SOME BY MI AHA BHA PHA Calming Truecica Micellar Cleansing Water 300 ml
Cleansing all even the skin concerns through Somebymi's Micellar Cleansing Water!
Don't you normally think that cleansing is unnecessary if you have no makeup?
Skin problems are likely to occur if you do cleansing carelessly or skip it because you have only sunscreen or no makeup.
Don't show mercy to cleansing just because you have no makeup!
Somebymi provides you with Micellar Cleansing Water that has 96% cleaning power while having zero irritation when you do cleansing.
The AHA, BHA and PHA ingredients contained in it wash away cleanly the factors that cause skin problems, such as sebum and waste hidden in pores, without irritation.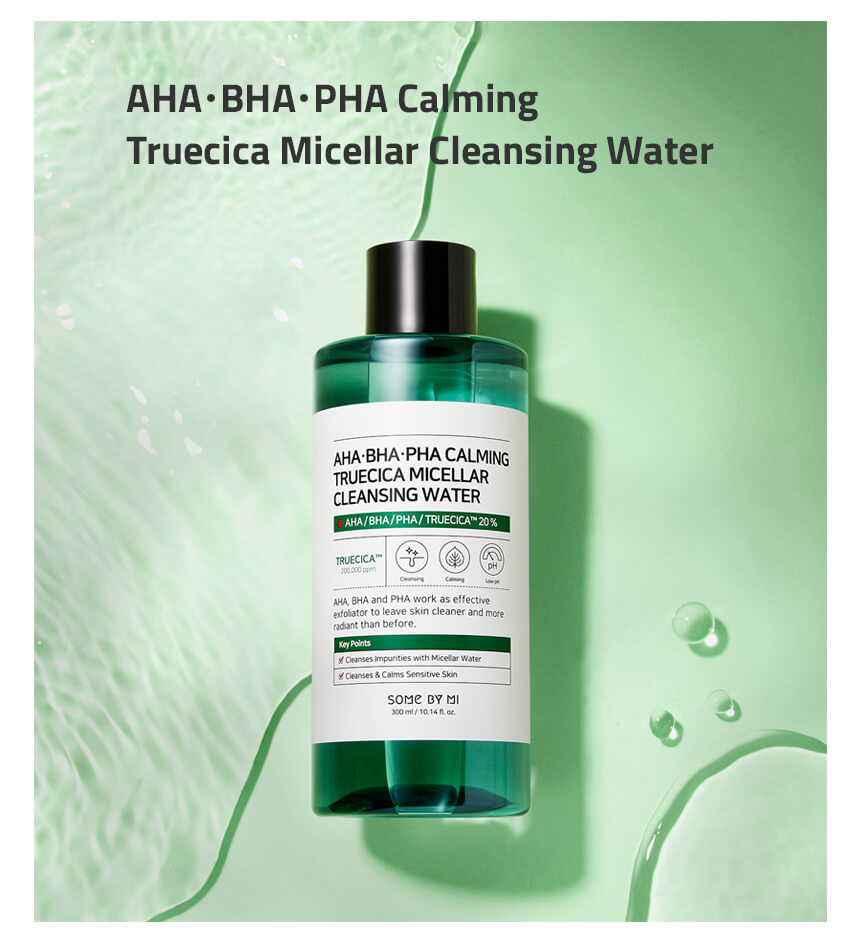 Main Features
Contains a Truecica-Micellar™ ingredient with a nearly perfect 96% cleansing power.
Contains 20% of Truecica™, a skin-soothing ingredient, so there is no skin irritation.
Contains peeling ingredients such as AHA, BHA, and PHA to remove sebum or waste from pores without irritation.
Its Niacinamide care for excess sebum and being too greasy.
A slightly acidic micellar cleansing water with a pH of 5.5

maintains an ideal skin balance.

A no-wash type that does not require a 2nd face wash.
Has completed the dermatological test.
Main Ingredients
Truecica™: Contains 20% of AA, an ingredient independently developed by Somebimy.
Truecica-Micellar™: Ingredient made by combining Truecica and Micellar particles for skin soothing.
AHA, BHA, PHA: These are peeling ingredients that help remove dead skin cells, each of which is the first, second, and third-generation ingredient.
Niacinamide: Contains 1% of the Niacinamide ingredient that takes care of face oil and excess sebum.
Zero irritating cleansing by Truecica-Micellar.
SOME BY MI Truecica-Micellar™ that absorbs wastes and provides moisture, and calming all at once. Lipophilic absorbs waste accumulated on the skin surface and pores, while Hydrophile forms a moisture protective layer. Triple micellar particles that contain these ingredients are formulated with SOME BY MI's exclusive calming agent, Truecica™, which introduces a completely new micellar cleansing water.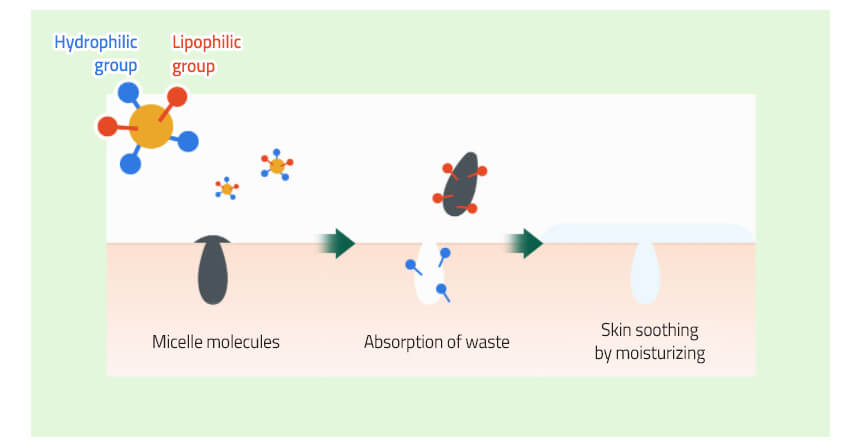 Provides a different level of skin-soothing effect
It contains 20% of Somebymi's own skin-soothing ingredient, Truecica™, which provides a different level of skin sedation effect.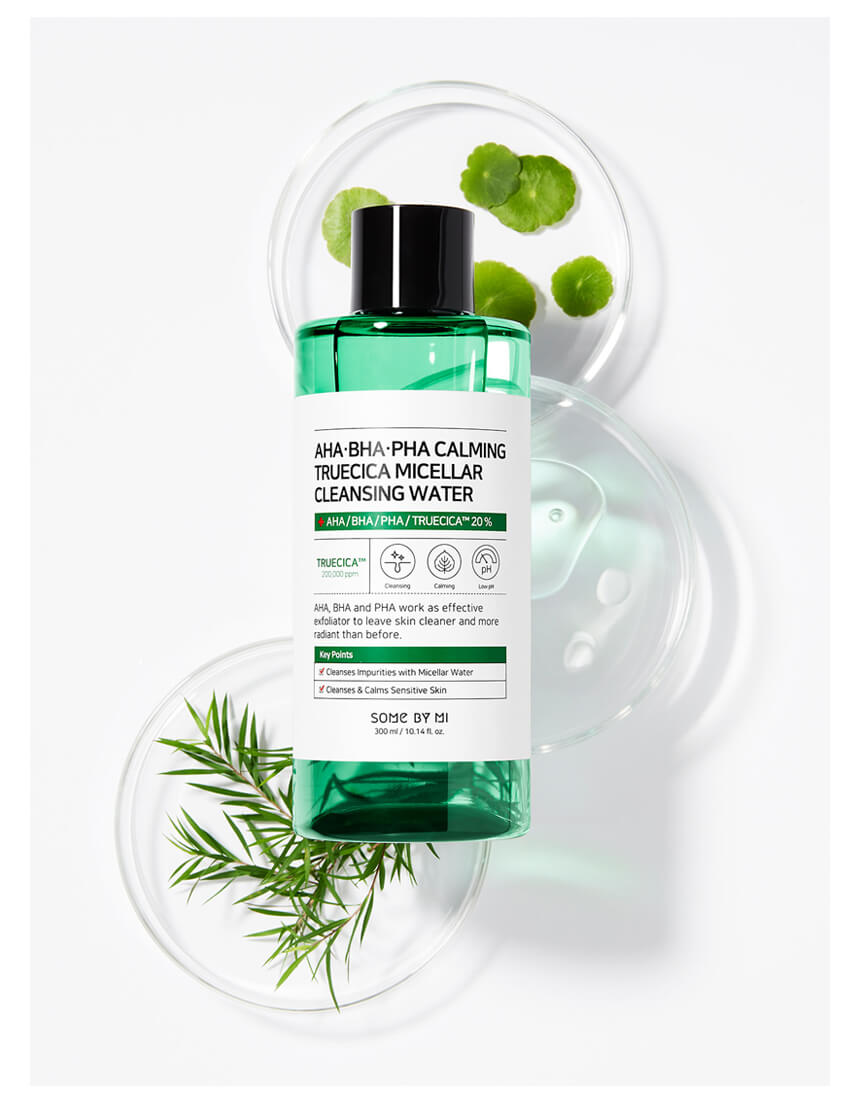 Truecica™, which was created by mixing only key ingredients with excellent skin-soothing effects extracted from 3 types of herbs, provides a different level of skin-soothing effect.
Asiatica Extract
Artemisia Capillaris Extract
Tea Tree Leaf Water
Titrated Extracts of Centella Asiatica: Asiaticoside, Madecassoside, Asiatic acid and Madecassic acid
Has 96% cleansing power that is near-perfect by Truecica-Micellar™ ingredient.
A perfect cleansing that absorbs ultrafine particles which are even smaller than fine particles.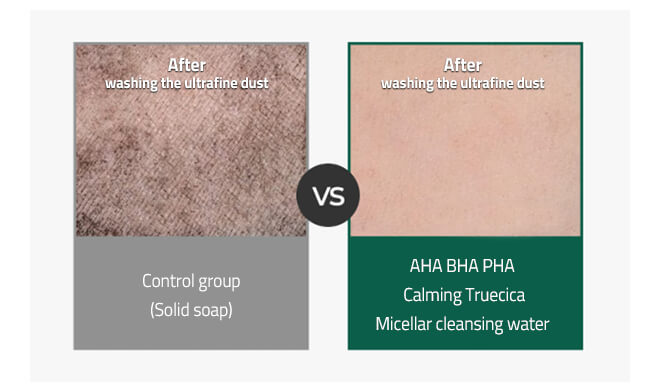 Changes in the area of ultrafine dust according to product use.
Test Institute: Mariedm Skin Science Research Institute.
Test Period: Sep17, 2021~ Sep13, 2021.
Test Subjects: 22 females (aged from 41~60 years old).
Test Result: AHA, BHA, PHA Truecica Micellar Cleansing Water is proved that perfectly absorbs ultrafine particles which can only be seen through a microscope.
Washing away the hidden causes of skin problems using effective peeling ingredients!
These 4 types of peeling ingredients remove the old dead skin cells on the skin surface that do not wash well and find and cleanse factors that cause skin problems such as sebum and waste hidden in pores.
"A No-wash type micellar cleansing water that can start your skincare routines immediately without having to wash your skin separately after cleansing."
Provides absolutely gentle cleansing for your skin but provides an even stronger cleaning power!

When you lightly rub the make-up on your skin with a cotton pad just one time, it comes off cleanly.
Skin test for sensitive skin
Test Institute: Mariedm Skin Science Research Institute.
Test Method: Applied the patches soaked in micellar cleansing water to the participants' skin and checked the skin reaction after removing them.
Test Result: AHA, BHA, PHA Truecica Cleansing Water is safe for sensitive skin and non-irritating with an irritation index of 0.0.
*Individual differences may appear depending on environmental factors.
The Micellar Cleansing Water maintains the most ideal pH balance of your skin.
Formula & pH
It is a No-wash type that doesn't require secondary cleansing, mild watery formula with a slightly acidic 5.5.
This is a weakly acidic, hypoallergenic cleansing water with a pH of 5.5 that maintains an ideal skin balance.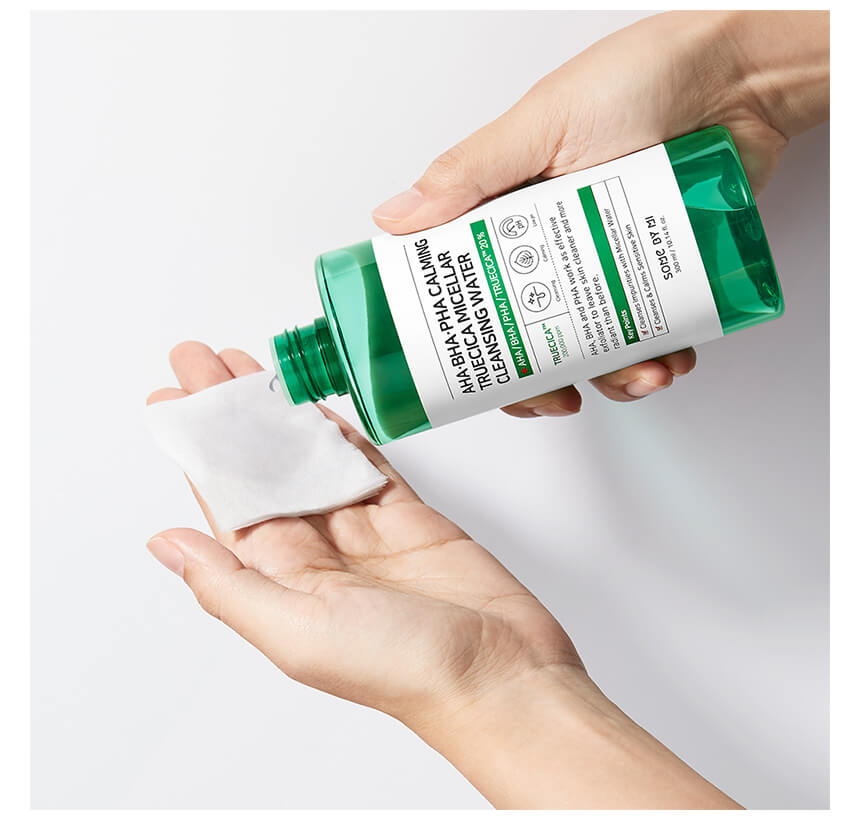 How to use
Take a proper amount onto the cotton pad.
Gently wipe across the entire face along with the skin texture.
To easily remove point makeup, let a cotton pad sit on the area with point makeup for a few seconds.
It is No-wash type that doesn't require secondary cleansing.
Recommended
Those who want a fresh, hydrated sensation after cleansing.
Those who use sunscreen, tone up cream, light makeup.
Those who'd like to clearly cleanse even the impurities inside the pores and the fine dust.
Those who need a simple cleansing during outdoor activity when it's hard to wash the face.
Those who prefer a mild cleanser that doesn't irritate acne-prone skin, sensitive skin.
The Micellar Cleansing Water did not contain harmful ingredients that could cause skin problems!
Free from 20 ingredients that are harmful to your skin
Phenoxyethanol, Triclosan, Benzyl Alcohol, Benzalkonium Chloride(C12, C14), Benzethonium Chloride, Benzophenone-3, Benzophenone-4, Benzophenone-8, Sorbic Acid, Imidazolidinyl Urea, Diazolidinyl Urea, Methylparaben, Ethylparaben, Isopropylparaben, Propylparaben, Isobutylparaben, Butylparaben, p-Hydroxybenzoic Acid, Methylisothiazolinone, Methylchloroisothiazolinone.
Ingredients
Water, Melaleuca Alternifolia (Tea Tree) Leaf Water(20 %), Propanediol, 1,2-Hexanediol, Niacinamide, C12-14 Pareth-12, Betaine, Polyglyceryl-4 Caprate, Allantoin, Decyl Glucoside, Ethylhexylglycerin, Dipotassium Glycyrrhizate, Rosmarinus Officinalis (Rosemary) Leaf Oil, Disodium EDTA, Sodium Hyaluronate, Salix Alba (Willow) Bark Extract(10 ppm), Hyaluronic Acid, Capryloyl Salicylic Acid, Salicylic Acid(10 ppm), Tromethamine, Gluconolactone(10 ppm), Citric Acid(10 ppm), Sea Water. Lactobacillus Ferment, Glyceryl Glucoside, Glycerin, Hibiscus Sabdariffa Flower Extract(2,500 ppb), Dipropylene Glycol, Butylene Glycol, Hydrogenated Lecithin, Polyglyceryl-10 Oleate, Panthenol, Asiaticoside(200 ppb), Glucose, Cetearyl Alcohol, Sorbitan Stearate, Glyceryl Stearate.