CNP LABORATORY Anti-Pore Blackhead Clear Kit Strip, Nose Mask 3 Set
Blackhead mask for the blackhead on your nose that bothers you, This 2-Step nose strip is specially designed to remove blackheads and excess sebum to achieve blackhead-free skin without squeezing. The Step 1 mask will gently dissolve blackheads and sebum whereas Step 2 is a pore tightening mask that will minimize the appearance of pores and leave the skin smooth and clean like a boiled egg.
Meet the new concept of Blackhead Mask Clear Kit which melts blackhead effectively and contracts pore with a strip back!
Main Features
Natural Patented Ingredients for Blackhead and Sebum Care: The natural ingredients of the mask care for blackhead and sebum effectively, melt them, and dissolve in hard sebum to help it easily stick to the patch. (Patent acquisition for ingredients for blackhead care: Patent No. 10-0962344)
Adheres and removes blackheads: Adheres and removes the blackhead, makes your pores elastic as the sheet in Step 2 dries.
Nose mask with a new concept that doesn't need water: A new concept nose mask product that attaches the strip pack of Step 2 using the remaining liquid from Step 1 without the need for you to separately apply water to the sheet.
Can care hardened sebum and blackheads: Helps to take care of the hardened sebum and blackheads on your nose.
Blackhead Clear Kit is the second nose mask that CNP presents to you.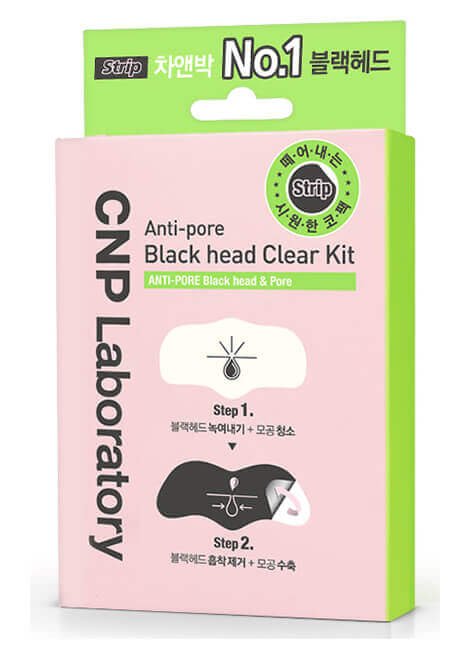 Get back your smooth glowing skin with just two steps of blackhead mask
STEP1: The natural ingredients of nose strips make blackheads easy to get out of the pores.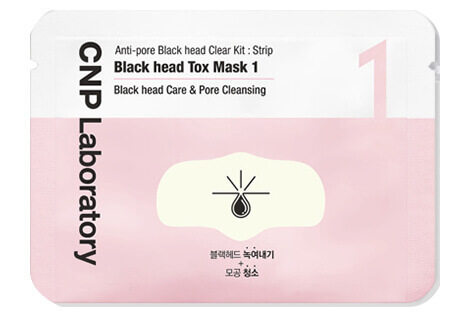 Gently stick without causing any irritation, the natural ingredients dissolve deep in sebum & blackhead in order to take it off easily within the patch with no need to rinse or use a cotton swab.
(Patent acquisition for ingredients for blackhead care: Patent No. 10-0962344)
STEP 2: Blackhead Removal + Pore Contraction Nose Strips.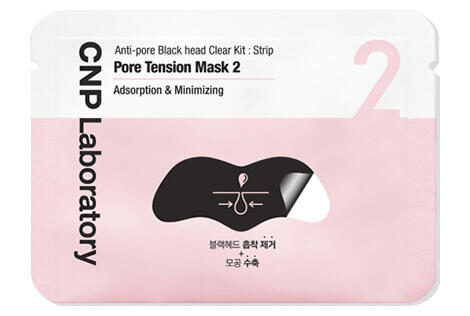 The first stage is to adsorb and remove the blackhead, and as the sheet dries, step 2 contracts pore with elasticity. Moreover, the formula with vitamin C derivatives and Kaolin helps with sebum care.
Recommend for
Who worries about blackheads that are in the nose center.
Who's looking for a low-irritation care product due to their sensitive skin.
Who wants to take care of pores, hard sebum, and deep blackheads at once.
Who doesn't want a temporary effect but looking for a product that improves blackheads gradually.
How to use
 After washing your face, soften and smooth your skin with toner.
 Place mask 1 on the blackhead area for 10 minutes.
Take off mask 1, attach Mask 2 to the same area using the remaining liquid on the skin for 10 minutes.
Take off mask 2.
Blackhead Mask Clear Kit is a product for people with deep and hard sebum in their noses.
Smart Choice
Depending on your skin condition, you can select and use one of the following two types of Blackhead Clear Kits.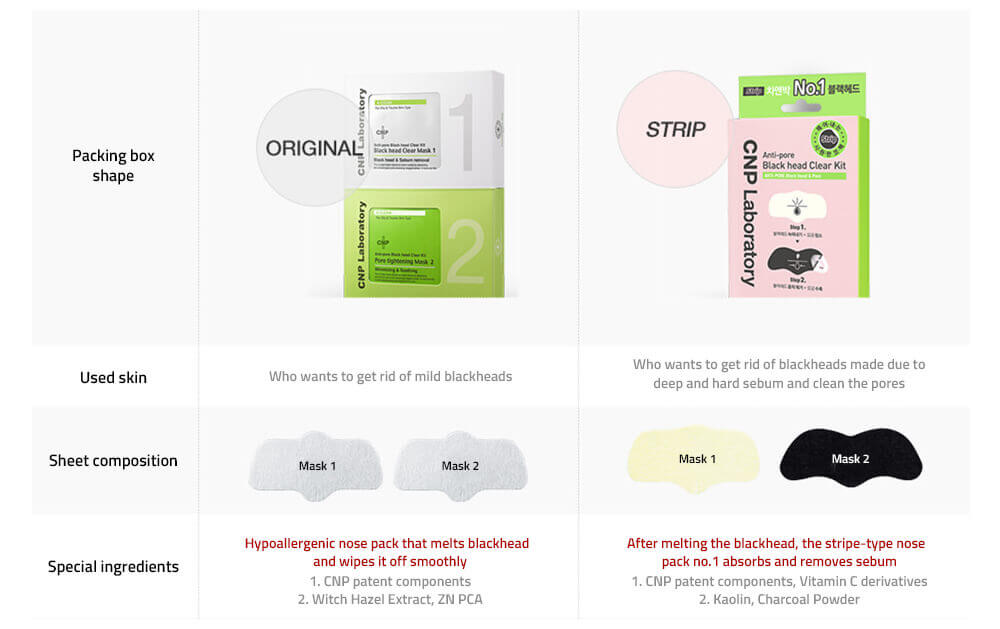 Blackhead Mask Clear Kit contains 3 sets of nose masks that can be used 3 times.
Ingredients
Mask 1: Purified Water, Hamamelis Virginiana (Witch Hazel) Water, 1,2-Hexanediol, Butylene Glycol, Salvia Officinalis (Sage) Leaf Extract, Melissa Officinalis Leaf Extract, Arctium Majus Root Extract, Mentha Piperita (Peppermint) Leaf Extract, Viscum Album (Mistletoe) Leaf Extract, Juniperus Communis Fruit Extract, Saponaria Officinalis Extract, Hypericum Perforatum Extract, PEG-8, Glycereth-25 PCA Isostearate, Potassium Hydroxide, Magnesium Ascorbyl Phosphate,
Gaultheria Procumbens (Wintergreen) Leaf Extract, Vanillyl Butyl Ether, Caprylyl Glycol, PEG-8/SMDI Copolymer, Codonopsis Lanceolata Root Extract, Ficus Carica (Fig) Fruit Extract, Punica Granatum Fruit Extract, Piper Methysticum Leaf/Root/Stem Extract, Ascorbyl Palmitate,
Mask 2: Charcoal Powder,  Purified Water, PEG-12 Dimethicone, Kaolin, VP/VA Copolymer, Propylene Glycol, Titanium Dioxide, Menthol, Phenoxyethanol.