SOME BY MI Clear Spot Patch 18 pcs
A Pimple patch for you who care about the acne on your face and touch it with your hands often.
Do you want to easily cover up the acne scar?  or Don't you carelessly touch the wound on your face?
You might think that your hands are clean but they are full of germs and bacteria, sometimes your hands can worsen your skin if you squeeze or keep touching it regularly. SOME BY MI presents to you the invisible pimple patch " Clear Spot Patch".
Stop touching your pimples or wound which leads to more irritation and pain and stick it on the spot!
Stop touching your acne or irritated areas and use  Some by mi's pimple patch!
It's designed for absorbing exudates from the wound area and waste that makes your skin irritated. Stop covering it with concealer and that way your skin gets more irritation. The pimple patch is effective for the trouble spot since it is a translucent patch and has a water resilient possibility to protect a wound on your face like pimple.
No more concealer! No more squeezing!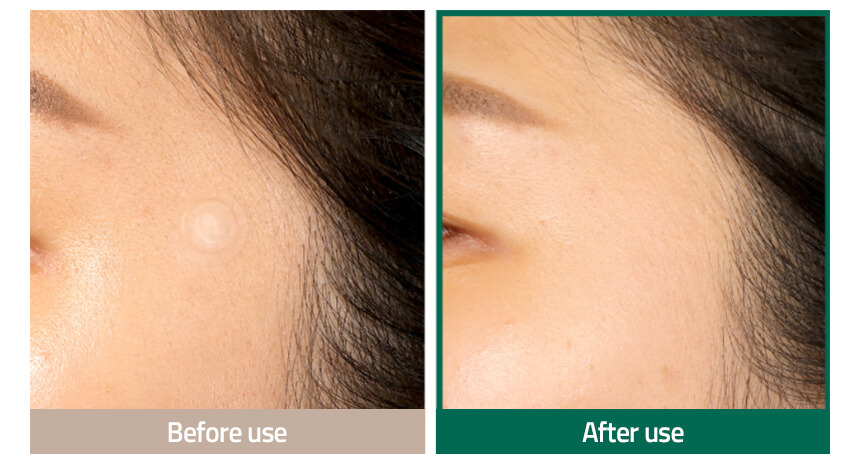 Main Features
A spot patch that quickly and easily intensively cares for wounds on the face.
Its Hydrocolloids sheet absorbs exudates from the wound area to protect the wound from external pollutants and secondary infections.
A product licensed as a sanitary aid product from KFDA, so you can use it with confidence.
A thin transparent material that gives you a natural covering.
Waterproof, Breathable, Anti-Bacterial.
High absorption of wound secretions than ordinary spot patches.
Two sizes of 10mm and 12mm patches are included to increase usability.
What Hydrocolloid patch means?
Hydrocolloid (hydro-coal-oid)  patches are made from a moisture-absorbing material that's been used for decades in the medical community to help with wound healing. It absorbs exudates from the wound area to maintain a wet environment, protecting wounds from external pollutants and secondary infections.
A safely trusted patch that you can use with confidence!
Spot patch that you can use with confidence! The KFDA approved that Clear Spot Patch could be safely used.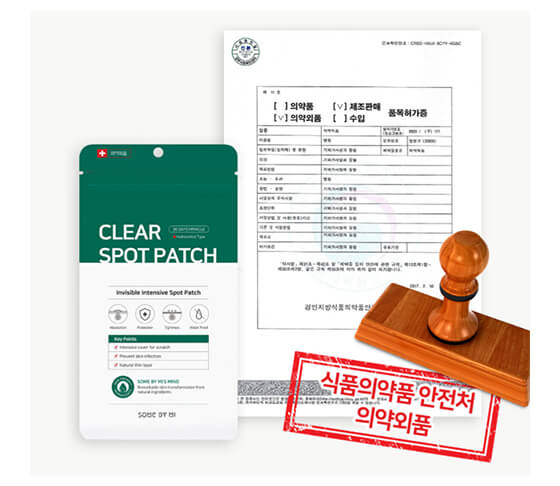 Coverage Test
Guess how many patches are attached to this woman's face.
The correct answer is 8 patches. (Based on the self-test, there's might be individual differences.)
Patch Size
Available in 2 sizes 10mm, 12mm. Both sizes are very useful & in use.
It is sterilized and packaged in 10mm (9 sheets) and 12mm (9 sheets) sizes, which are the most utilized in the wound area.
A pimple patch made of translucent material that can cover all skin tones and has a thin border, so you can apply daily makeup after attaching it!
Apply easy-to-take-off patch method
SOME BY MI's 'Easy-to-take-off patch method' considering both sanitation and cover.
The method is to make the edge cut obliquely and stick well to the skin. So The center of the clear spot patch that absorbs exudates is thick and the edges are thin, covering them naturally, and adhering to the skin for a long time.
the center of the patch line, the patch is removed from the line and put directly on the wanted area this way is safer than touching it with fingers which might lead to pollution and this way protects against secondary infections.
How to use

Recommended for
Use it on the injured wounds
Who wants to prevent infection
On the bothering acne scars
When should I change the pimple patch?
If it swells white while absorbing exudate from the wound, replace it after a certain period of time (about 4-8 hours).
※ The replacement time may vary depending on the individual's skin condition.
TIP# If the patch does not fall off well, excessive removal can damage the skin. Apply warm water to soften the patch and remove it.