A'PIEU Mulberry Blemish Clearing Ampoule 50ml
Blemish Clearing Ampoule presented to you from A'PIEU! One of the best-sellers with the highest reviews, now brought to you by a bigger size! A 2-week blemish clearing ampoule that absorbs into the skin for concentrated blemish, spot, and freckle care while moisturizing the skin.
"Mulberry blemish clearing ampoule for amazing results in 2 weeks and totally different results in 4 weeks!"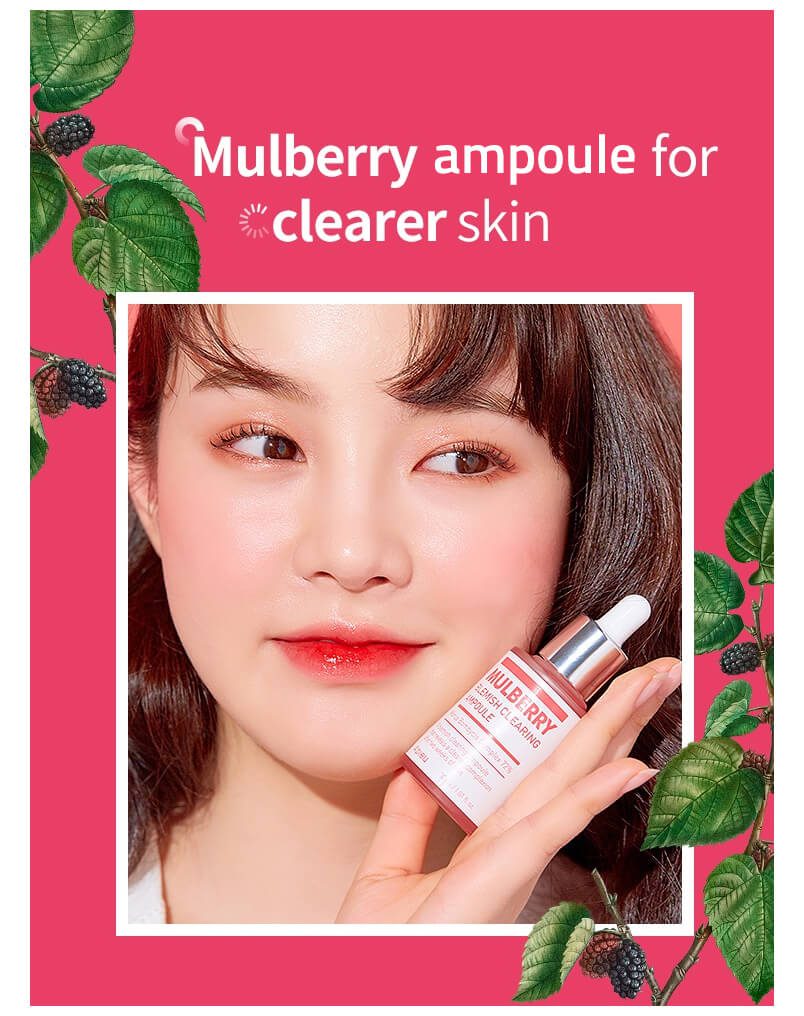 Main Features:
A smooth clearing ampoule that works effectively against blemishes, freckles, and spots in just two weeks!
Bigger size with the same price! The product that gets sold out once it's released!
Contains Mild and safe ingredients that gently and comfortably take care if you have sensitive irritated skin.
Also contains brightening features to tone up your skin.
Completed skin irritation test, It's safe for sensitive skin.
Main ingredients:
Mulberry Complex 72%: Energizes and vitalizes the skin.
Tranexamic acid: Moisturizing, radiance skincare.
Morus Bombycis wood extract: Protects skin.
Morus alba fruit extract: Relieves irritation and soothes skin.
Here is how the Mild ingredients of Mulberry Blemish Clearing ِAmpoule are extracted!
Transparent "Morous Bombycis"
Growing in the mountain valleys of Jeju-do island, The tree was known to be precious and was called the "goodly tree of the East" as it's roots, stem and leaf are all effective and useful. These all benefits from all parts of morud bombycis are contained and delivered to the skin.
It contains "the power of 120 hours" as the cold brew method is used to contain the superior benefits of the jeju morus bombycis. 120-hour, low temperature extraction minimizes the addition of impurities while including the maximum amount of active ingredients in the Mulberry Blemish Clearing Cream.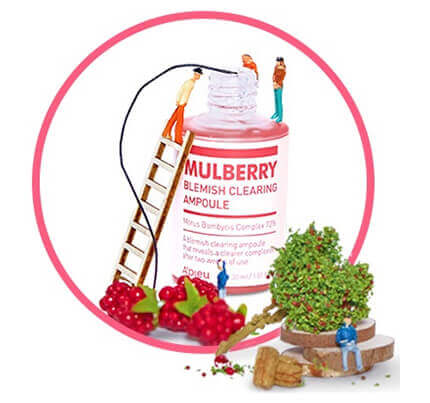 Human application test completed
Test institution: Korea Dermatology center
Test period: 2019.03.14~2019.05.08
Test results:
90% blemishes and spots seem less after 2 weeks of using the produdct.
100% blemishes and spots were totally gone after 4 weeks of using the product.
Mulberry Blemish Clearing ampoule spreads smoothly on your skin and is absorbed moistly, finishing fresh without stickiness.
Formulation:
A concentrated transparent water-like formula that lightly absorbs into the skin for a non-sticky, refreshing finish.
How to Use:
Use the dropper to take an appropriate amount of the ampoule and gently apply along the skin texture.
Place the palms of the hands over the face to allow the ampoule to be absorbed into the skin.
Recommended for:
Those who suffer from blemishes.
Those who are looking for a clearer skin.
Those who need a mild clearing cream.
Ingredients:
Morus Bombycis Extract, Morus Bombycis Root Extract, Morus Bombycis Leaf Extract, Water, Glycerin, Butylene Glycol, 1,2-Hexanediol, Dipropylene Glycol, Niacinamide, Tranexamic Acid, Chondrus Crispus Extract, Choleth-24, Saccharum Officinarum (Sugarcane) Extract, Carbomer, Tromethamine, Panthenol, Ethylhexylglycerin, Xanthan Gum, Lavandula Angustifolia (Lavender) Oil, Disodium Edta, Citrus Nobilis (Mandarin Orange) Peel Oil, Morus Alba Fruit Extract, Linalool, Limonene.