CNP LABORATORY Propolis Energy Active Ampoule 15ml
An energetic propolis ampoule that contains concentrated Propolis Extract. The propolis is well known for its antioxidant and moisturizing properties to revitalize the skin. It also contains Hyaluronic Acid helps to maintain firm, healthy, and glowing skin. This propolis ampoule makes your skin healthy, shiny as well as it helps soothe your skin, and supply moisture at the same time.
Highly concentrated Propolis ampoule reinforces skin vitality!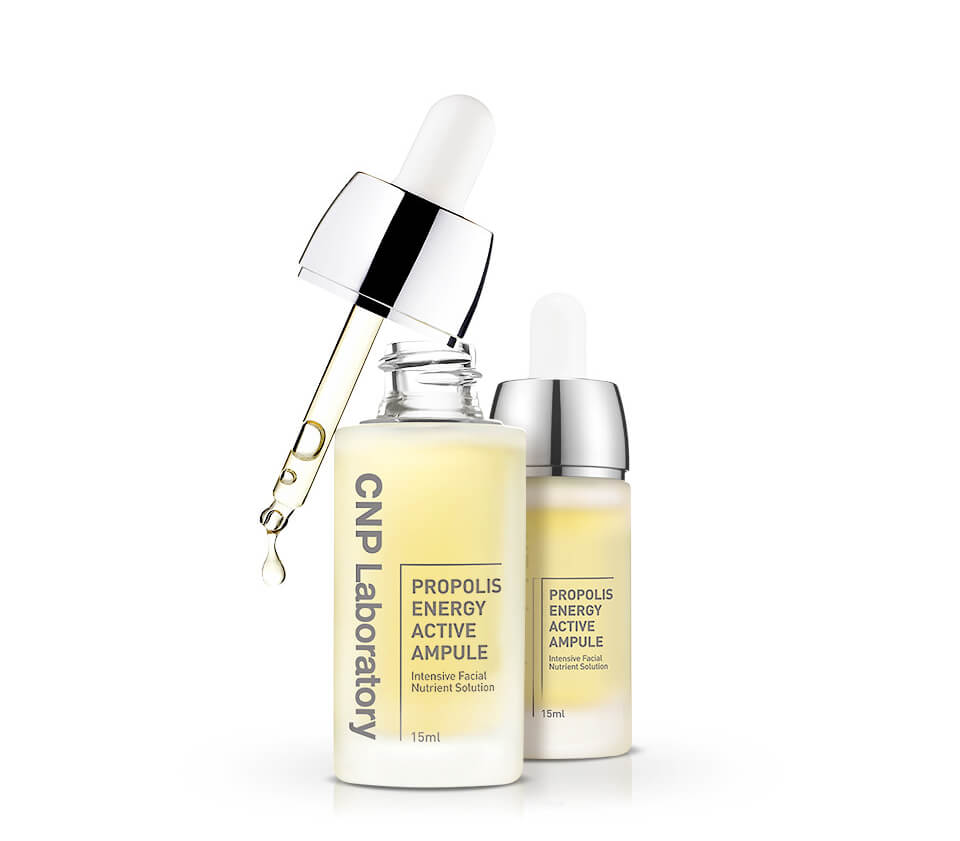 Fill your skin with the amazing energy through Propolis Ampoule!
After 2 weeks of use, you will obviously notice the skin moisturization improvement, thanks to the rich in hyaluronic acid and full nutrients formula that provide soft and moist skin changes.
96.4% of customers experienced firm skin after using Propolis Ampoule!
Moisturizing Characteristics of Propolis
Honeybees are substances made by combining resin, a protective substance secreted by plants, with their saliva and enzymes to protect the inside of the honeycomb, and they are very effective in soothing and nourishing the skin.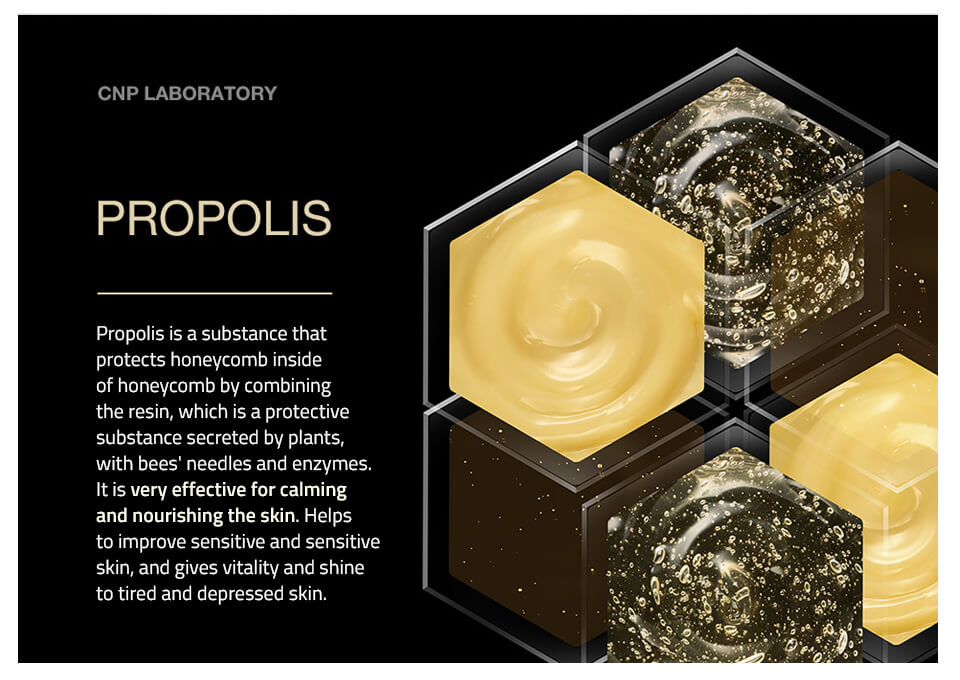 Main Features
Provides healthy energy to the skin: Its formula containing propolis extracted from honeycomb gives healthy vitality and glow to tired and weak skin.
Excellent soothing effect: Contains CNP's Anti-Irritant Complex, Beta-Glucan and Madecassoside to soothe irritated skin from the outside environment.
Form a moisturizing protective film: Its formula containing Sodium Hyaluronate forms a moisturizing protective film to moisturize the skin for a long time.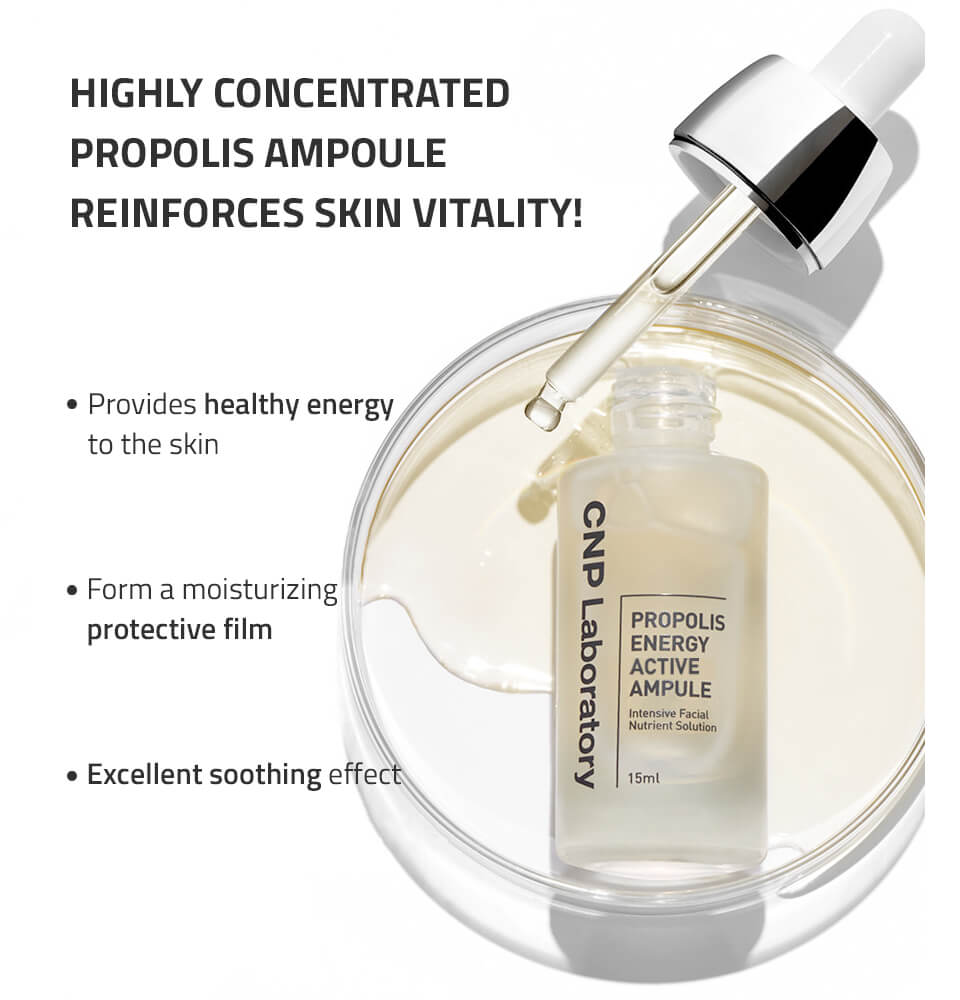 Formulation
A formulation that is not very watery and has an appropriate viscosity, it slowly flows down when applied to the skin.
How to use
After washing your face in the morning and evening, take an appropriate amount all over your face.
Spread it out smoothly in the next step of the toner.
Recommended for
Whose skin looks dull these days.
Who's looking for Essence or Ampoule that's rich in nutrition and moisture.
Who wants a product with honey extracts.
Who's looking for ampoules that give the same results as beauty clinics at home.
Ingredients
Water, Propolis Extract, Butylene Glycol, Glycerin 1,2-Hexanediol, Polysorbate 20, Sophora Angustifolia Root Extract, Imperata Cylindrica Root Extract, Propanediol, Hydroxyethylcellulose, Carbomer, Arginine, Madecassoside, Allantoin, Punica Granatum Fruit Extract, Melissa Officinalis Leaf Extract, Ficus Carica (Fig) Fruit Extract, Codonopsis Lanceolata Root Extract, Phenoxyethanol, Peg-8, Pentylene Glycol, Sodium Hyaluronate, Disodium Edta, Pelargonium Graveolens Flower Oil, Beta-Glucan, Sodium Citrate, Hydroxyphenyl Propamidobenzoic Acid, Ethylhexylglycerin, Sodium Lactate, Potassium Sorbate, Honey Extract, Polysorbate 20, Citric Acid, Ascorbyl Palmitate, Biotin, Palmitoyl Tripeptide-1, Palmitoyl Tetrapeptide-7.