CNP LABORATORY Ferulic Actimune Ampoule 15 ml
CNP provides the best ferulic serum effective in improving various skin blemishes. Formulated with a powerful anti-oxidant ferulic acid and vitamins B, C, and E formula, this anti-aging, skin-strengthening ampoule leaves skin looking clearer and youthful by strengthening skin at its foundation. Also protects skin from external irritation, dryness, and blemishes by boosting the skin's natural strength.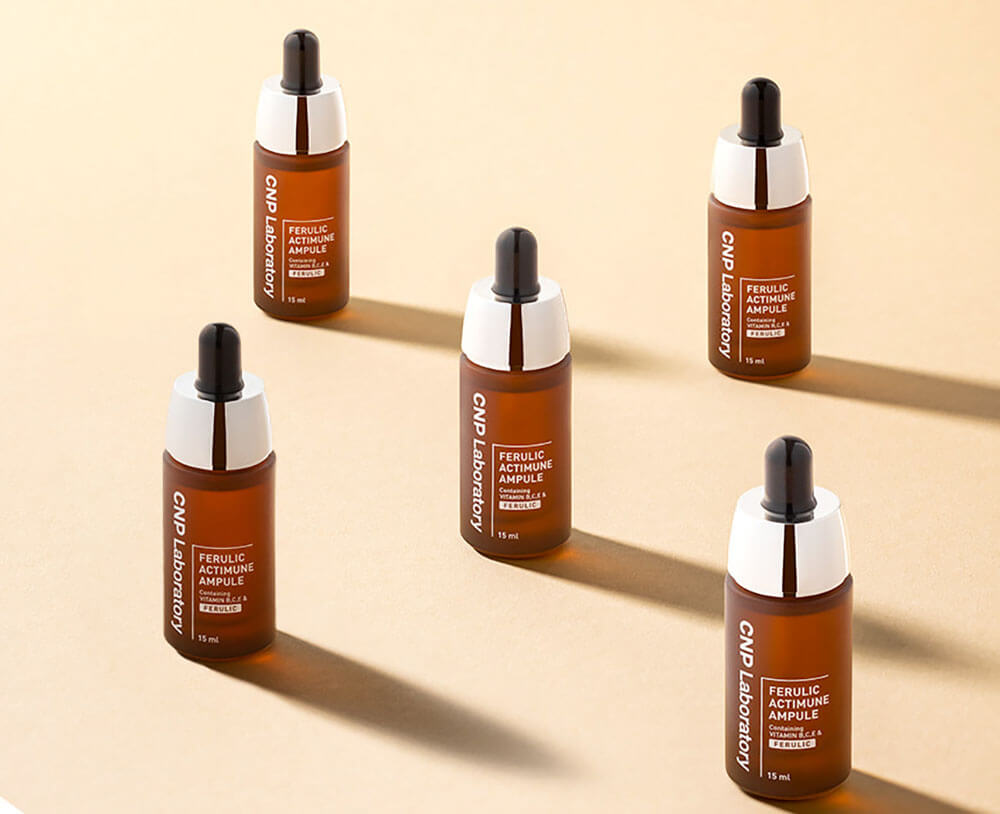 Do you want a clean and healthy skin tone? Then try the best ferulic serum made by CNP experts.
Ferulic serum is a whitening functional cosmetic that intensively cares for dull skin tone and blemishes to complete a clean skin background.
Main Features
Highly effective antioxidant care: Ferulic and vitamin prescriptions! It contains a CNP skin specialist's antioxidant prescription to smoothen the skin texture and make your skin firm.
Overall care: Skin-enhancing ampoule that makes your skin healthy and powerful gives your skin its natural healthy vitality and gloss, and overall care for the texture, moisturizing gloss, and transparency to make your skin healthy and powerful.
The formula intensively takes care of dull skin tone and blemishes and makes skin look clearer and brighter.
Improves skin texture, skin moisture retention, skin uniformity, and skin transparency in just 2 weeks of use.
The non-sticky moist absorbing formula is suitable for all skin types without irritation.
Main Ingredients
Ferulic: Antioxidant ingredients that help stabilize vitamin C and vitamin E
Vitamin C: Antioxidant components that break down harmful oxygen
Vitamin E: Suppresses active oxygen and helps with skin care.
Skin Tests
Test Institute: KC Skin Clinical Research Center.
Test Period: Nov 30,2020 ~ Dec 29,2020
Subjects: 30 Korean adult women aged 20 to 60
Skin basic strengthening test results

:

Skin texture changes: 7.23% improvement
Skin moisture retention: 18.78% improvement
Skin uniformity: 1.35% improvement
Skin transparency: 1.03% improvement
Skin tone and blemishes test results:

Melanin: 3.6% improvement
Yellow skin tone: 3.63% improvement
Skin brightness: 2.29% improvement
Skin blemishes: 8.9% improvement
Skin whiteness: 12% improvement
Formulation
A non-sticky formulation that is not very watery and has an appropriate viscosity slowly flows down when applied to the skin.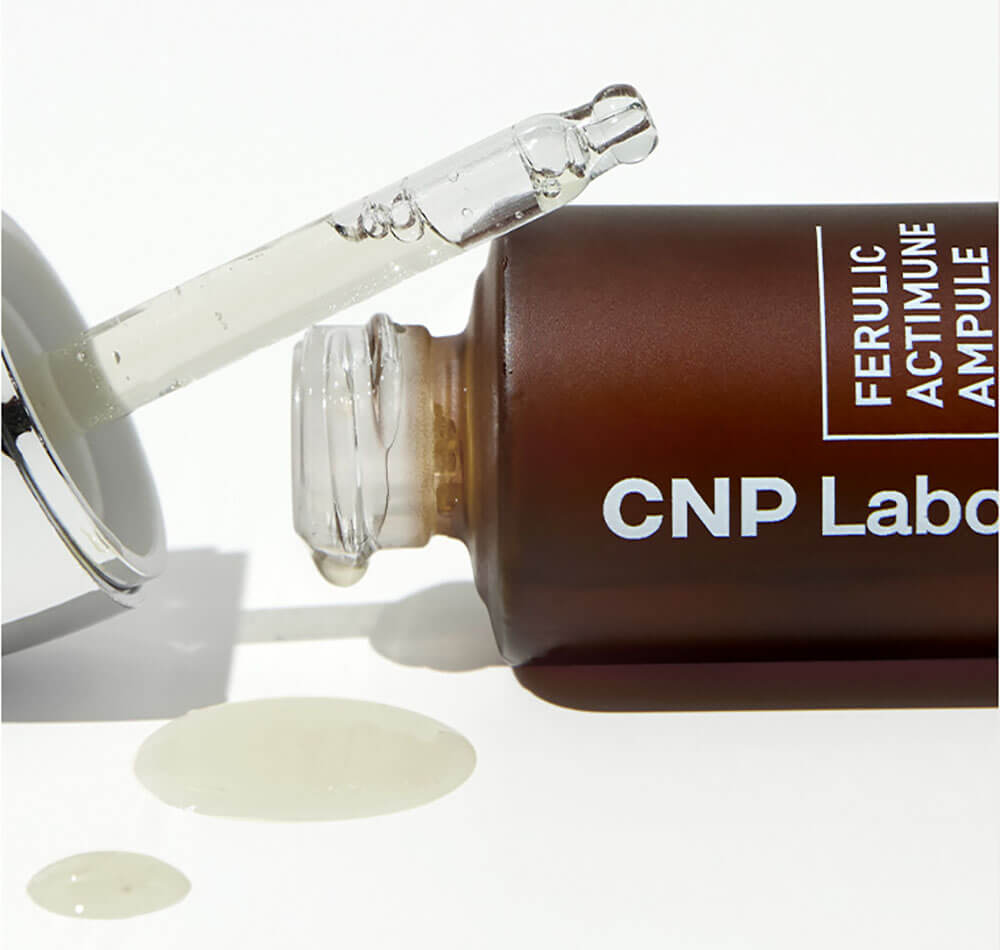 How to use
Apply 3 – 4 drops of ampule concentrate evenly to the entire face.
Gently pat in for complete absorption.
TIP# To be used as the first skincare step after toner.
Recommended for:
Those who want to take care of dull skin tone and blemishes.
Those who want healthy and firm skin.
Those who want to make their skin younger with double antioxidant care.
Cautions
This ampoule contains vitamin C so kindly check the cautions below.
Vitamin C products can cause oxidation, so we recommend using them within 3 months after opening.
We recommend that you test the inner skin of your arm before using it and apply it to your face if there is no problem.
Vitamin C ingredients may become darker when they come into contact with air after opening, so please refer to the color change guide below and use it within the recommended period of use.
Avoid skincare, irritation, or damaged areas.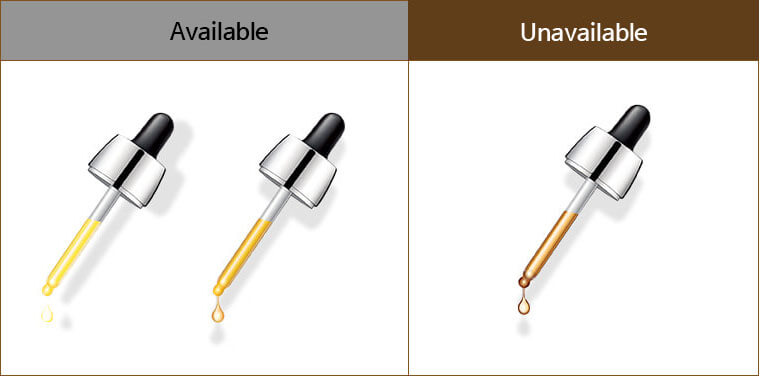 Ingredients
Water, Propanediol, 2,3-Butanediol, Ascorbic Acid, Laureth-23, Panthenol, Butylene Glycol, Glycerin, Trehalose, Tromethamine, Bisabolol, Ferulic Acid, Hexylresorcinol, Sodium Hyaluronate, Polyglutamic Acid, Coptis Japonica Root Extract, Tocopherol, Houttuynia Cordata Extract, Ginkgo Biloba Nut Extract, Pyridoxine Hcl, Citric Acid, Madecassoside, 1,2-Hexanediol, Sodium Chloride, Sodium Bicarbonate, Glucose, Potassium Chloride, Sodium Phosphate, Lysine Hcl, Sodium Pyruvate, Isoleucine, Leucine, Tyrosine, Threonine, Valine, Arginine Hcl, Phenylalanine, Cystine, Calcium Chloride, Histidine Hcl, Serine, Glycine, Methionine, Paeonia Suffruticosa Branch/Flower/Leaf Extract, Tryptophan, Inositol, Folic Acid, Niacinamide, Thiamine Hcl, Riboflavin.