CNP LABORATORY Mugener Calming Ampoule Mask, 5 pcs
Soothing hydration mask for your irritated skin, CNP provides the deep soothing hydration mask, it contains the triple calming complex & deep hydrating complex that takes care of the skin comfortably, and the sheet filled with the rich ampoule essence that provides a solid moisturizing and soothing care for the irritated skin. The Triple Calming Complex is a mix of Glycosaminoglycans, Centella Asiatica Leaf, and Madecassoside. These ingredients deeply calm the skin down and leave it moist and fresh.
Make your skin moist, soothed, and comfortable! Try Mugener, the soothing hydration mask Now!
Concerning irritated skin? try the soothing hydration mask from CNP!
Main Features
Thin and transparent adhesive sheet: A sheet as light as feather, it adheres tightly to the skin, providing a comfortable and soft texture.
Excellent in delivering ampoules ingredients: The moisture-rich, fluid-retaining structure of the sheet delivers deep moisture to the skin.
Long-lasting moisture: The rich moisture that has been sufficiently transmitted to the skin is cared for moist skin for a long time even after removing the sheet.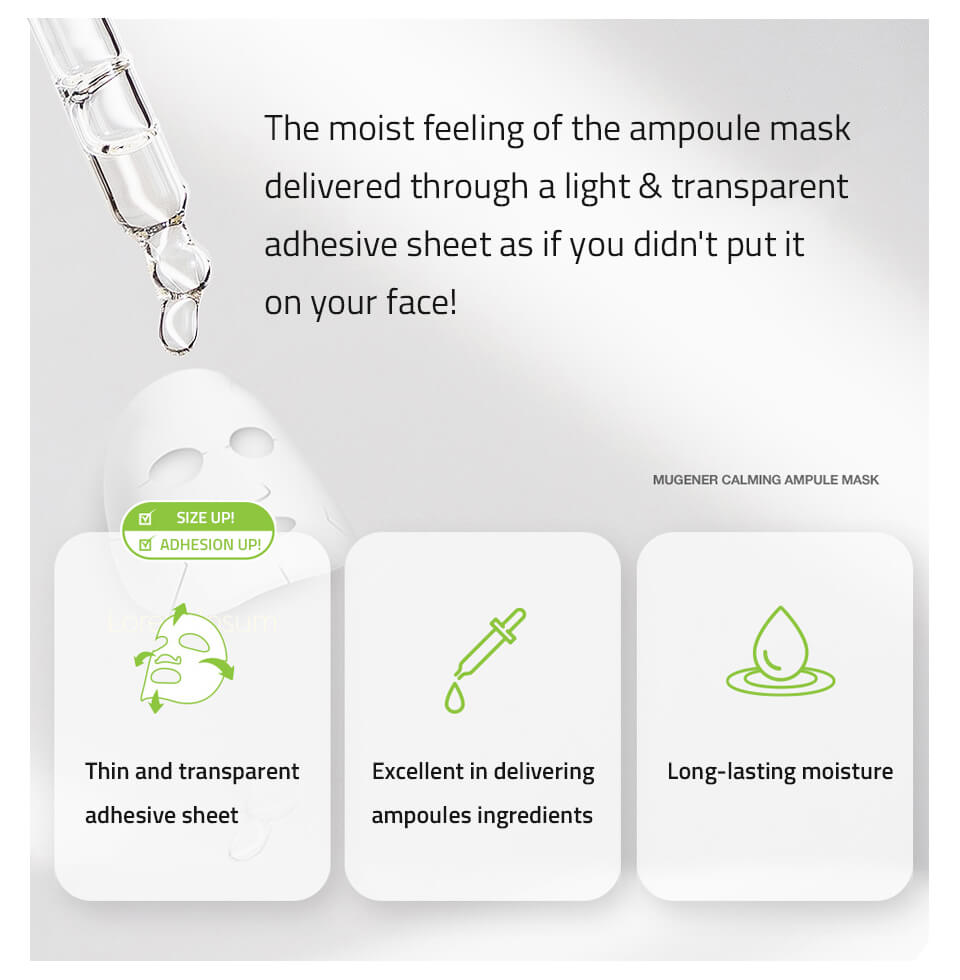 Main Ingredients
Triple Calming Complex: (Glycosaminoglycans, Centella Asiatica Leaf Extract, and Madecassoside): Takes care of irritated skin comfortably.
Deep Hydrating Complex: (Panthenol, Allantoin, and Lysozyme Beta-Glucan): Gives your skin a rich moisturizing feeling.
Mugener calming mask is slight viscosity. The thin sheet adheres well to the skin, so it feels like it absorbs the ampoule tightly and feels soft too.
How to use
Take out the mask, unfold it, and adhere it evenly to the entire face.
After about 10 to 20 minutes, remove the mask.
Gently tap the remaining ampoule essence on the skin to absorb it.
Ingredients
Water, Propanediol, PEG/PPG-17/6 Copolymer, 1,2-Hexanediol, Betaine, Panthenol, Allantoin, Dipotassium Glycyrrhizate, Tocopherol, Butylene Glycol, Sodium Hyaluronate, Hydrolyzed Collagen, Corchorus Olitorius Leaf Extract, Jasminum Officinale (Jasmine) Extract, Hamamelis Virginiana (Witch Hazel) Extract, Acrylates/C10-30 Alkyl Acrylate Crosspolymer, Camellia Sinensis Leaf Extract, Citrus Unshiu Peel Extract,  Glycerin, Trisodium EDTA, Sodium Polyacrylate, Tromethamine, Limonene, Fragrance.