SOME BY MI H7 Hydro Max Cream 50 ml, Intensive Moisturizer
Do you have a cakey finish after setting your makeup, Even if you started with a moisturizer?
Don't spray mist anymore on your face to make the makeup long lasts. The issue is that your dry and rough skin just needs deep moisturizing. Somebymi presents to you the intensive moisturizer for rough and very dry skin. You may feel like your skin is getting tight because it's dry even if you use a moisturizer but this happens due to the moisture didn't transfer to the Stratum Corneum and Epidermis Layer. The 7 molecules of H7 max cream tightly seep into the stratum corneum and epidermis layer which creates a barrier for each layer And helps maintain the moisture for a long time. it's not like other ordinary creams, it doesn't moisturize the surface of your skin only but also reaches the deepest layers of your skin, fills it with moisture, strengthens the skin barrier,  and enhances its elasticity.
If you're looking for the best intensive moisturizer, this is it.
Main Features
H7 HYDRO MAX: Deep seawater in the clean sea and a combination of 7 different kinds of hyaluronic acid particles deep hydration to the skin, moisture and forms a strong barrier to maintain optimal moisturizing condition for a long time.
Contains "BSASM," a patented material that combines seven natural ingredients to provide rapid anti-inflammatory and skin-calming effects.
Contains 71 % deep seawater in clean seas in clean seas rich in minerals and nutrients.
A double functional cosmetic for wrinkle improvement and whitening.
Completed the skin irritation primary test.
H7 HYDRO MAX, 7 layers moisturizing new technology!
7 different kinds of hyaluronic acids fill your skin with moisture layer by layer from deep inside skin and form barriers to maintain optimal hydration status for a long time.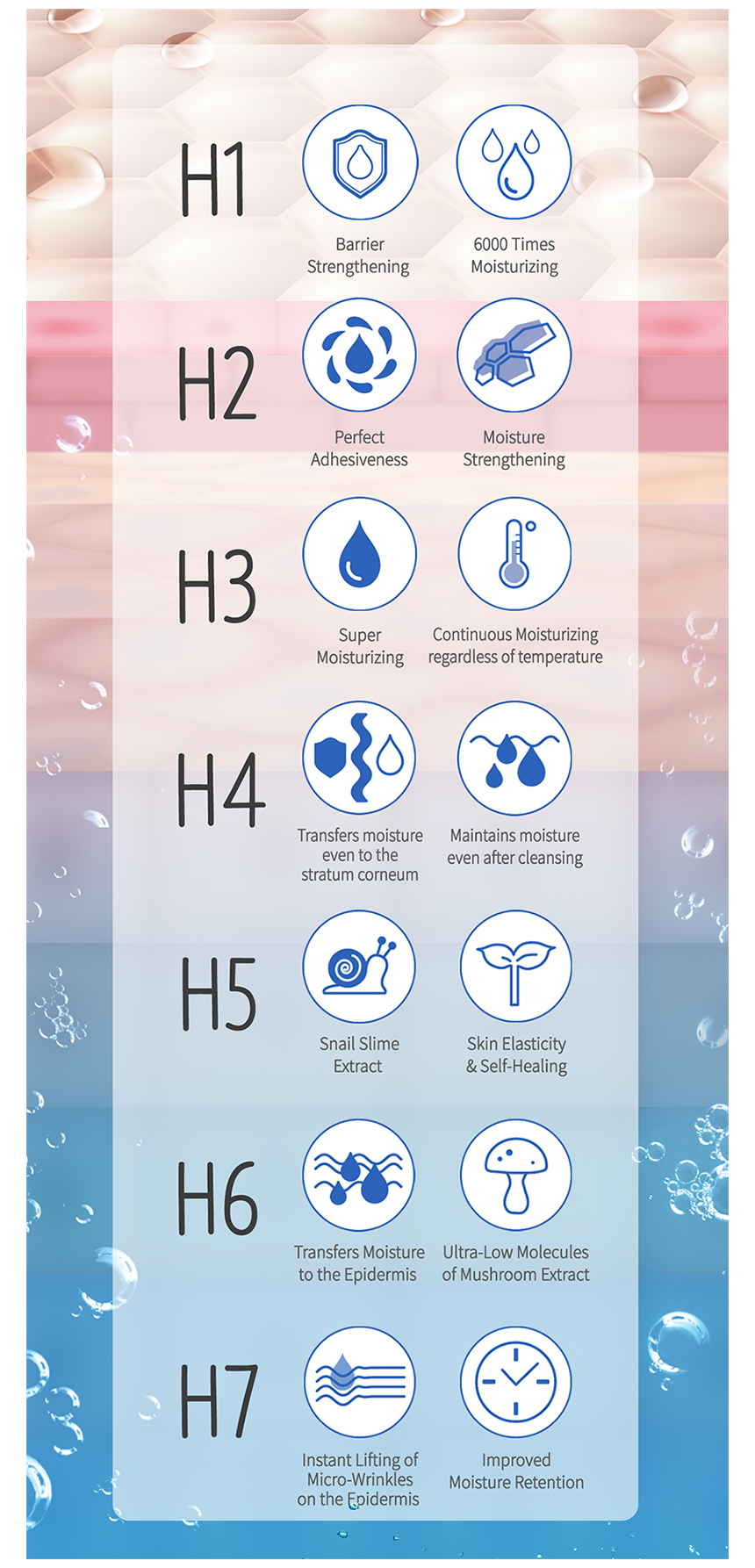 Main Ingredients
Deep seawater: Deep seawater contains a large number of minerals such as magnesium and calcium, which have excellent skin moisturizing and whitening effects, and prevents skin aging and skin problems. It is also rich in magnesium, potassium, and calcium ratio of 3:1:1, which is the most similar to that of the human body.
Butylene Glycol: It acts similar to glycerin or hyaluronic acid, which are moisturizing agents, but has a lighter feel than glycerin and is an ingredient that supplies moisture to dry skin.
Dipropylene Glycol: A hypoallergenic ingredient that has hydrophilic properties, attracts surrounding water to prevent moisture evaporation and has a better moisturizing effect than glycerin.
Persea Gratissima (Avocado) Oil: It is rich in vitamin E, beta-carotene, and alpacarotin, which are good for the skin, so it has an excellent effect on skin protection, and it is also rich in minerals to help the skin absorb moisture and prevent skin beauty and aging.
Simmondsia Chinensis (Jojoba) Seed Oil: It is a natural oil that has few side effects on the skin and has various beneficial effects on the skin because it is an oil that is similar to the sebum component of the skin. It is an ingredient that not only restores the skin barriers and moisturizes but also helps prevent and soothe skin problems.
What is the difference between H7 moisturizing cream and other creams?
That is precisely the point that H7 Hydro Max Cream is a deep moisturizing cream to put on a make-up well, which provides radiance and strong moisturizing power.
H7 Hydro Max Cream contains 71% of the deep seawater, the source of life on Earth.
The World's Best Quality: The World's Best Quality: Deep-sea waters of Ulleungdo, Korea's clean island are remarkably clean thanks to their low temperature, and are rich in minerals; the reason why it's one of the best deep-sea waters in the world.
Discharge waste, skin-soothing effect: The Mineral regulates the pH concentration in the body to enhance immunity and promote metabolism, it not only discharges wastes but also has a soothing effect on Atopy Skin also known as atopic eczema, which is a long-term type of inflammation of the skin (dermatitis). It results in itchy, red, swollen, and cracked skin.
Deep seawater has the same 3:1:1 mineral balance as the human body: Its ratio of magnesium, potassium, and calcium minerals is 3:1:1, the body's absorption rate is fast and the absorption rate is good.
Use this intensive moisturizer with confidence! Zero skin irritation!
Even small irritation can turn on your skin sensitivity and may lead to other skin problems. No chemicals included that cause skin problem, SOME BY MI  made a real intensive moisturizer. excludes skin concerns as much as possible. It is made of natural ingredients. It doesn't contain 20 harmful ingredients that you may worry about as Alcohol, silicon, Paraben…etc, it's perfect for deeply dry, and sensitive skin.
Customers Satisfaction
Here are the opinions of beauty bloggers after trying the intensive moisturizer H7 Hydro Max Cream.
Broccoli: I really like it because it absorbs well in the skin leaving it moist.  Also, the wrinkles are gone.
Beladad: The gloss and absorption that feels like I got a wet shot.
Yellua: It's not sticky but moist! I felt my skin is really moist.
Somony: H7 Deep Moisturizing Cream! It's nice that my makeup isn't sticking out.
The best intensive moisturizer that has been proven to be effective in various ways!
Skin Tests
Primary Irritation Human Body Application Test 
Test Institute: Korea Dermatology Research Institute.
Test Subject: 33 women.
Test Results: H7 Hydro Max Cream has completed the skin application irritation test and its non-comedogenic & non-irritating cream with an irritation index of 0.00.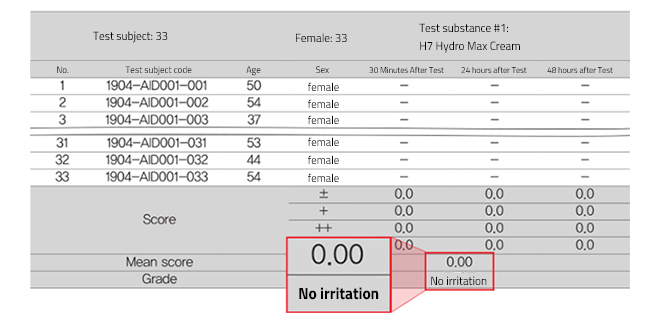 Moisturizing Improvement Test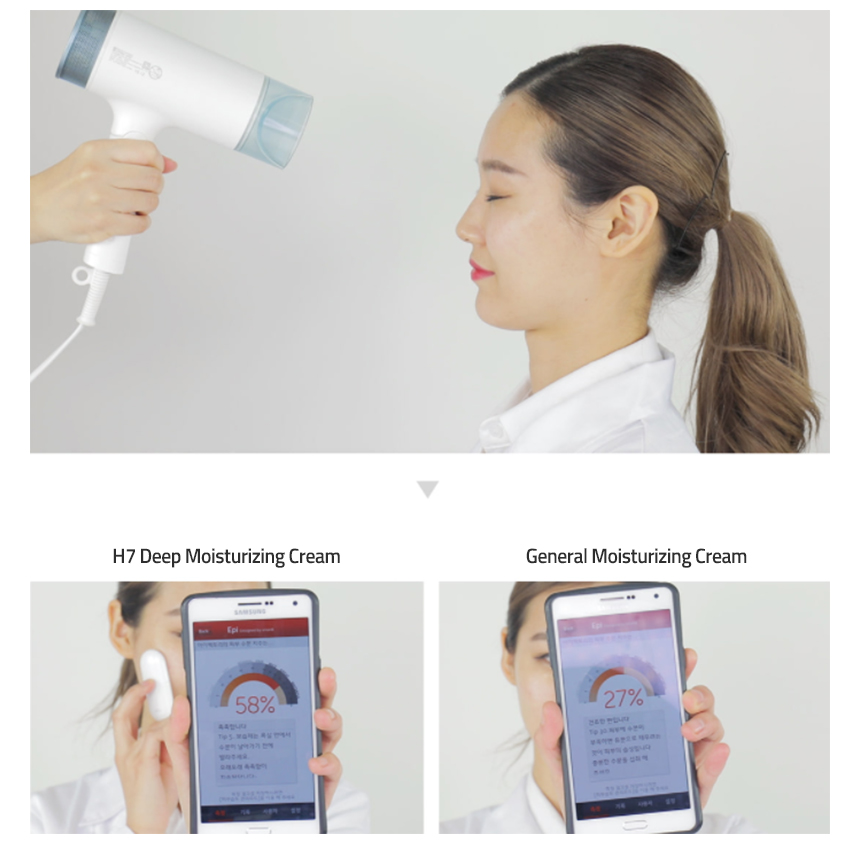 The skin moisture level increased 31% after trying H7 Hydro Max Cream. It helps hydrate the skin sufficiently!
Formulation
A slightly dilute white cream type formulation that applies smoothly and is quickly absorbed to give a moist feeling.

How to use
Apply at the last stage of your skincare routine. Spread an appropriate amount of cream on the face, neck, and upper chest area.
Massage gently into the skin for better absorption.
TIP# Store this intensive moisturizer in the refrigerator to maximize moisturizing and cooling effects.
Recommended for
Whose skin is dry even after applying an intensive moisturizer.
Whose skin leaves a cakey finish after doing makeup.
Whose skin feels that the skin tightens even if they changed the moisturizer many times.
Whose skin elasticity is getting worse.
Ingredients
Sea Water, Dipropylene Glycol, Glycerin, Butylene Glycol, Persea Gratissima (Avocado) Oil, Water, Niacinamide, Simmondsia Chinensis (Jojoba) Seed Oil, Propylene Glycol Dicaprylate, Cholesteryl/​Behenyl/​Octyldodecyl Lauroyl Glutamate, Ammonium Acryloyldimethyltaurate/​VP Copolymer, Elaeis Guineensis (Palm) Oil, Polysorbate 20, Trehalose, Benzyl Glycol, Glycosaminoglycans, Pentylene Glycol, Polyglyceryl-3 Methylglucose Distearate, Propanediol, 1,2-Hexanediol, Citrus Limon (Lemon) Peel Oil, Panthenol, Caprylyl Glycol, Inulin Lauryl Carbamate, Ethylhexylglycerin, Ceramide 3, Disodium EDTA, Sodium Hyaluronate Crosspolymer, Adenosine, Hydrolyzed Glycosaminoglycans, Sodium Hyaluronate, Raspberry Ketone, Chaenomeles Sinensis Fruit Extract, Cinnamomum Cassia Bark Extract, Diospyros Kaki Leaf Extract, Camellia Sinensis Leaf Extract, Artemisia Princeps Leaf Extract, Centella Asiatica Extract, Chrysanthellum Indicum Extract, Hydroxyethylcellulose, Hydrolyzed Hyaluronic Acid, Dioscorea Japonica Root Extract, Ethyl Hexanediol, Polygonum Cuspidatum Root Extract, Scutellaria Baicalensis Root Extract, Hibiscus Esculentus Fruit Extract, Laminaria Japonica Extract, Glycyrrhiza Glabra (Licorice) Root Extract, Chamomilla Recutita (Matricaria) Flower Extract, Corchorus Olitorius Leaf Extract, Nelumbo Nucifera Root Extract, Rosmarinus Officinalis (Rosemary) Leaf Extract, Sodium Acetylated Hyaluronate, Hyaluronic Acid, Polyglutamic Acid.