OMELON WA BOOSTER AMPOULE 1 BOX, AN AMPOULE FOR OMEGA INJECTION FOR PROFESSIONALS 
Whitening booster ampoule for skin professionals, if you have purchased an Omega Injection, here is an ampoule optimized for its function and performance.
Whitening booster ampoule that brightens the skin and provides it with effective pore care.
A super refreshing, yet effective end to a facial.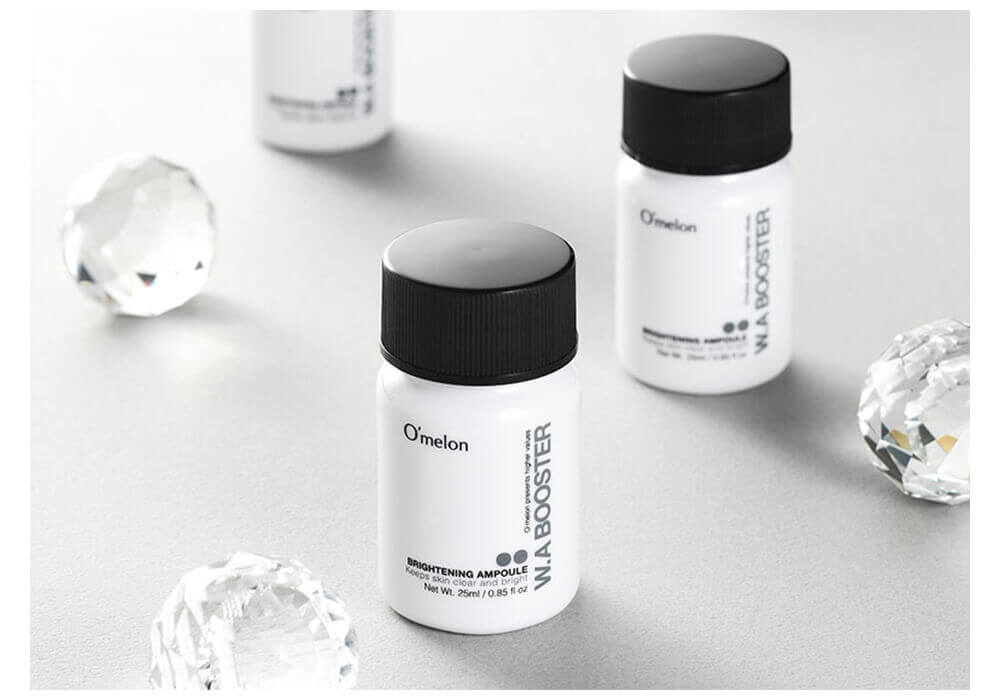 It contains patent ingredient Belamcanda Chinensis Root Extract and KFDA-approved whitening ingredient Niacinamide, which makes your skin bright and radiant.
Main Features:
An ampoule optimized for Omega Injection, is also a

special solution that brightens your skin: The patented ingredient of chestnut root extract and the niacinamide, a whitening ingredient of the Ministry of Food and Drug Safety, make the skin bright.

Booster Ampoule that contains sodium hyaluronate that supplies abundant moisture to the skin with natural moisturizing factors and forms a moisturizing skin barrier.

Has effective pore care that provides smooth skin texture.

Contains Plant-derived complex ingredients (Rice, Adlay, Eggplant fruit, Beans) that help strengthen your skin condition and provides lively skin.

Completed skin irritation test.

A box of WA

Booster Ampoule

contains 10 * 25ml ampoules.
Main Ingredients:
Belamcanda Chinensis Root Extract: Has a skin whitening effect, gives life to the skin, and helps moisturize.

Niacinamide: Helps suppress pigmentation by protecting skin whitening and skin.

Sodium Hyaluronate: Supplies abundant moisture to your skin and forms a moisturizing film to make your skin soft and moist.

Tannin ingredient extracted from chestnut husks: Helps to reduce the size of pores.

Phytic acid extracted from rice bran:Helps brighten and smooth your skin.
WA Booster Ampoule makes your skin bright and lively.
Formula type:
Smooth Watery formula.
How to use:
Put it in the ampoule bottle attached to the gun of Omega Injection spray it to use.

Tip 1: Use it daily like a toner to wipe your face off. Wet the cotton pad with this and gently wipe it from the inside to the outside of the skin.

Tip 2: Use it daily like a toner to absorb it on your face. After washing your face, put an appropriate amount on your palm and gently absorb it according to your skin texture.

Water Pack: It is effective to use it like a facial mask sheet by soaking a cotton pad with plenty of it and placing it on the area you want for about 5 to 10 minutes.

Mist: Put it in an empty mist bottle and spray it on the area you want from time to time.
Skin Tests:
Completed skin irritation test

Test name:

Human application test for skin irritation.

Place:

Korea Dermatology Research Institute

Test period: 15.5.2020~16.6.2020
WA Booster Ampoule contains whitening patent ingredients and vegetable ingredients.
Recommended for:
Dry skin.

Combination skin.

Oily skin.
Ingredients:
Water, Dipropylene Glycol, Glycereth-26, 1,2-Hexanediol, Niacinamide, Hydroxyethyl Urea, Polyglyceryl-10 Laurate, Polyglyceryl-4 Laurate, Butylene Glycol, Caprylyl/Capryl Glucoside, Glycerin, Propanediol, Fragrance, Ethylhexylglycerin, Disodium EDTA, Belamcanda Chinensis Root Extract, Hydroxyacetophenone, Castanea Crenata Shell Extract, Arctium Lappa Root Extract, Oryza Sativa (Rice) Bran Extract, Sodium Hyaluronate, Glycine Soja (Soybean) Seed Extract, Aureobasidium Pullulans Ferment, Coix Lacryma-Jobi Ma-yuen Seed Extract, Oryza Sativa (Rice) Extract, Solanum Melongena (Eggplant) Fruit Extract, Beta-Glucan