SOME BY MI  Super Matcha Pore Clean Clay Mask 100g
It's a clay mask offered from SOME BY MI "Super Matcha Clay Mask'' cleanse neatly the pore from any stalking wastes such as whiteheads, blackheads, dead skin cells, and impurities without any irritation then supply the skin with a solid moisturization. As well as tightening the enlarged pores besides taking care of pore elasticity. All this effective care is included in 1 clay mask. The clay is made of calming ingredients like Tea Tree and Centella Asiatica…etc. This matcha clay won't only care for pores but also calm down your skin.
All-clear your pore concerns with Matcha Clay Mask!
Main Features
Deep pore cleansing: Open the clogged pores, remove the dead skin cells and waste, absorb sebum, blackheads, and other impurities. After that fill the pore with full moisture and calm down the skin.
Calming down the skin: Include all of the calming ingredients Centella Asiatica Extract, Teatree Leaf water, Houttuynia Cordata powder, Chamaecyparis Obtusa Leaf Extract, which are good for calming skin.
Free of harmful ingredients: No chemicals included that cause skin problems. It's free of 20 harmful ingredients that you may worry about as Alcohol, silicon, Paraben…etc.
4-Step for pore care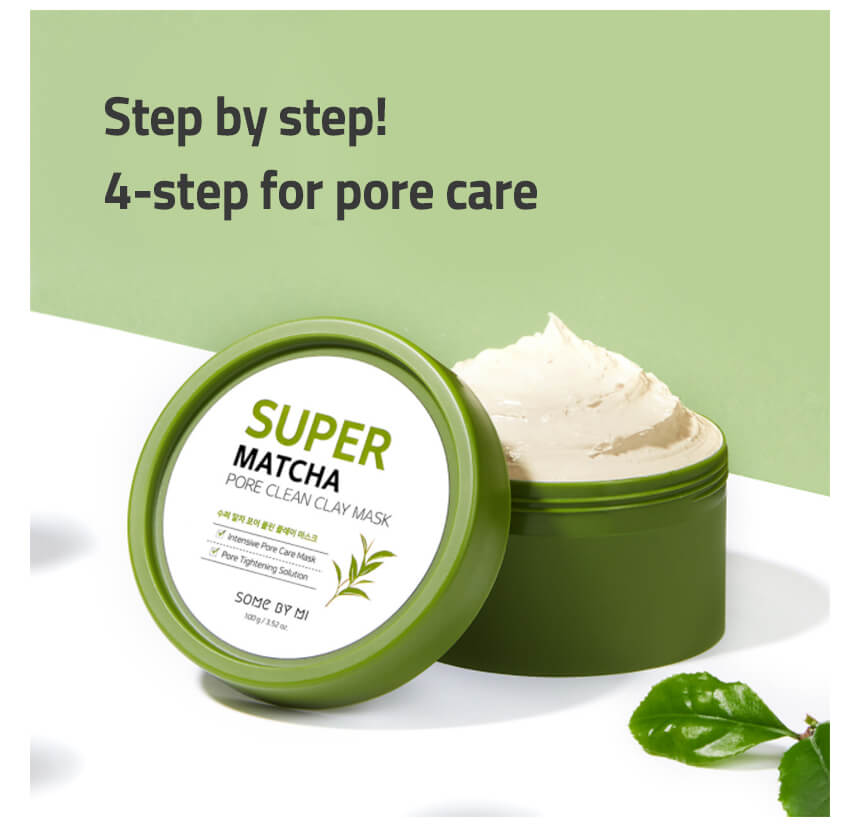 4 steps only for complete pore cleansing
10 in 1 pore care solution!
SOME BY MI Matcha Clay Mask is 10 in1 pore care which will provide the needed care for your skin. It improves up to 10 skin concerns.
Main Ingredients
Matcha: Matcha is a finely ground powder of specially grown and processed green tea leaves, is rich in Tannic Acid, which helps tighten pores. Contains 102,000 ppm of Matcha, after its leaf veins and stems Matcha is removed, Matcha is dried in a steamer and ground into a fine powder. Super content. It cleanses the skin and takes care of the elasticity of the pores.
BHA: Gentle exfoliation BHA(White Willow Bark Extract) helps with calming skin. A naturally sourced BHA melts the dead skin cells without having to worry about irritation.
Clay: Clay is highly effective in absorbing sebum, impurities deeply rooted inside the pores, leaving a refreshing feeling.
Glacier water: When the impurities inside the pores suddenly disappear, the skin produces excessive sebum and oil to fill the empty space. Glacial water and sparkling water fill the pore with full moisture, making sure the cleansed pores stay calm.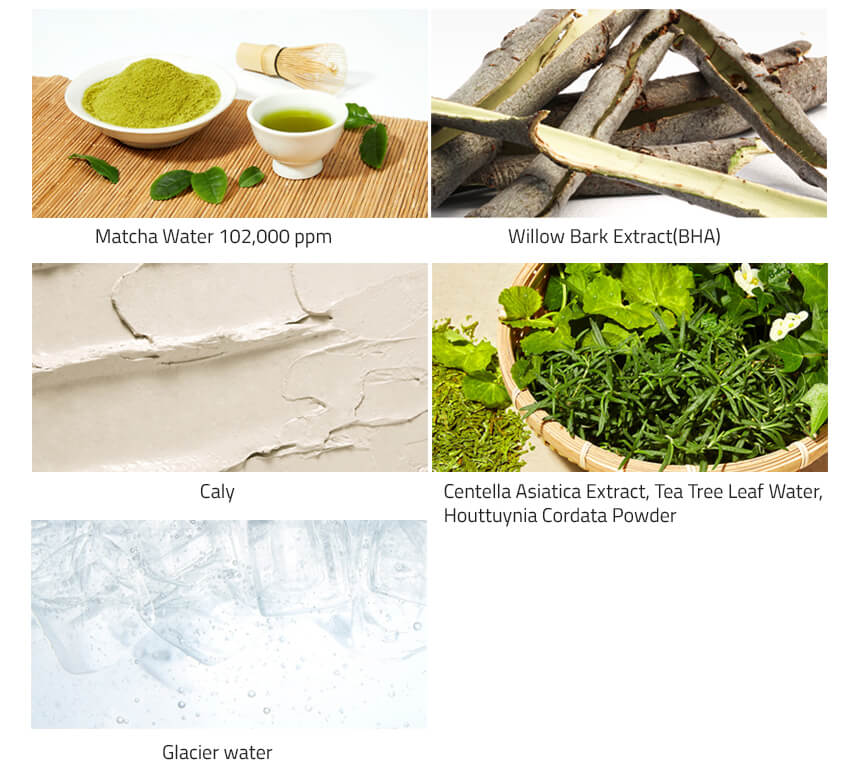 The synergy of Green Tea Leaf and Matcha powder, Natural-derived Mild scrub
Green Tea Leaf and Matcha powder, scrubs from nature, give you mild yet refreshing pore care.
Use Super Matcha Pore Clean Pore Mask with confidence! Zero skin irritation!
Stimulating products can make skin sensitive and may cause a bigger problem than the enlarged pore. Choose Mild Clay Mask for healthy skincare. No chemicals included that cause skin problem, SOME BY MI excludes skin concerns as much as possible. It is made of natural ingredients like green tea. It doesn't contain 20 harmful ingredients that you may worry about as Alcohol, silicon, Paraben…etc, according to it's perfect for dry and sensitive skin.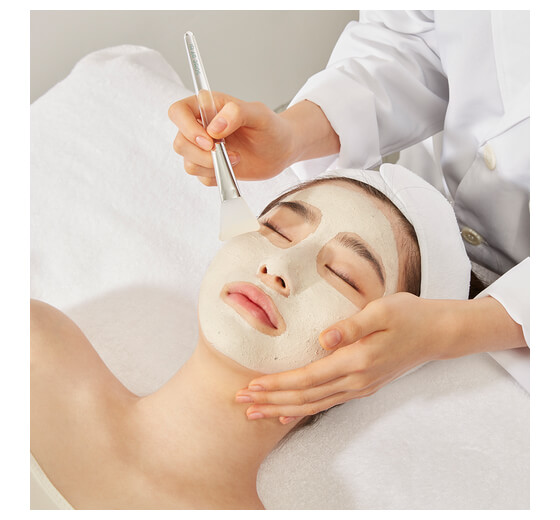 Formulation
A soft creamy formula like spreading ice cream. It's a wash-off type clay mask, it doesn't leave any greasy or uncomfortable feeling after washing it with water.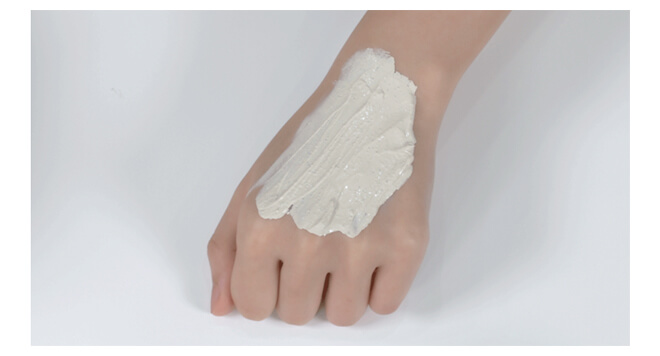 How to use
After washing the face, dry it and apply the clay mask avoiding the eye and lip area.
When it completely becomes dry after 10~20 minutes, rinse it with lukewarm water in circular motions.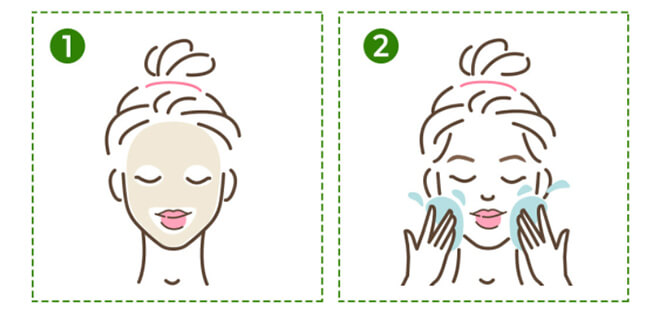 Tips
Use a spatula for convenient use.
You will notice that green tea particles are more refined for a soft scrub.
Also, you will notice that the color changed before and after use.
Ingredients
Water. Kaolin(120,000 ppm), Glycerin, Camellia Sinensis Leaf Water(102,000 ppm), Titanium Dioxide(Cl 77891), Bentonite, Magnesium Aluminum Silicate, Caramel, Chamaecyparis Obtusa Leaf Extract, Silica, Manicouagan Clay(1,000 ppm), Camellia Sinensis Leaf(6,000 ppm), Camellia Sinensis Leaf Powder(4.000 ppm), Houttuynia Cordata Powder, Centella Asiatica Extract, Camellia Sinensis Leaf Extract(100 ppm), Salix: Alba (Willow) Bark Extract, Rosa Rugosa Leaf Extract, Melissa Officinalis Leaf Extract, Water(Glacier Water), Melaleuca Alternifolia (Tea Tree) Leaf Water, Water(Carbonated Water), Allantoin, Madecassic Acid, Asiaticoside, Asiatic Acid, Capryloyl Salicylic Acid, Butylene Glycol, Capryl Glycol, Xanthan Gum, Polyvinyl Alcohol, 1,2-Hexanediol, Benzyl Glycol, Ethylhexyl glycerin, Raspberry Ketone, CI 42090.
For great results, try the Matcha set.