SOME BY MI Yuja Niacin Brightening Sleeping Mask 60g
Does your skin get darker due to the external environment? Here's a solution that intensively brightens the skin all night.
Give your skin a comfortable sleeping time with this brightening sleeping mask, it fills your skin with brightening, and moisture with Yuja Niacin Sleeping mask. A brightening sleeping mask fills the dull skin with vitality and makes it clear. It contains 5% niacinamide and 70% of citron extract that works on recharging skin hydration and boosting the brightening effect. Also contains Glutathione & Arbutin which are formulated with highly effective brightening ingredients to make the skin healthy and vibrant. As well as containing up to 10 vitamins relieve skin stress. The fresh scent of the natural citron shell oil extracted by steam distillation helps the skin sleep well.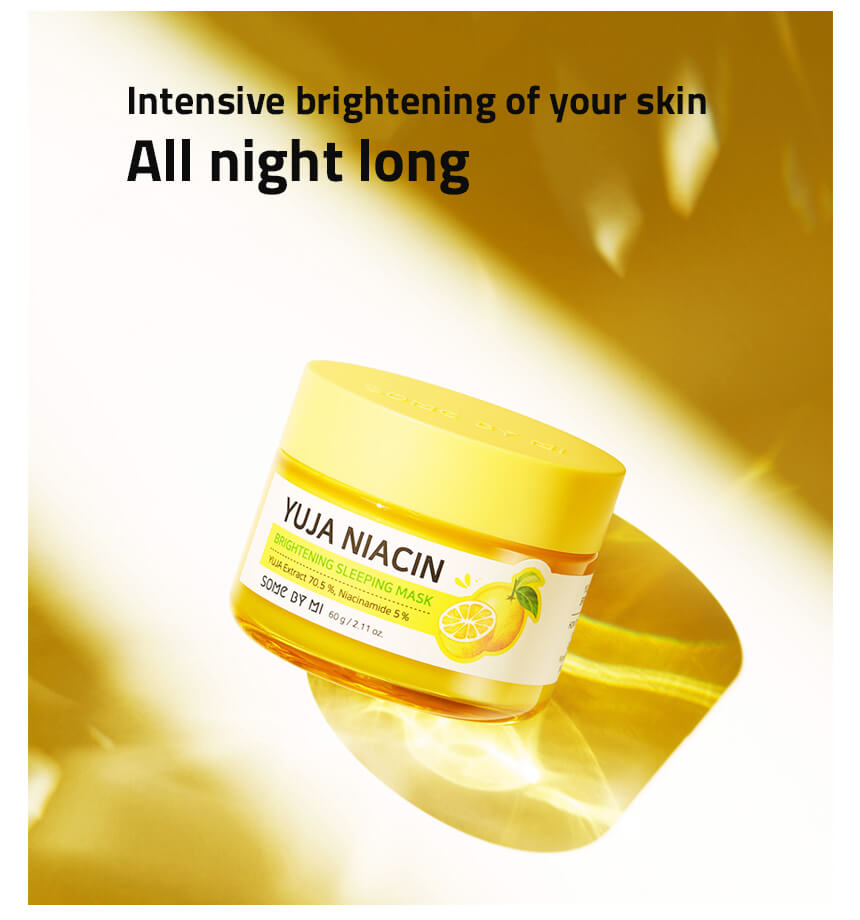 A brightening sleeping mask that is rich in abundant vitamin C that will help your skin glow while sleeping.
Main Features
A cream-type sleeping mask that you apply to your face before going to bed and then go to sleep.
During the night when your skin rests, it intensively supplies vitamins and moisture energy to your skin, making it clear, bright, glowing skin.
Brightens the skin by caring for blemishes in 3 steps: Skin surface care, Skin tone up, and Melanin & young blemish care.
Through clinical trials, a remarkable change in skin tone was verified in 4 weeks.
Contains as much as 70% of citron extracts rich in vitamin C and 5% of Niacinamide, a functional ingredient for whitening.
Free of 20 harmful ingredients you may worry about them.
Blemish, freckle, and melasma are some of the big skin problems that make your skin dull.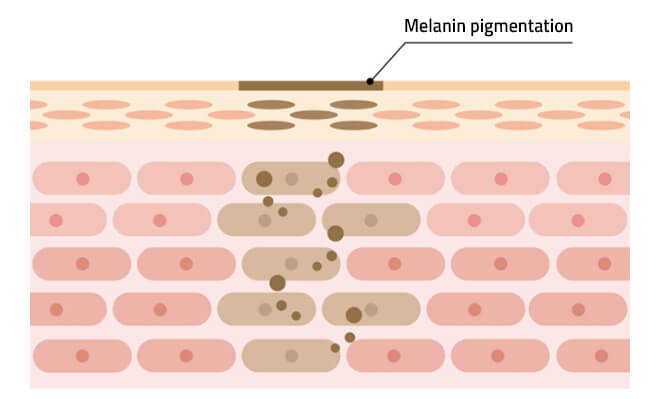 Melanin pigments are activated when exposed to ultraviolet rays and appear in the form of blemishes and melasma as they move toward the epidermis. This brightening sleeping mask prevents melanin pigments from depositing, effectively caring for freckles, pigmentation, and brightening skin tone during the night to wake up with completely vibrant skin.
A brightening sleeping mask that effectively treats freckles, melasma, and blemishes. Forget about your old skin!
Forget about the dull skin, blemishes, melasma, and the skin of the past days that lost its vitality and became dry. Notice the difference after using this brightening sleeping mask "Yuja Niacin Brightening Sleeping Mask" for 4 weeks.

Even if you slather it to your skin and sleep, it does not bury your pillow at all and just moistens your face. Put it on and go to sleep and you're done! The citron sleeping mask will make your skin bright and lively the next morning.
Brightens the skin by caring for blemishes in 3 steps.
Step 1: Care of blemishes on the skin surface.
Step 2: Brightens the overall skin tone.
Step 3: Prevent melanin deposition and care of young blemishes.
Its Yuja (citron's) scent not only allows the skin to relieve its stress but also provides you with an aromatic relaxing experience while sleeping.
Main Ingredients
Citrus Junos Fruit Extract: 70 %of Citron grown in Goheung, Jeollanam-do, a clean area with abundant sunlight and cold sea breezes, is rich in vitamin C, helping brighten dull skin.
Niacinamide:  It contains 5% of niacinamide, a whitening functional ingredient, which intensively illuminates areas that have been concerned about freckles and blemishes.
Patent ingredients:  Aquaxyl, Fructan™ that provide solid moisturizing all night long.
The dazzling changes in your skin you will see in 4 weeks!
Skin Test
Has completed the melasma, blemish, and freckle relief test and skin tone improvement test, and surveyed the subjects for their satisfaction with this cream.
Hypoallergenic test
Test institute:  Clinical trial report of Korean dermatology institute.
Test subject:  33 women & men.
Test method:  The test is measured 3 times, one after 30 minutes, one after 24 hours, and the other after 48 hours. Also, there may be an individual difference.
Test result:  Yuja Niacin Brightening Sleeping Mask is a non-irritating product with an irritation index of 0.00.
Decreasing melasma, blemishes, and freckles effect test
Test institute:  Korea Institute of Dermatology.
Test subject:  21 Adults.
Test Period:  Feb 4, 2021: Mar 31, 2021.
Test result:  Yuja Niacin Brightening Sleeping Mask improves melasma, blemish, and freckles.
A photo analyzing the degree of relief of blemish, freckle, and melasma in the right cheek and cheekbones area using ANTERA 3D.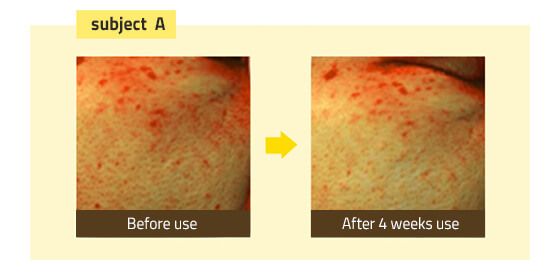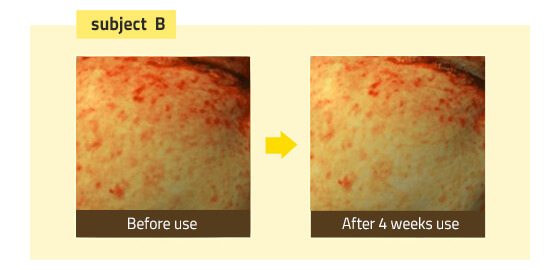 Improving skin tone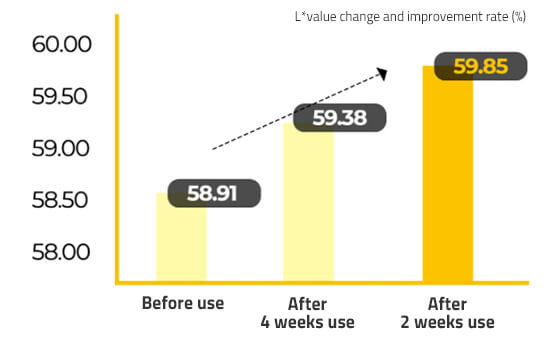 Satisfaction of test subjects after using the product
The result of a survey on the Yuja Niacin Brightening Sleeping Mask after using it for 4 weeks.

Skin adverse reactions: None of the subjects showed adverse reactions to the skin to the following skin: Red spots, Tingling, Edema, Burning sensation, Scale, Stiffness, and Itch.
Yuja Niacin Sleeping Mask extracted from pure natural oil that contains Vitamin C 3 times greater than lemon!
Contains Yuja (Citron) peel oil which is a precious natural essential oil. Only 1L of oil can be extracted from 6000 compressed citrons ( approximately 600kg).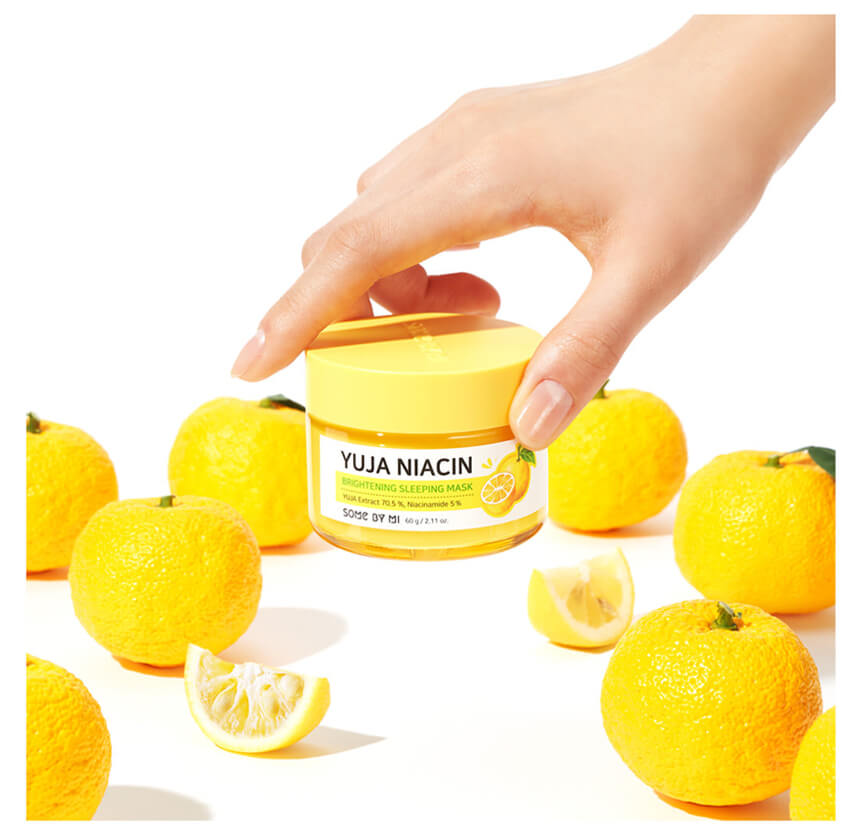 Use Yuja Niacin brightening sleeping mask with confidence! Suitable for sensitive skin.
Even small irritation can turn into sensitive skin if repeated. Somebymi made a really good sleeping mask honestly, excluding skin concerns as much as possible. It is made of natural ingredients like Citron peel oil with its refreshing scent. It doesn't contain 20 harmful ingredients that you may worry about as Alcohol, silicon, Paraben…etc, according to it's perfect for dry and sensitive skin.
Formulation
Applies smoothly without being sticky. It is a refreshing sleeping mask that does not cause stains on the pillow even if you apply a lot on your skin before going to bed. Fresh formula and 100% absorbed into the skin.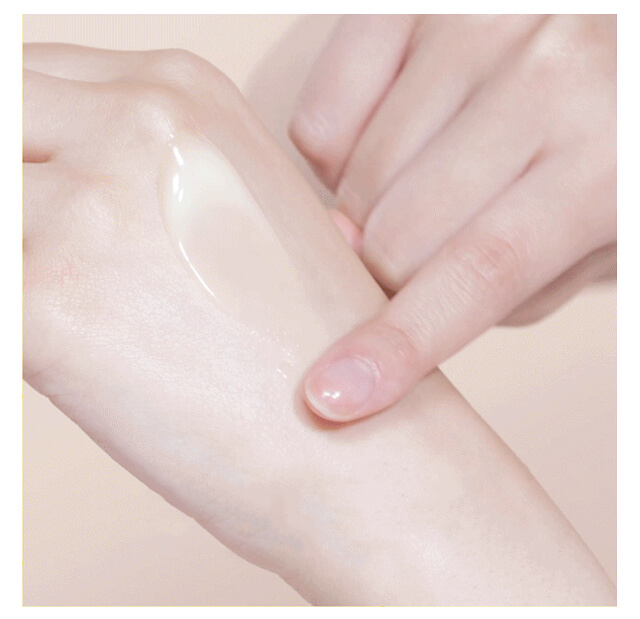 How to use
In the last step of the skincare routine, apply an appropriate amount to the entire face except around the eyes and mouth to absorb it.
Wash your face the next morning.
TIP# when you need intensive care, apply it one more time as 2 layers.
Recommended for
Who has freckles or skin blemishes.
Dark skin.
Dry and exhausted skin.
Who wants the brightening and hydrating at the same time.
ingredients
Citrus Junos Fruit Extract(70.5%), Niacinamide(5 %),1,2-Hexanediol, glycerin,   Butylene Glycol, Zanthoxylum Piperitum Fruit Extract, Polygonum Cuspidatum Root Extract, Nelumbium Speciosum Flower Extract,, Arbutin, (-)-alpha-bisabolol, Glutathione, Biotin, Ascorbic Acid, Ascorbyl Glucoside, Ascorbyl Tetraisopalmitate, Caprylyl/Capryl Glucoside, Tocopherol, Simmondsia Chinensis (Jojoba) Seed Oil, Biota Orientalis Leaf Extract, Panthenol, Cyanocobalamin, Menadione, Madecassoside,, Diphenylsiloxy Phenyl Trimethicone, Caprylyl Methicone, Inulin Lauryl Carbamate, Behenyl Alcohol, Mentha Citrata Leaf Extract, Mentha Piperita (Peppermint) Leaf Extract, Sorbitan Oleate, Mentha Suaveolens Leaf Extract, Arginine, Adenosine, Sorbitan Isostearate, Raspberry Ketone, Water,Ethylhexylglycerin, Citrus Junos Peel Oil(586 ppm), Limonene, Linalool,Coptis Japonica Extract, Hippophae Rhamnoides Fruit Extract, Disodium EDTA, Trehalose, Polyisobutene, Xanthan Gum, Carbomer, Acrylates/C10-30 Alkyl Acrylate Crosspolymer, Dimethicone/Phenyl Vinyl Dimethicone Crosspolymer, Benzyl Glycol.
Try Yuja Niacin set for better results.