SOME BY MI  AHA BHA PHA 30 Days Miracle Toner 150 ml
Are you still squeezing pimples on your face?
Don't squeeze pimples and wipe them off now with the 30 Days Miracle Toner!
Some By Me presents an amazing miracle toner that will satisfy you with acne-prone skin. It contains AHA, BHA, and PHA mixed peeling ingredients which work as an effective gentle exfoliator to leave skin clearer, smoother, and more radiant than before. It repairs and turns damaged skin into a healthy one. Contains a real Tea Tree extract of 10,000ppm, which cares for sebum as well as soothes inflammation. Moreover, it's a functional cosmetic for improving skin wrinkles and whitening approved by KFDA " the Ministry of Food and Drug Safety in Korea" as Adenosine and Niacinamide. It's totally safe for sensitive skin and has been dermatologically tested.
Main Features
A non-comedogenic toner suitable for acne-prone skin with a stimulation index of 0.
Effectively mixes AHA BHA PHA ingredients of different molecular sizes to cleanses dead skin cells, sebum and wastes cleanly.
Has been verified that it reduces excess sebum through human application tests.
A product with 99% customer satisfaction.
Contains 10,000 ppm of Tea Tree Leaf Water to help soothe the skin, so it takes care of the skin comfortably.
A product reported to KFDA as a dual functional cosmetic with whitening and anti-wrinkle functions
The first step for balanced healthy skin! Get rid of dead cells and blackheads now with SOME BY MI Miracle Toner!
Main Ingredients
Butylene Glycol: It acts similar to glycerin or hyaluronic acid, which are moisturizing agents, but has a lighter feel than glycerin and is an ingredient that supplies moisture to dry skin.
Dipropylene Glycol: A hypoallergenic ingredient that has hydrophilic properties, attracts surrounding water to prevent moisture evaporation, and has a better moisturizing effect than glycerin.
Niacinamide: A type of vitamin B3, which has excellent whitening effects and has been approved by KFDA as a functional ingredient for whitening. It has effects such as skin tone improvement, skin trouble suppression, whitening effect, and skin barrier improvement.
Tea Tree Leaf Water: Has functions such as soothing the skin, controlling excessively secreted sebum, and controlling the oil-water balance.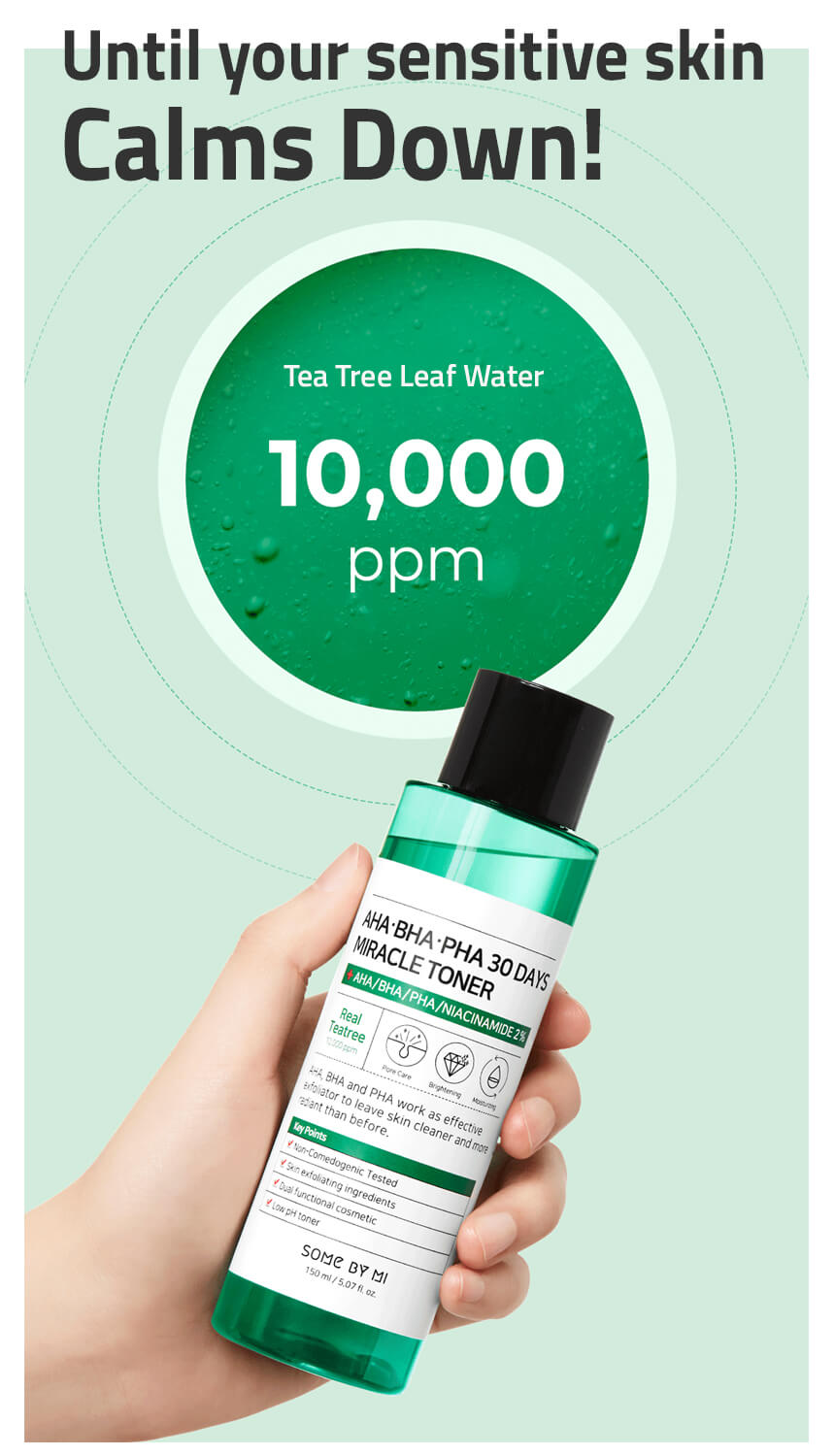 What makes my makeup looks patchy even if I use expensive and luxury products?
When dead skin cells and impurities build up, they clog pores and cause skin problems, no matter how expensive products you use, they can't reach inside the skin. Miracle toner effectively mixes AHA BHA PHA the peeling components of different molecular sizes to cleanse the skin dead skin cells surface and the hidden sebum in pores, and waste products.
What are AHA, BHA, and PHA?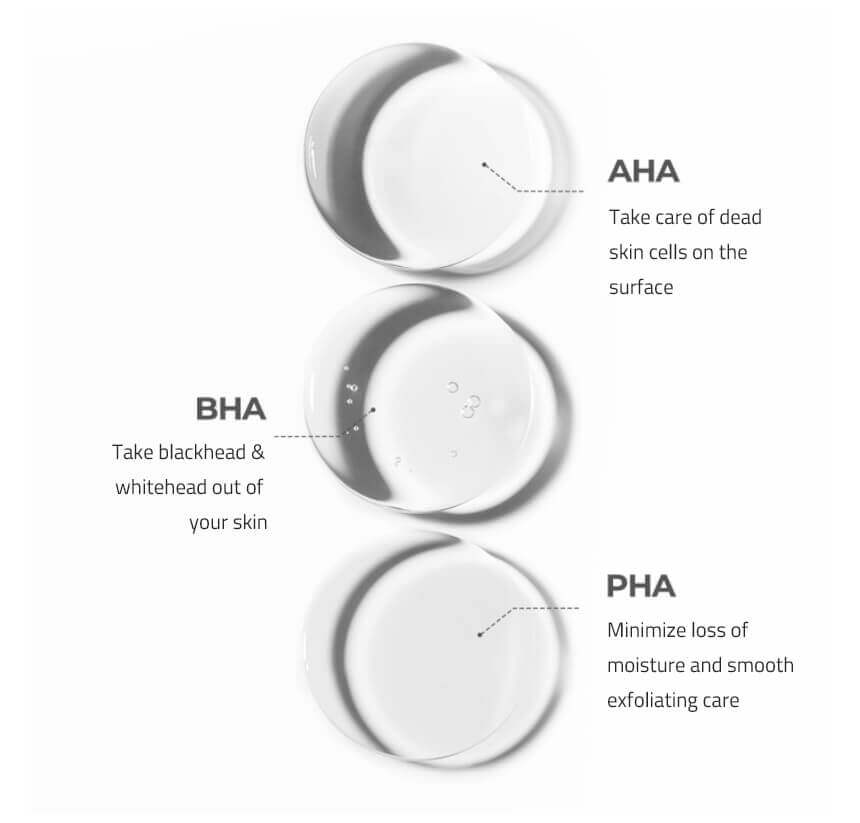 Cleanly remove dead skin cells and wastes in pores!
AHA (Alpha Hydroxy Acid)
AHA is a peeling ingredient that we often encounter and is an acidic ingredient extracted from fruits or milk. 50% of the stratum corneum of our skin consists of protein, It is a water-soluble ingredient that acts on the skin surface and helps moisturize the skin. and has five types, Glycolic acid, Lactic acid, Malic acid, Citric acid, and Tartaric acid, and it acts on the surface of the skin and helps moisturize the skin.
Especially popular ingredients for exfoliation are Glycolic acid and Lactic acid. Because AHA is a water-soluble ingredient, it cannot pass through oil, so it is more suitable for dry or sensitive skin than oily skin.
​BHA (Beta Hydroxy Acid)
BHA is an acidic ingredient extracted from aspirin, which not only softens proteins in the skin's stratum corneum using the acidic ingredients but also helps in anti-inflammatory action. It is a fat-soluble ingredient that dissolves in oil, not water, so it helps to remove sebum and dead skin cells from the pores. Oily skin has a lot of sebum secretion, so whiteheads appear on the pores or chin in the butterfly zone, or blackheads often appear on the nose. In this case, to remove dead skin cells, you should use a product containing fat-soluble ingredients. Therefore, a product containing BHA is suitable for oily skin or combination skin.
PHA (Poly Hydroxy Acid)
PHA consists of an ingredient called Gluconolactone that irritates your skin less. PHA is similar in that it is a water-soluble ingredient that removes old dead skin cells like AHA, but it is much bigger in its molecular size than AHA or BHA, slowly softening dead skin cells without irritating the skin. So PHA is a suitable peeling ingredient for people with sensitive skin. PHA peeling blocks and removes harmful oxygen, one of the causes of skin aging due to the influx of powerful antioxidants. The PHA ingredient not only removes dead skin cells of the skin but also supplies moisture. It also promotes the synthesis of collagen and elastin fibrous tissue, improves the fine lines and wrinkles of the epidermis, and increases the density of the dermis.
Satisfaction Survey
Top rated in " Hwa Hea" the Korean beauty application no.1 for classifying cosmetics & skincare products according to users reviews for 2020.
Glow Pick survey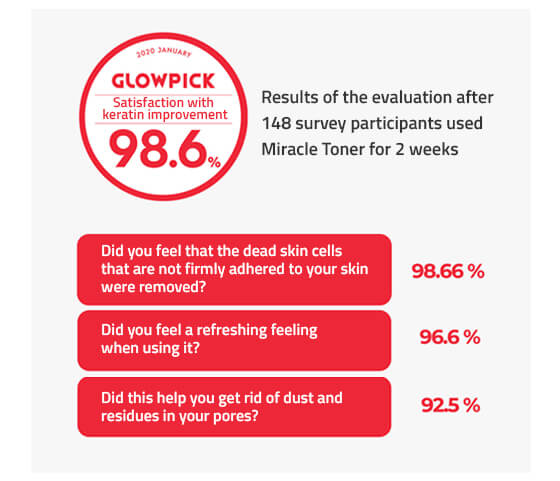 Hwa Hea survey ( the application no.1 in Korea for classifying cosmetics)

Treat Your Skin With a Trusted Treatment Toner!
It is a Double Functional Toner!
It is a double functional toner that not only removes sebum, dead skin cells, and waste, but also brightens dull skin tones and makes healthy skin full of elasticity.

Skin Tests
Primary Irritation Skin Test
Test Institute: Korea Dermatology Research Institute.
Test Period: Jul 29, 2019: Aug 26, 2019.
Test Subject: 22men & women (aged over 20).
Test Result: AHA, BHA, PHA Miracle Toner is non-irritating, and provides soothing & moisturizing effects.
Sebum Reduction Test 
Test Institute: Korea Dermatology Research Institute.
Test Period: Mar 08,2021: May14,2021.
Test Subject: 22 people (aged from 20~35).
Test Result: AHA, BHA, PHA Miracle Toner is suitable for use on acne skin, and decreases sebum obviously.

Miracle toner provides sebum balance care that has been carefully studied. It helps prevent skin problems caused by excessive sebum.
Hypoallergenic Non-comedogenic Acne Miracle Toner
A non-comedogenic "formulated to not cause pores clogging" toner suitable for use on sensitive skin & acne-prone skin with low pore-clogging.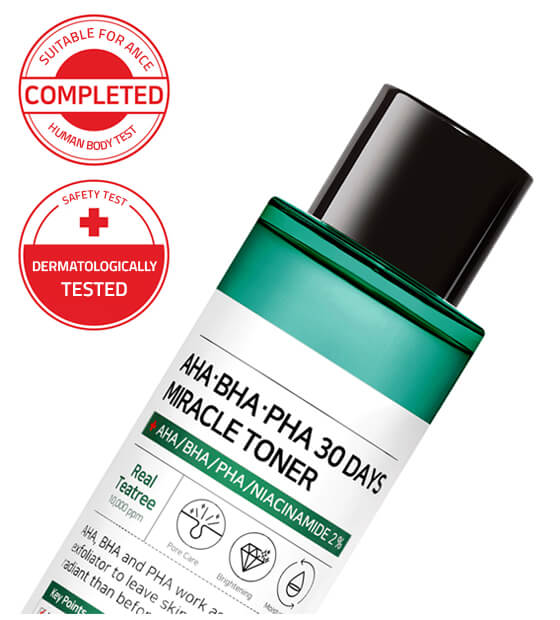 Formula & pH
It's a watery type, light and it's perfect to use as a wipe. It doesn't feel sticky or residual at all after being absorbed. Non-comedogenic formula cleans up every spot of dead skin cells refreshingly without feeling sticky with a slightly acidic pH of 5.5.
How to use
Skin Pack: Wet the cotton pad with miracle toner and place it in the needed area.
Toner Wash: Mix the water and toner in an 8:2 ratio and wash your face.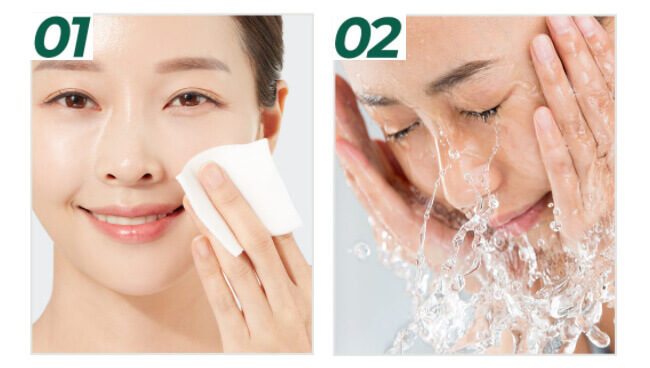 Ingredients
Purified Water, Butylene Glycol, Dipropylene Glycol, Glycerin, Niacinamide, Tea Tree Leaf Extract, Polyglyceryl-4 Caprate, Carica Papaya (Papaya) Fruit Extract, Lens Esculenta (Lentil) Seed Extract, Hamamelis Virginiana (Witch Hazel) Extract, Nelumbium Speciosum Flower Extract, Swiftlet Nest Extract, Sodium Hyaluronate, Fructan, Allantoin, Adenosine, Hydroxyethyl Urea, Xylitol, Salicylic Acid (100 ppm), Lactobionic Acid(100 ppm), Citric Acid(500 ppm), sodium Citrate, 1.2Hexanediol, Benzyl Glycol, Ethylhexylglycerin, Raspberry Ketone, Mentha Piperita (Peppermint) Oil.
We recommend trying this collection together for better results.