SOME BY MI Propolis B5 Glow Barrier Calming Toner 150 ml
The best honey toner for your face has lost its radiance due to tired and dull skin. If your skin is in a status where it is stimulated or is in a status where it has lost its radiance, it's a sign that your skin is exhausted. If your skin is in this status, you need the care to restore your skin to its normal status.

Use this Propolis B5 toner to boost your skin condition and make it glow.
Your worries about increasing skin problems…
If you are stressed out by skin problems such as excess face oil, vitality-less skin, external irritation, lack of moisture, and dull & dry skin as well as problematic skin, you need special skincare for your skin.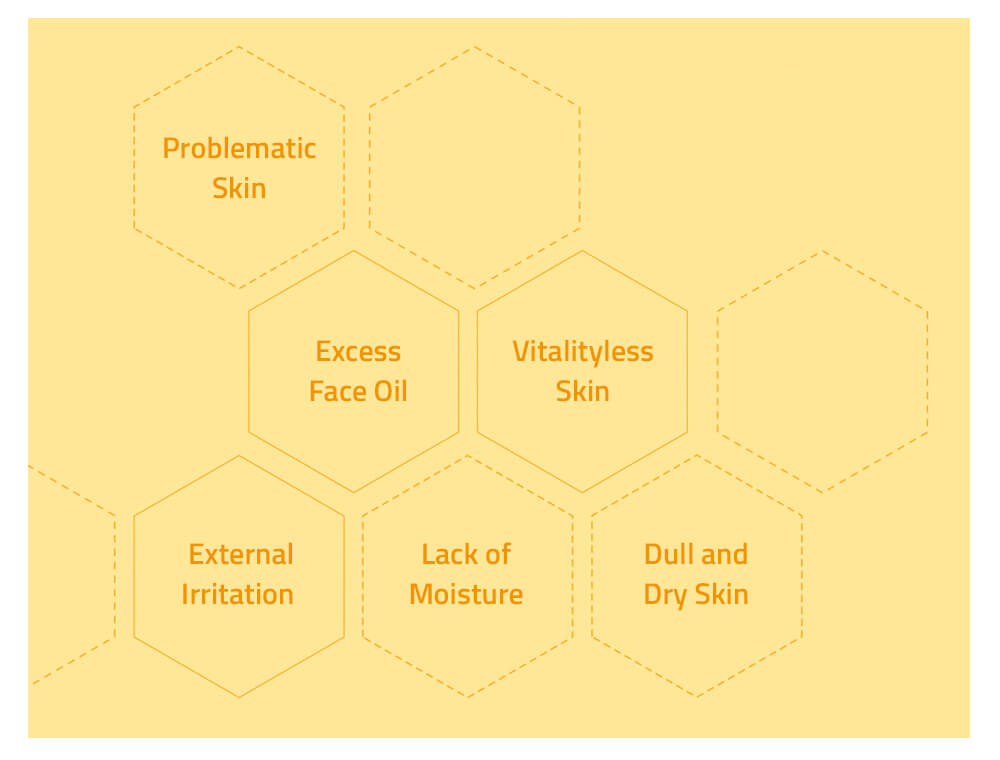 Take care of complex skin problems with the amazing power of Propolis obtained from bees!
To reduce the burden on your skin, this toner contains only essential ingredients.
It's time to meet Propolis B5!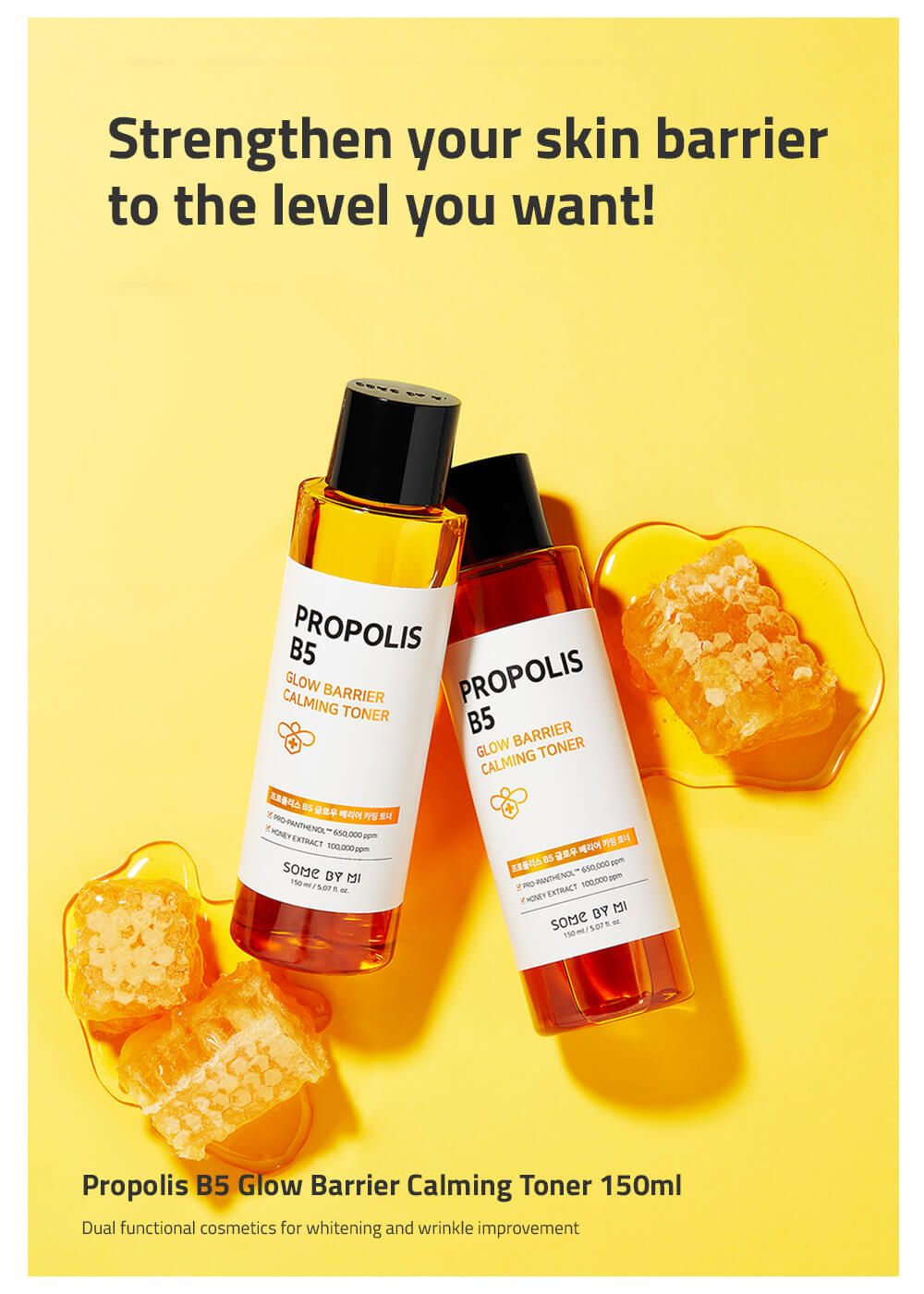 Main Features
A toner that protects the skin barrier with the power of Propolis and Panthenol(B5) at the first step of the skincare routine.
Contains also Truecica™, Bee Pollen, Ceramide, and Hyaluronic acid ingredients to calm your irritated skin and fill it with moisture to make skin moist.
Provides healthy natural glow skin through its Rapeseed Honey and Royal Jelly ingredients.
A double functional cosmetic for wrinkle improvement and whitening.
Completed the dermatological test.
Main Ingredients
65% of Propolis: Has effects such as anti-aging, antioxidant, anti-inflammatory, antibacterial, and wound healing.
5,000ppm of Panthenol: Has an excellent moisturizing effect, has an excellent effect on skin regeneration, suppresses excessive oil and helps collagen formation.
Real Honey Extract: Has the effect of preventing skin aging, improving immunity, and reducing edema and swelling.
Dipropylene Glycol: Has a hydrophilic property and has an excellent moisturizing effect that prevents moisture evaporation by pulling water around it. In addition, it has the effect of giving vitality to the skin.
Bee Pollen: It is bee pollen from honey collected by the bees, that helps calm the skin.
The first Re-balancing Toner after washing your face
Protect your skin balance by filling your skin with moisture and nutrition at the first step of your skincare routine!
Builds a strong moisture barrier with Panthenol(B5) ingredient.
When the skin lacks moisture, it produces excess sebum, and the oil-water balance collapses, weakening the skin barrier.
Panthenol hydrates the skin and prevents it from evaporating, helping to maintain a strong barrier.
Pro-Pantheon makes your skin barrier stronger.
It builds up a strong skin barrier to the skin so that you don't get sensitive to small irritation easily.
Calming and moisturizing the skin without worrying about skin irritation.
These ingredients calm your irritated skin and provide enough moisture to make it moist.
Smooth, elastic and radiant skin texture.
Honey and royal jelly ingredients fill your dull skin with moisture and nutrients and brighten your skin.
Not sticky at all!
You don't have to worry at all if you're worried that it might be sticky because of the honey ingredients. It has a soft texture that finishes freshly without stickiness on your skin.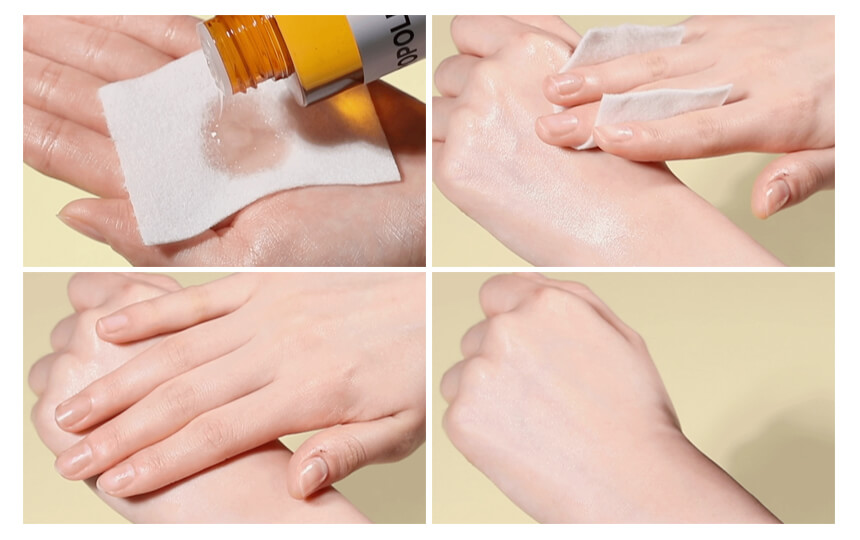 Use B5 Honey Toner With Confidence, Perfect For Sensitive Skin!
This calming honey toner is safe for sensitive skin, even for acne-prone skin and problematic skin that becomes sensitive because of the external environment. It's made of natural ingredients that will be gentle on your skin. Free of 20 harmful ingredients that may worry you, like Phenoxy Ethanol, Sodium Benzoate, Benzoic acid, Chlorphenesin, Triclocarban, Benzalkonium Chloride(C12, C14), Benzethonium Chloride, Benzophenone-3, Benzophenone-4, Benzophenone-8, Sorbic Acid, Imidazolidinyl urea, Diazolidinyl Urea, Methyl Paraben, Ethyl Paraben, Isopropyl Paraben, Propyl Paraben, Isobutyl Paraben, Butyl Paraben, p-hydroxybenzoic acid..etc.
Skin Tests
Primary Irritation Test For Sensitive Skin
Test Institute: Maridiem Dermatology Research Institute.
Test Subjects: 34 women.
Test Method: They measure the skin irritation reaction after 30 minutes of applying the cream, after 24h, then after 48h.
Test Result: Propolis B5 Glow Barrier Calming Toner is safe for sensitive skin causing no irritation with an irritation index of 0.00.
*There might be individual differences.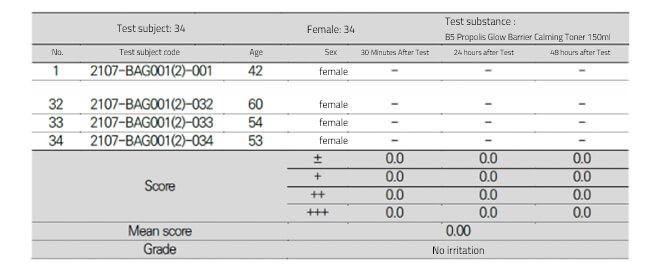 Formulation
A liquid-type formulation that finishes refreshingly without stickiness.
How to use
Refreshing wipe-out toner: If you want a refreshing calming, apply the toner on a cotton pad and wipe out the skin from the inside out.
Moisturizing adsorbing toner: If you want rich moisture and nutrients, apply the toner to your hands and gently press your hands on your face to absorb toner with the natural heat of the hands.
Calming toner pack: When you need a quick calming on angry skin, wet the cotton pad with the toner and put it on the face to use as a toner pack.

Recommended for
Customers with damaged skin conditions due to acne.
Customers who are concerned about skin irritation caused by wearing a mask for a long time.
Customers who have skin that easily becomes rough due to severe inner dryness.
Customers who need non-sticky skincare.
Customers who want radiant-looking skin even without makeup.
Ingredients
Propolis Extract(65%), Honey Extract, Dipropylene Glycol, Butylene Glycol, Hydroxyethyl Urea, Propanediol, Niacinamide, 1,2-Hexanediol, Centella Asiatica Extract, Melaleuca Alternifolia (Tea Tree) Leaf Water, Honey, Panthenol(5,000 ppm), Royal Jelly Extract, Artemisia Princeps Leaf Extract, Centella Asiatica Leaf Extract, Pollen Extract, Malt Extract, Glycerin, Sodium Hyaluronate, Allantoin, Adenosine, Madecassoside, Madecassic Acid, Asiaticoside, Asiatic Acid, Ceramide NP, Citric Acid, Sodium Citrate, C12-13 Pareth-9, Sodium Polyacrylate, Water, Benzyl Glycol, Ethylhexylglycerin, Raspberry Ketone, Disodium EDTA, Fragrance, Benzyl Alcohol, Coumarin.
For a great sensitive skin routine, try the whole Propolis set.