MISSHA BEE POLLEN RENEW EYE AMPOULER 30ml
Bee Pollen Eye ampouler! A perfect eye cream that will not only moisturize your eye area but also brighten it and increase it's elasticity with anti-ageing effects. And that is because of the 50% Bee pollen extract that has a special nutritious effect. By MISSHA's bee pollen renew eye ampouler you will get the moisture you are searching for without any skin irritation.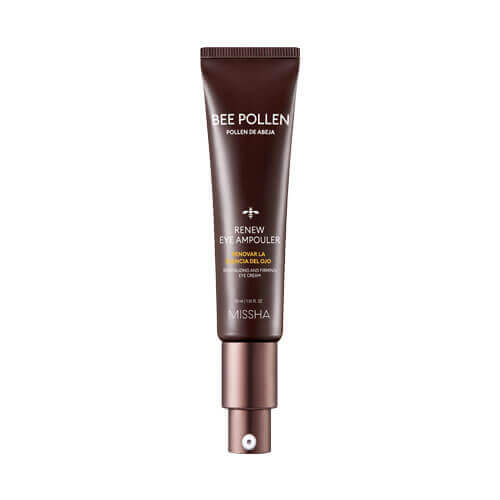 What is Bee Pollen's benefit for skin?
Bee pollen comes from various plant pollens and contains a balance of vitamins, minerals, carbohydrates, fats, enzymes, and essential amino acids. Bees mix pollen with a small amount of saliva or nectar to create pollen loads. Bee pollen skin care products are commonly used throughout cosmetics due to bee pollen's many benefits for promoting healthier-looking skin. The pollen collected from bees constitutes a natural source of antioxidants such as phenolic acids and polyphenols. In addition to antioxidant protection, the phenols and flavonoids of bee pollen also provide skin-soothing and astringent properties.
Bee Pollen's Benefits can be summarized as:
Healing and rejuvenating properties.
Antioxidant and astringent properties.
Clears up acne.
Soothing.
Moisturizing/ Hydrating.
MISSHA doesn't get any bee pollen for the Bee Pollen Eye ampoule but it chooses a unique bee pollen extract as shown in the picture below:  
What is an ampouler?
An ampouler, a portmanteau of 'AMPOULE' and 'FULLER', is a special type of product developed by MISSHA by applying its patented technology, CORESOME DELIVERY MECHANISM, to break down the ingredients into smaller particles than those found in regular ampoules and enclose them in a capsule.
Bee Pollen Eye Ampouler for perfect skin under eyes!
Main Features:
Bee Pollen Eye ampouler contains 50% Bee Pollen Extract to revitalize fatigued skin around eye areas with its antioxidant properties.
Moisturizes the eye area that is sensitive from frequent makeup and strengthens the skin layers.
Bee Pollen Eye ampouler with Hypoallergenic ingredients that can be used on sensitive skin.
Free of 12 ingredients including parabens(Methyl paraben, ethyl paraben,propyl paraben, isopropyl paraben,butyl paraben,isobutyl paraben) phenoxethanol, benzyl alcohol, chlorphenesin,triethanolamine,wthanol, propylene glycol.
Main Ingredients:
Bee Pollen: Proteins, Vitamins and minerals helps revitalize skin energy.
Green Propolis: The propolis which can only be found in Eucalyptus vegetation in Brazil helps sooth skin.
Desert Honey: The honey from the desert cactus provides intense moistness  full of nutrients.
Edelweiss Callus Extract: Helps to improve skin moisture.
North Chrysanthemum Extract: The patent ingredient helps sooth skin.
Special scent of Bee Pollen Renew: Sweet and fresh scent blended with different essential oils of Ylang-Ylang/ Damask Rose/ Chamomile.
How to use:

Apply an appropriate amount of the Bee Pollen Eye ampouler evenly around eye areas and pat gently for better absorption.
Recommended for:
Those whose skin is dry and dehydrated.
Those with wrinkled skin.
Those who have sensitive skin.
Ingredients:
Pollen Extract, Glycerin, Dipropylene Glycol, Butylene Glycol, Purified Water, Octyldodecanol, Neopentyl Glycol Dicaprate, 1,2-hexanediol, Niacinamide, Sunflower Seed Oil, Lavender Oil, Cacao Seed Extract, Hydrolyzed Okra Extract, White Lupine Seed Extract, Drumstick Seed Extract, Royal Jelly Extract, Scented Geranium Flower Oil, Chamomile Flower Oil, Ylang-ylang Flower Oil, Bergamot Oil, Damask Rose Flower Oil, Edelweiss Callus Culture Extract, Rooibos Leaf Extract, Shea Butter, Chamomile Flower Extract, Propolis Extract, Honey Extract, Domestic Flower Extract, Sodium Hyaluronate, Hydrolyzed Royal Jelly Protein, Panthenol, Hydroxyethyl Acrylate/Sodium Acrylic Loyl Dimethyl Taurate Copolymer, Glyceryl Stearate, Hydroxy Acetophenone, Palmitic Acid, Cetearyl Oleate, Sorbitan Oleate, Stearic Acid Acrylate, Acrylate/C10-30 Alkyl Acrylate Cross Polymer, C12 -20 Alkyl Glucoside, Tromethamine, Hydrogenated Lecithin, Caprylic/Capric Triglyceride, Glyceryl Acrylate/Acrylic Acid Copolymer, Adenosine, Sorbitan Isostearate, Dextrin, Choles-24, Propane Diol, Caprylyl Glycol, Ceramide N-py, Ethylhexylglycerin, Maltodextrin, C14-22 Alcohol, Xanthan Gum, Carbomer, Disodium Led, Phenethyl Alcohol, Linalool.
We also recommend the following products in the same line (Bee Pollen eye ampouler) for the best results!