HISTOLAB Scalp Science Pepta Made Shampoo 500ml
Best shampoo to protect your scalp and hair, The Pepta Made Hair Shampoo was formulated to provide an anti-inflammatory and disinfection effect on the scalp, while efficiently removing sebum and promoting hair growth. This Scalp Cleansing Shampoo is slightly acidic to keep your scalp and hair healthy, maintaining a balanced pH for the scalp. Histolab Pepta Made Hair Shampoo uses naturally-derived surfactants extracted from coconuts, plus there are zero sulfate-based chemical surfactants, silicon components, or SLS. This is a hypoallergenic shampoo with EWG Grade 1 natural surfactant instead of synthetic surfactant.
To achieve a desirable consistency, this product uses Median's Microbubble technique which removes dirt from pores. Scalp irritation is minimized from the large amounts of microbubbles caused by the high density of natural ingredients. This foam enhances the tension of absorbing dead skin cells and waste matter on the scalp, boosting cleaning and removal abilities.
Main Features:
Dandruff prevention:

Apple Culture Extract and AHA remove sebum from oily scalp pores to prevent dandruff and give a refreshing feeling by containing peppermint.

Anti-inflammatory effect

: Components such as Olfactory Extract and Glutathione prevent bacteria from growing on the scalp and maintain cleanliness.

Promote hair growth:

Promotes hair follicles to grow with a patented ingredient- Pea Peptide- which prevents hair loss-causing hormones.

Fine and rich bubbles that cleanse scalp wastes: Contains a unique consistency of microbubbles presented in large amounts to gently and deeply clean the scalp.
Contains 31 types of scalp nutrition ingredients such as 2 patented ingredients for scalp and hair root, Pea Peptide, Conifer Bark Extract, 6 types of Multi-Peptide, and Biotin to keep the scalp and hair root healthy.
A weakly acidic shampoo that balances the pH of sensitive scalp and hair that has been alkalized by external polluting environments and frequent treatments and dyeing to protect dry and weakened scalp healthily.
Aren't you turning a blind eye to the health of your scalp, which is getting worse day by day?
The best shampoo for your hair and scalp is near you. Scalp Cleansing Shampoo for the start of scalp and hair care!
Thin and weakened hair and scalp conditions require careful care.
You need to carefully check the shampoo you use every day.
If you use shampoo that contains a lot of harmful ingredients or not scalp care shampoo, harmful ingredients remain on your scalp and hair as residue.

It causes damage to the scalp and hair leading to the scalp and hair thin and weak.

Healthy scalp under clean and well balanced condition helps keep strong hair follicles.
Why do you need to use Pepta Made Shampoo?
It is a special shampoo to manage your worrying scalp and hair.
I know natural surfactant and Sulfate-free shampoo is good, but isn't it uncomfortable to use?
NO! Makes your hair strong and glossy!
Yes! Chewy enough micro-bubble helps wash your scalp and hair cleanly!
Yes! AHA ingredient helps keep clean and healthy scalp and hair!
Are you looking for non- sulfate and slightly acid shampoo?
Pepta Made Shampoo can be the best shampoo for you. Perfect care with a small amount of Histolab Scalp Cleansing Shampoo!
Keep your scalp clean by not adding any petroleum type of surfactants and chemical ingredients that cause trouble and itching!
pH balance is essential for healthy scalp!
Make it soft with a slightly acid pH-balanced shampoo of 5.5±1
Improve the scalp healthy with gloss from alkaline and damaged hair.
Main Ingredients:
Contains 31 types of scalp nutrition ingredients for healthy hair care.
7 Multipeptides: Nourish the hair roots to keep the hair healthy and strengthen the vitality of the hair.
Copper tripeptide-1, bFGF, basic Fibroblast Growth Factor, IGF-1 (Insulin-like growth factor 1), KGF-1 (Keratinocyte Growth Factor-1), VEGF (Vascular Endothelial Growth Factor), Noggin, Oligopeptide-1
8 Multi-Vitamins: Gives the dry hair a glow and creates a soft hair texture.

Vitamin B6, Vitamin B2, Vitamin B1, Vitamin B12, Vitamin B9, Vitamin B8
5 Amino Acids: Essential ingredients for making up a healthy scalp and hair.
Histidine, Lysine, Arginine, Cystine, Glycine
5 Nutrients: Essential nutrients to make up a healthy scalp and hair.
Calcium Chloride, Potassium Iodide, Felic Chloride, Positive Chloride, Glutathione
4 Other Ingredients: Provide effects such as improving scalp dead skin cells, nutrition of keratin, healthy hair care, and boosting scalp and hair vitality.
Apple Cell Culture Extract, Biotin, Panthenol, Niacinamide
Patented Ingredients
Contains 2 kinds of patented ingredients for scalp and hair follicle
Natural ingredients extracted from pure vegetable Pisum Sativum (Pea): Patent number 10-1220239 and 10-1181911
Contains Magnolia Officinalis Bark Extract or 4-O-methylhonokiol isolated therefrom: Patent number 10-0975819, 10-1179589, and 10-1116852
HISTOLAB gives you the best shampoo for scalp and hair care.
Formula type:
A sticky formula texture like gel.
Scalp Cleansing Shampoo Use order: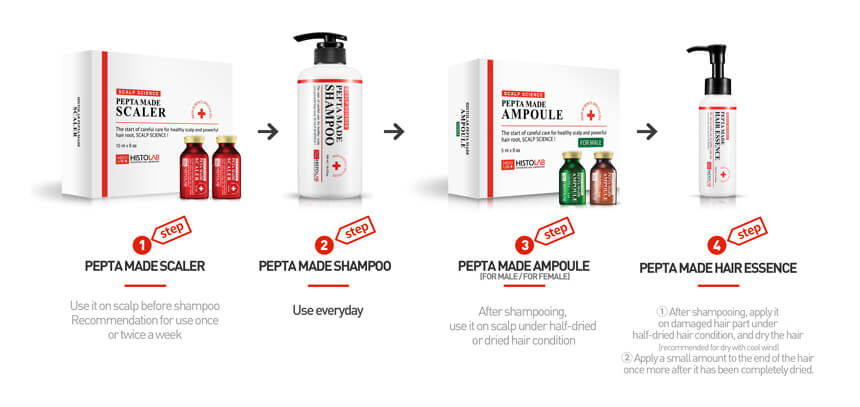 How to use:
Apply onto damaged hair and scalp with lukewarm water to foam and massage evenly on the scalp and rinse it thoroughly.
Scalp Science Pepta Made Shampoo removes sebum from oily scalp pores.
Recommended for:
People who want a slightly acidic shampoo without Sulfate.

People who want a shampoo that can be used for all family members.

People who need health care for their scalp.

People who want to calm their tired scalp and hair.
Ingredients:
Water, Dipropylene Glycol, Butylene Glycol 1,2-Hexanediol, Panthenol, Pisum Sativum (Pea) Peptide, Magnolia Officinalis Bark Extract, Malus Domestica Fruit Cell Culture Extract, Oligopeptide-1, Copper Tripeptide-1, Nicotinoyl Hexapeptide-44, sh-Oligopeptide-1, sh-Polypeptide-I, sh-Polype­ptide-4, sh-Polypeptide-16, sh-Oligopeptide-2, sh-Polypeptide-9, sh-Polypeptide-3, sh-Polypeptide-13, Glycine Soja (Soybean) Ph­ytoplacenta Ex1ract, Biotin, Soy Isoflavones, Pueraria Lobata Root Extract, Pueraria Mirifica Root Extract, Polygonum Cuspidatum Root Extract, Cimicifuga Raccmosa Root Extract, Trifolium Pratense (Clover) Flower Extract, Punica Granatum Fruit Extract, Angelica Polymorpha Sinensis Root Extract, Glycerin, Beta­ Glucan, Lecithin, Tocopherol, Thiamine HCl, Riboflavin, Pryidoxine HCl, Niacinanude, Glycine, Glutathione, Cystine, Inositol, Lysine, Histidine, 3-0 Ethyl Ascorbic Acid, Ethylhexylglycerin, Hydroxyacetophenone, Sodium Phosphate, Glutamic Acid, Folic Acid, Ferric Chloride, Arginine, Cyanocobalamin, Calcium, Pantothenate, Calcium Chloride, Potassium Iodide, Pentylene Glycol, Polyglyceryl-10 Laurate, Polysorbate 20, Zinc Chloride, Propanediol, Dipotassium Glycyrrhizate, Sodium Cirate, Carbomer, Phenoxyethanol, Disodium EDTA
About HISTOLAB
Histolab, a medical skin care brand distributed solely to dermatological clinics, has been devoting itself to accomplish an immediate skin improvement by taking advantage of its own development of Plant Stem Cell(Callus) and of our renowned mentoring group of doctor's advice for achieving the most effective prescription.
Currently, Histolab products are loved by almost 8,500 dermatological and aesthetic clinics in Korea. Thanks to its wide variety of product ranges, Histolab products have become famous for having excellent efficiencies in the field of professional peeling, acne treatment and post-laser skin treatment as well as basic care like wrinkle improvement freckles, skin rejuvenation and whitening., etc.