VANAV Golden Time Scalp Ampoule 30ml, For Golden Brush
Hair loss treatment for your damaged scalp, here's the Golden Time Scalp Ampoule.
Do you have hair loss symptoms? Then check out the following.
Compared to the past, the thickness of your hair has become thinner and weaker.
  When the seasons change, your scalp stings and itches.
  Your scalp is dry and has a lot of dandruff or dead skin cells.
  Your scalp easily turns red and sensitive.
If you have more than three of your stomach symptoms, it means you don't have much time left to protect your scalp, so you have to take care of it before it's too late.
Heal these symptoms now with Vanav golden time hair ampoule and golden brush. VANAV presents to you hair loss treatment, scalp moisturizing, and hair root volume solution.
Take care of your scalp before it's too late with the special hair loss treatment!
Vanav presents to you the top Hair Loss Treatment "Golden Time Ampoule " that contains black soybean extracted from Jeju Island, Black soybean is known for containing much nutritious than other beans and contains cysteine essential for hair growth. It also contains soothing ingredients for sensitive scalp due to external irritation.
Main Features
Improving root volume: It helps to temporarily improve root volume after just one use.
Scalp moisturizing and dead skin cells improvement: it improves scalp moisturization level and improves scalp dead skin cells after one use. You'll be able to notice the difference after 4 weeks of usage with the Vanav golden brush.
Hair loss care: contains ingredients for relieving hair loss symptoms.
Great synergy effect when using it with Vanav golden brush:  if you use golden time Ampule it helps improve scalp dead skin cells moisturizing and root volume.
Hypoallergenic test completed.
Golden Time Scalp Ampoule contained 56% black soybean extract that alleviates hair loss symptoms.
Main Ingredients
65% of Black Soybean Extract: grown in Jeju island, it contains much nutritious than other beans and contains cysteine essential for hair growth.
Pisum Sativum (Pea) Peptide: Hydrating ingredients for scalp & hair.
Allantoin: Calming scalp ingredients for sensitive scalp caused by external irritation.
Ingredients for relieving hair loss symptoms: l-Menthol, Salicylic Acid, Dexpanthenol.
Nutritional ingredients for healthy scalp and hair: Saccharomyces Cerevisiae Extract, Pisum Sativum (Pea) Peptide, Polygonum Cuspidatum Root Extract.
Moisturizing ingredients for scalp and hair: Glacial Milk, Allantoin, Betaine.
Customer Rate
Golden time scalp ampoule Overall satisfaction 98.4%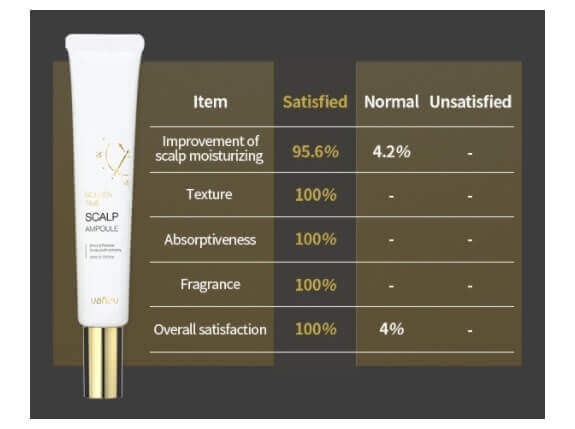 Golden Time Scalp Ampoule is a product that helps improve the root volume of hair, dead skin cells of the scalp, and moisturization of the scalp, and has completed clinical trials at a certified testing institution.
Try the new hair loss treatment from Vanav!
Skin Tests
(Vanav scalp ampoule has been through 3 different tests Scalp moisturizing, Scalp dead skin cells, and Root volume improvement of time machine golden brush with vanav time scalp ampoule)
1. Root volume improvement
Test institute: P&K Clinical skin research center
Test period: 0462020: 0372020
Test subjects: 23 adults
2. Root volume improvement test: Results after 1 use 
3. Effect test when using golden brush and ampoule together: Results after 4 weeks of use 
Get the best hair loss treatment now from Vanav!
Formulation
Liquid-type hair ampoule moisturizes gently your scalp.
How to use

Clean your scalp and hair before use.
Part the hair and divide it into sections, Apply VANAV Golden time scalp ampoule on the dry scalp along with the scalp texture.
Turn on the Time machine Golden brush and gently massage your scalp for better absorption.
Dry your scalp naturally to absorb the product.
TIP1# highly recommended to use it in the evening
Better to use with
( SYNERGY EFFECT Proven by the clinical test if you used it with VANAV Golden Brush)
Recommended for
Who's hair is thinner & less powerful than before.
Who's suffering from dandruff and hair loss
Who's scalp is itching and stinging.
Who's scalp is dry and flaky.
Who's scalp gets redness and sensitivity.
Ingredients
Containing Jeju black soybean extra 56%
Glycine Soja (Soybean) Seed Extract(56%), Alcohol, Glycerin, Octyldodeceth-25, Water, 1,2-Hexanediol, Betaine, Water, Butylene Glycol, l-Menthol, Hydroxyethylcellulose, Citrus Aurantium Dulcis (Orange)Peel Oil, Salicylic Acid, Caprylyl Glycol, Dexpanthenol, Propanediol, Disodium EDTA, Allantoin, Cinnamomum Camphora (Camphor) Bark Oil, Centella Asiatica Extract, Saccharomyces Cerevisiae Extract, Polygonum Cuspidatum Root Extract, Scutellaria Baicalensis Root Extract, Glycyrrhiza Glabra (Licorice) Root Extract, Camellia Sinensis Leaf Extract, Pisum Sativum (Pea) Peptide, Rosmarinus Officinalis (Rosemary) Leaf Extract, Chamomilla Recutita (Matricaria) Flower Extract, Alanine, Limonene, Linalool