AROMATICA Embrace Body Oil Neroli & Patchouli 100ml
Aromatica presents to you the top relaxing massage oil " Neroli & Patchouli " that deeply moisturizes the skin with six plant-derived oils.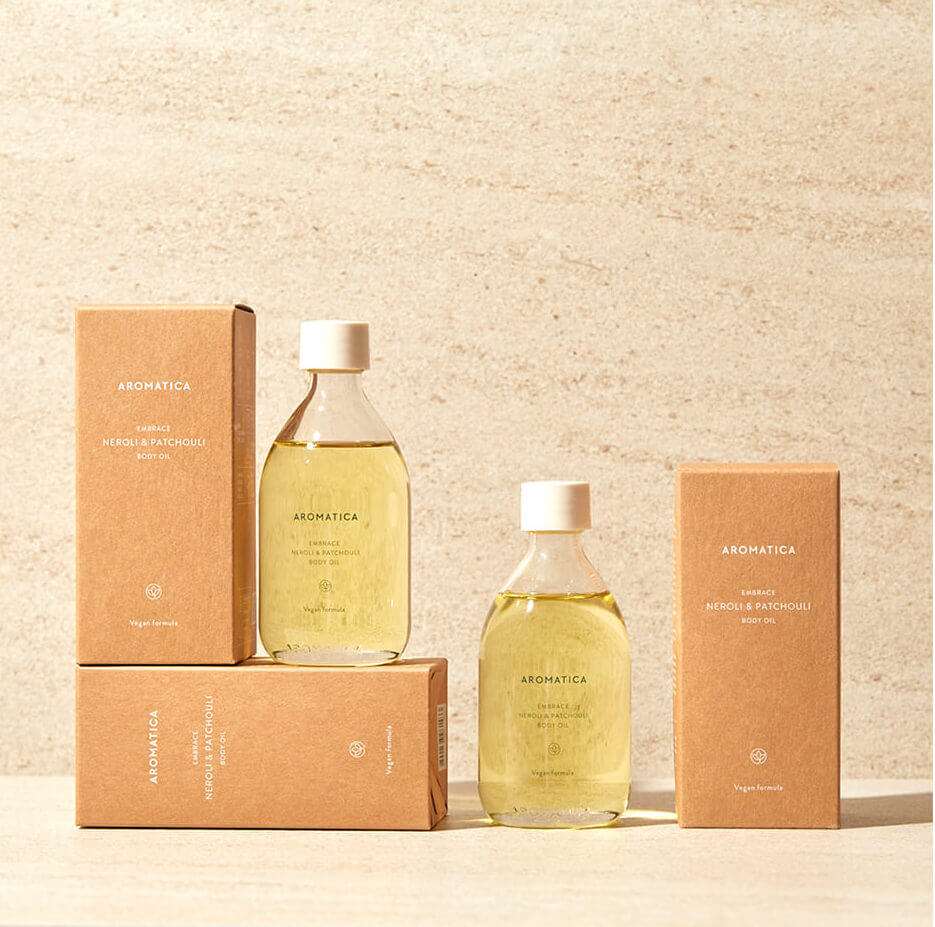 Neroli & Patchouli body oil fills your dry body and mind with vibrant energy at the end of the day!
The mood of a sweet, fresh garden gently encircles your daily life. White delicate flower Neroli offers a comfortable state by effectively removing heat from your tired mind and body, with Patchouli helping you become resilient to be able to embrace all. Golden Jojoba Oil has the most similar structure to the sebum of the body, so it is absorbed into the skin fast. Abundant vitamins A, D, and E make skin feel moisturized and elastic. Six kinds of plant-derived oil including olive, Sweet Almond, and sunflower make body skin elastic by instantly providing nourishment to the skin.
Refreshing massage oil texture and fragrance softly relax the mind and body while providing radiance and moisture to the skin.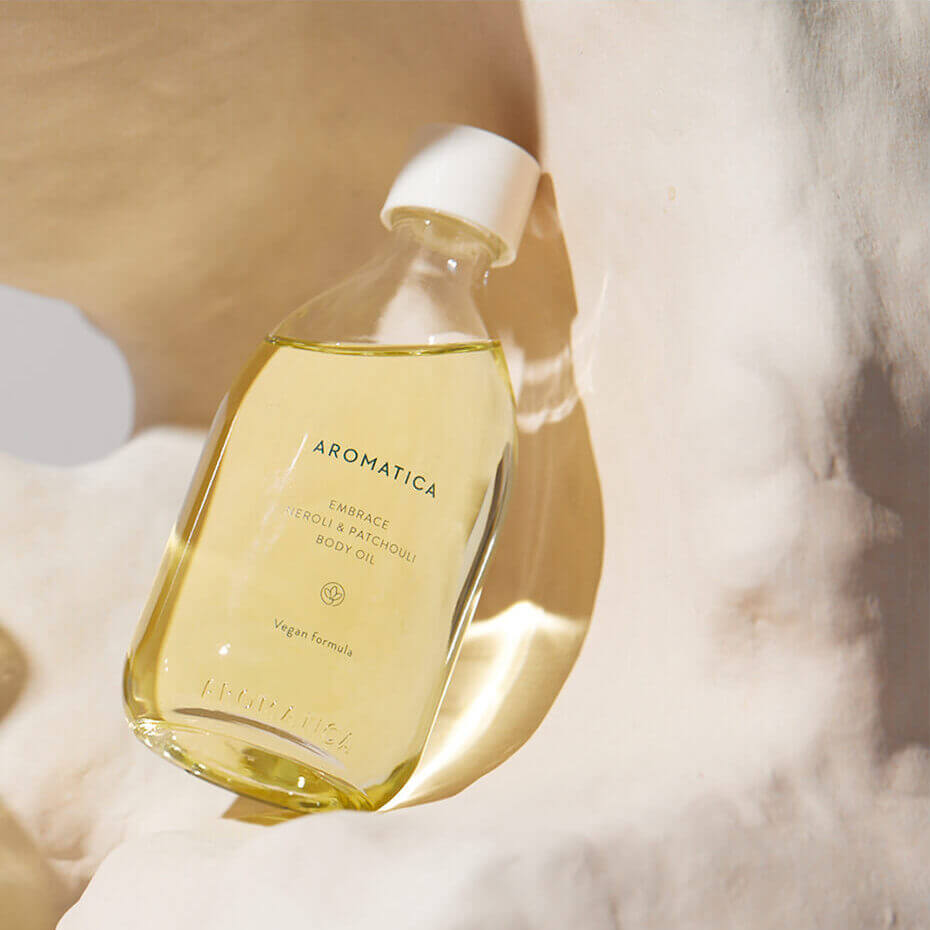 Extraction method
STEAM DISTILLATION: A method of extraction invented by the Persian chemist Ibn Sina (also known as Avicenna) in the 10th century by using steam to extract essential oil and floral water (also known as hydrosol) from flowers and herbs. Floral water (hydrosol) with water-soluble aromatic ingredients provides its original fragrance and energy to the skin for balanced skincare.
COLD PRESS: A method of extraction by pressing the skin of citrus fruits such as lemon, orange, and bergamot to extract oil. Without external heat, it retains most of its natural fragrance, color, and active ingredients including vitamin C.
Synergy effect between vegetable oil and essential oil in one massage oil
When the essential oil is added to 100% vegetable oil, its effect is further enhanced. The vegetable oil used at this time is called carrier oil, which not only protects and nourishes the skin but also serves as a medium for delivering essential oil to be better absorbed into the skin. Vegetable oils mainly used include jojoba seeds, sunflower seeds, sweet almonds, and olive oils, and are mixed according to skin type in consideration of absorption.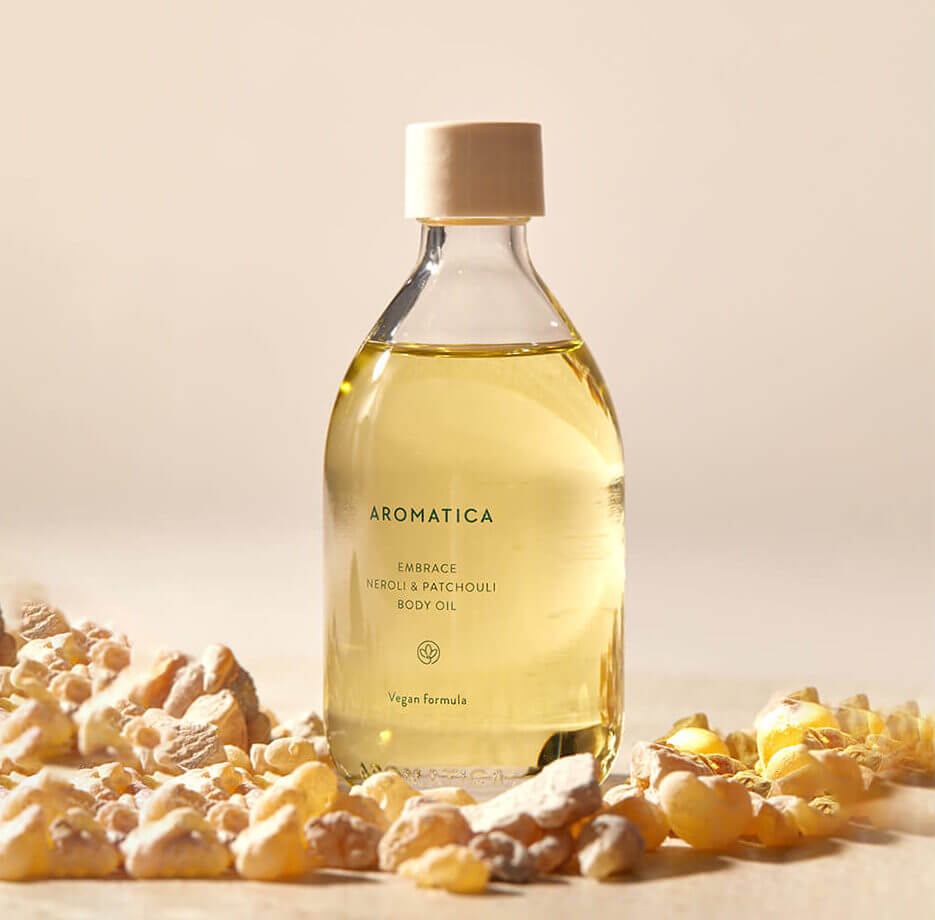 Main Ingredients
Neroli oil, Patchouli oil, Bergamot oil, Rose geranium oil.
Citrus Aurantium Amara Flower Oil (Neroli oil): Neroli extracted from the flowers of Voter Orange is one of the oils that calm and stabilize the mind and mind. It applies mildness to hot and agitated conditions.
Pogostemon Cablin Oil (Patchouli oil): The patchouli, which is extracted by drying young leaves and fermenting for a long time, has a thick scent of soil and helps to firmly support the shaking mind with the grounding effect that stabilizes the mind.
Bergamot Oil: Bergamot Oil relieves stress, prevents bacterial infection, has a good effect on various skin diseases, and has the effect of stabilizing the mind and body.
Rose Geranium Oil: Rose Geranium Oil elevates a depressed mood and stimulates circulation in the body, helping to maintain a balance between body and mind.
Formulation
A refreshing and glowing oily formula that let your skin fresh and moist all day.
How to use
Apply to dry skin.
Massage it into the skin with upward circular motions.
If you are using skin oils such as Almond oil or Coconut oil, then try Embrace body oil Neroli & patchouli, you will get the satisfaction you've never felt before.
Aromatherapy Body Massage TIPS
Through massage, the essential oil is absorbed into the skin and the scent is inhaled through the nose, allowing you to enjoy deeper aromatherapy.
Gently massages the body with body oil in places where the flow is stagnant, such as the armpits and groin, to release the lumped body fluid and help relax.
Massage the stiff shoulders and neck area using wooden dolphin face & body massage tools.
If you use it with a little moisture left after the shower, you can massage it more smoothly and create an oil-moisturizing membrane.
Moisture care Tip for extremely dry skin in winter: Massage the body with the mixture of body lotion and AROMATICA body oil. The mixture fills the skin with moisture and prevents the evaporation of skin moisture caused by dry weather.
Ingredients
Natural ingredients 100%
Sunflower seed oil, Sweet almond oil, Olive oil, Bergamot oil, Meadowfoam seed oil, Jojoba seed oil, Olive peel oil, scented Geranium flower oil (including Rose geranium oil), Linen (including Bergamot oil), Vegetable oil, Non-renewal oil, Vegetable oil