MISSHA SUPER AQUA CELL RENEW SNAIL CREAM 52ml
Cell Renew Cream Always heard of the amazing moisture effect of snail secretion filtrate? Heard about people getting a real snail to crawl up their face just to benefit from it's slime? MISSHA' presents to you a cream that contains 70% of snail slime extract ! Use the power of snail cream to restore damaged skin and improve skin defense. It also has face whitening and anti-ageing effects, restores damaged skin, and improves moisture retention.
The best cell renew cream for you is Missha Super Aqua Snail Cell Renew Cream.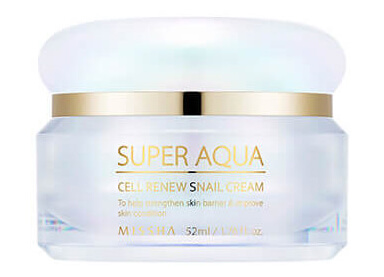 Benefits of Snail Secretion Filtrate for skin
Rich in the humectant hyaluronic acid, snail secretion filtrate has skin hydrating properties. It also contains high levels of antioxidants which calm inflammation in the skin and promote healthy collagen production.
Super Aqua Snail Cell Renew Cream energizes your skin with snail's amazing vitality.
Main Features:
Defected skin care: Snail secretion filtrate 70% and Botanical stem cell extract to vitalize defected skin texture and provide vitality.
Improve skin defensive power: Concentrated moisture cream to make the skin firm with high density improving skin defensive power.
Vitalize keeping skin moisture ability: baobab Extract and deep sea water are integrated to improve skin validity and moisture.
Super Aqua Snail Cell Renew Cream to make your tired skin healthy and elastic.
How to Use:
Apply a generous amount of product onto your face as the last step in your skincare routine. Follow your skin texture and gently tap to absorb the product into your skin.
Recommended for:
Those with dry dehydrated skin.
Those who need moisture care.
Those who need soothing care.
Super Aqua Snail Cell Renew Cream contains 70% Snail Secretion Filtrate and ingredients derived from nature to improve your skin texture and revitalize your skin.
Main Ingredients:
70% SNAIL SECRETION FILTRATE: Improves skin and helps treat skin trouble, dull complexion, lack of elasticity, etc.
BAOBAB TREE EXTRACT & DEEP SEA WATER: Provides hydration to skin
BOTANICAL CALLUS EXTRACT: Provides vitality to skin.
Ingredients:
Water, Butylene Glycol, Snail Secretion Filtrate, 1,2-hexanediol, Dimethicone, Glycerin, Alcohol, Water, Adansonia Digitata Seed Extract, Phenoxyethanol, Caprylyl Glycol, Arbutin, Bis-peg-18 Methyl Ether Dimethyl Silane, Peg-11 Methyl Ether Dimethicone, Sea Water, Ethyl Hexanediol, 1,2-hexanediol, Ethylhexyl Isononanoate, Hydroxyethyl Acrylate/Sodium Acryloyldimethyl Taurate Copolymer, Water, Butylene Glycol, Portulaca Oleracea Extract, Ppg-26-buteth-26, Peg-40 Hydrogenated Castor Oil, Caprylyl Glycol, Ethylhexylglycerin, Carbomer, Triethanolamine, Fragrance, Tocopheryl Acetate, Adenosine, Disodium Edta, Glycerin, Centella Asiatica Meristem Cell Culture, Xanthan Gum