ILLIYOON Ceramide Derma Relief Skin Softener 180ml
This Ceramide Toner is a hypoallergenic derma moisturizing solution that Illiyoon presents for sensitive skin. The ceramide toner is a hypoallergenic toner that not only soothes sensitive skin but also strengthens the skin barrier. With phytoceramides deeply penetrating the skin to address dryness, your skin will become softer and more supple.
Illiyoon brand of AmorePacific has won the 'Best Brand' award in the Derma Cosmetics category for 5 consecutive years from 2018 to 2022, gaining high trust from Korean consumers. It also won first place in the Essence Toner category of the 2021 Allure Best of Beauty Awards.
Did you know that sensitive skin contains less ceramide than healthy skin?
When ceramide, the main component of the intercellular lipids, is insufficient, the skin's moisture retention ability and defense power fall, making it dry easily and the skin barrier weakens, making it easy to react sensitively to small stimuli.
Try the Illyoon Ceramide Toner to soothe and hydrate sensitive skin.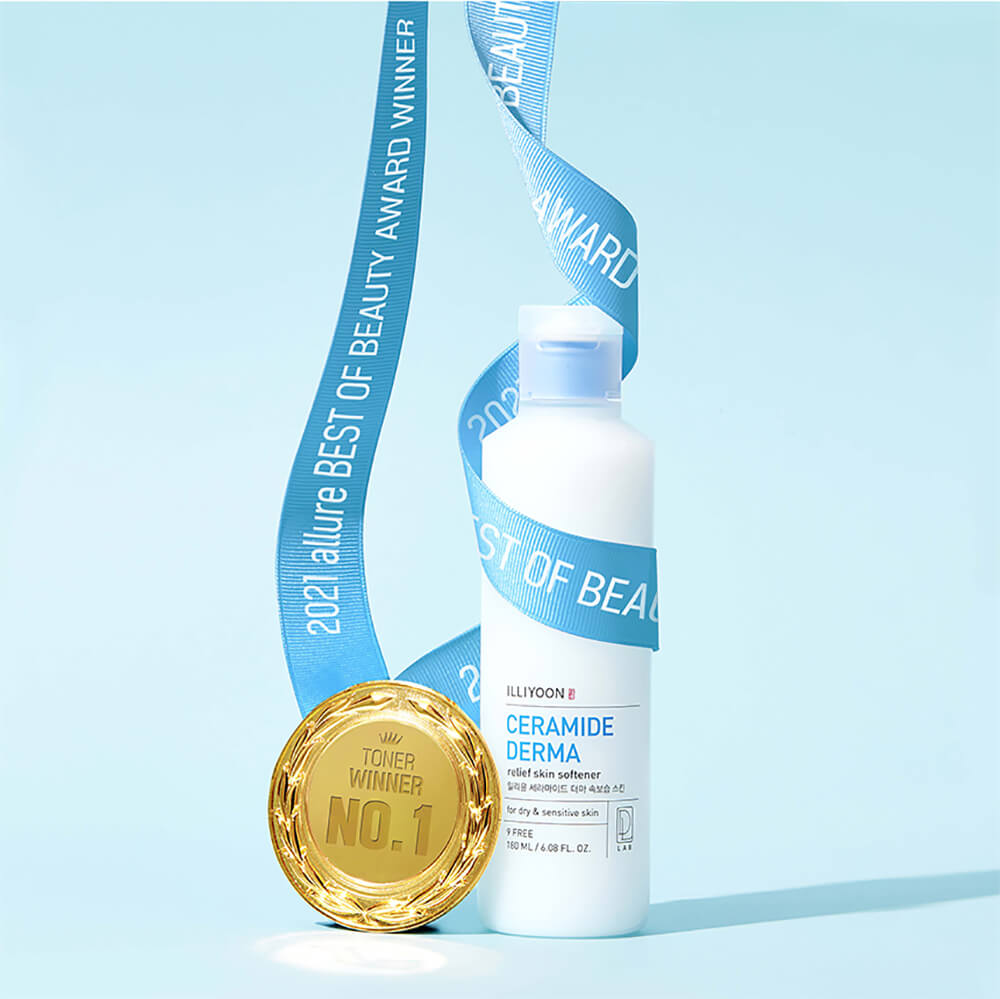 Main Features:
A hypoallergenic toner that makes sensitive and dry skin moist and healthy.
Contains Phyto Ceramide™, which moisturizes the skin and strengthens the skin barrier.
Has an excellent skin calming effect that makes sensitive skin comfortable.
Contains Hyaluronic Ceramide™, forming a double moisturizing barrier that does not leak moisture.
A toner that has completed 5 safety tests through sample testing for 269 days on 769 test participants s for comfortable use even on sensitive skin.
Free of 9 ingredients of concern & Fragrance-free.
A vegan certified product.
Main Ingredients
Phytoceramide: PHYTO CEAMIDIN™, which is a moisturizing-specialized ceramide ingredient derived from soybeans, moisturizes the inside of the skin and makes the skin barrier strong.

PHYTO CEAMIDIN™, which is structurally similar to ceramide of healthy skin, is quickly absorbed deep into the skin and delivers moisturizing ingredients from the inside of the skin to relieve dryness in the skin and strengthen the skin barrier.

Allantoin : Ceramide Derma Toner contains Allantoin, which has an excellent soothing effect, relieves irritation, and soothes the skin, making your sensitive and rough skin moist and healthy.
Hyaluronic Ceramide™: It is important to supply moisture to the skin that is easily tired and dry due to various external stimuli such as temperature and humidity, ultraviolet rays, pollutants in the air, and makeup, but it is also important to maintain moisture. Hyaluronic acid

, a natural moisturizing factor, and

Ceramide

, which acts as an adhesive for the stratum corneum of the skin, create a strong

double moisturizing barrier

to protect the skin from external stimuli and prevent moisture loss to make healthy skin that does not dry out easily.
Skin Test
Hypoallergenic Test
The stability test for 5 items was completed through 269 days of sample test.
Completed 5 skin stability tests: Test for panels with sensitive skin,

Hypoallergenic test, Non-Comedogenic test, Dermatological test and primary irritation test for sensitive skin

Skin irritation index: 0.0 ((Suitable for use on sensitive skin as well as acne-prone skin.)
Skin moisture measurement test
Test Institute: Global Medical Research Center Co, Ltd.
Test subjects: 32 Korean Women With Seasonal Change Environment Sensitive Skin
Test period: Jan 11, 2020, to Jan 15, 2020
Results: The internal moisture in the area where the ceramide toner was applied increased by 15.3%, confirming its moisturizing effect before and after application.
Customer Satisfaction Survey
Survey Institute: Global Medical Research Center Co, Ltd.
Survey subjects: 32 Korean Women With Seasonal Change Environment Sensitive Skin
Survey period: Jan 11, 2020, to Jan 15, 2020
Results: More than 90% of the survey participants responded that they were satisfied with the six questions.
Formulation:
Unlike traditional toners, Ceramide Toner has a slightly viscous, water-like lotion formula.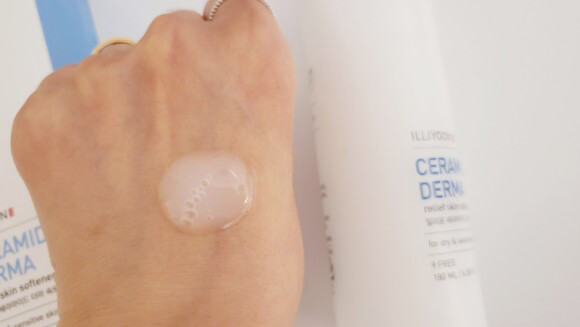 How to use:
Take an appropriate amount of ceramide toner, massage it along the skin texture, and spread it evenly.
Gently tap the product with your fingertips to aid absorption, leveraging the warmth of your palms, and gently wrap it around your face.
TIP# For sensitive skin, minimize physical friction. Instead of using a cotton pad, it is recommended to apply ceramide toner directly with your hands for better absorption.
Recommended for:
Those who have sensitive skin.
Those who have acne-prone skin.
Those who want to moisturize their skin and strengthen their skin barrier.
Those looking for hypoallergenic toner.
Differences by-product of Derma Line
Free of 9 ingredients of concern & Fragrance-free
Free of 9 ingredients of concern: Animal raw materials,  Mineral oil,  Polyacrylamide, Imidazolidinyl Urea, Triethanolamine, Tar pigment, Paraben, Fragrance, PEG surfactant

Fragrance-free: It does not contain fragrance, so you can feel the unique smell of the ingredients.
A vegan certified product
This ceramide toner doesn't contain animal ingredients.

A product officially certified by the Korea Vegan Certification Institute.
Ingredients:
Water, glycerin, dimethicone, 1,2-hexanediol, propanediol, betaine, ammonium acryloyldimethyltaurate / Vpicopolymer, butylene glycol, Cetearyl alcohol, Polyglyceryl-3Methyl glucose distearate, glyceryl caprylate, hydrogenated lecithin, glyceryl stearate water citrate, ethyl carbomer, disodium EDTA, black soybean oil, acrylate/stearyl methacrylic Rate Copolymer, Allantoin, Tromethamine, White-throated Ear Mushroom Spores Extract, Hyaluronic Acid, Shiho Root Extract, Japanese Angelica Root Extract, Lobular Cornus Root Extract, Ceramide NP (45ppm), Xanthan Gum, Phytosphingosine, Tocopherol, canola oil, rosemary leaf extract