HERA – BLACK CUSHION SPF 34 PA++ 15g*2
Cushion foundation for flawless look, HERA presents to you one of it's best seller cushions from the famous Black line! It's a cushion foundation with Layer-less Matte Cover blending seamlessly in with the skin to create a flawless look that lasts all day long! With up to 10 different shades and tones for you to choose from!
"Black Cushion foundation designed for those who are looking for Seoul's Natural Beauty Looks"
What's a cushion? And Why should you buy it?
Essentially, a cushion foundation is a liquid formula housed in a compact. The liquid foundation is housed in a sponge-like cushion, hence the name. Speaking generally, cushion foundations are light to medium in terms of coverage and are hydrating or luminous.
Is cushion foundation better than liquid foundation?
Cushion foundations are great if you like the finish of liquid products but want to touch up during the day. While cushion compacts traditionally offer light coverage and a dewy finish (think a portable BB Cream). The main draw of cushions are they are portable, but the cushion application also forces you to use a light hand, resulting in lighter coverage. Most also include similar skin benefits to BB and CC creams. Cushion compacts generally come with an applicator that you press into the sponge to soak up the foundation and apply to your skin. You can use the applicator to dab and blend the foundation on your face, applying more pressure and product where you need extra coverage, or you can use a Beauty blender if you prefer.
Main Features:
NEW Layer-less Matte: It applies in a thin layer of full coverage that imperceptibly blends into the skin and sets into a flawless matte finish. That you wont even feel that it's there!
24H High end Stay: It ensures the four properties of coverage—seamless blending, full coverage,non-caking matte finish and color without darkening—
for over 24 hours to give the perfect lasting makeup look.
Magnificent pigment: A cover power that won't wear off easily.
Zero-vity fit puff: A special puff that distributes the product evenly and lightly on your skin.
Doesn't wear off even by wearing face masks, so you can go out feeling safe that your makeup will stay in place.
"Black cushion foundation that you will be 100% satisfied with even when wearing a face mask!"
Color chart: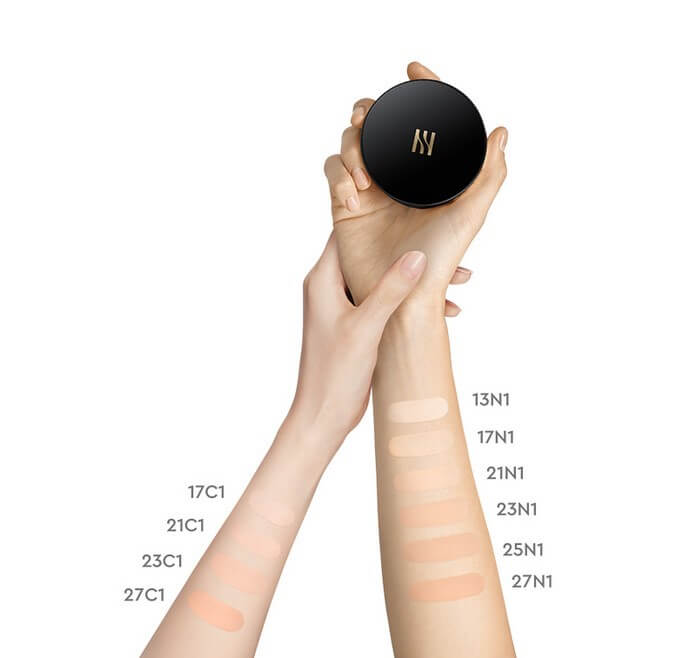 Human application test:
Test institution: P&K Dermatology research center.
Test Period: 2021/01/18~2021/01/19
Test Results:
Doesn't wear off in mask 94%
The face looks the same when I remove the mask 100%
Keeps my face smooth even when wearing the mask 100%
Doesn't cause skin irritation when wearing the mask 100%
No dryness feeling even when wearing the mask 100%
Customer's Reviews:
"I think the cover power of this cushion from HERA is a lot better than the other matte cushion I used."
"It adheres to my skin softly and doesn't cause my dead skin cells to be visible, unlike other cushions."
"It really lasted the whole day on my face without any smudges."
Black Cushion ensures the four properties of coverage for over 24 hours to give the perfect lasting makeup look.
(Seamless blending, Full coverage, Non-caking matte finish and Color without darkening)
How to use: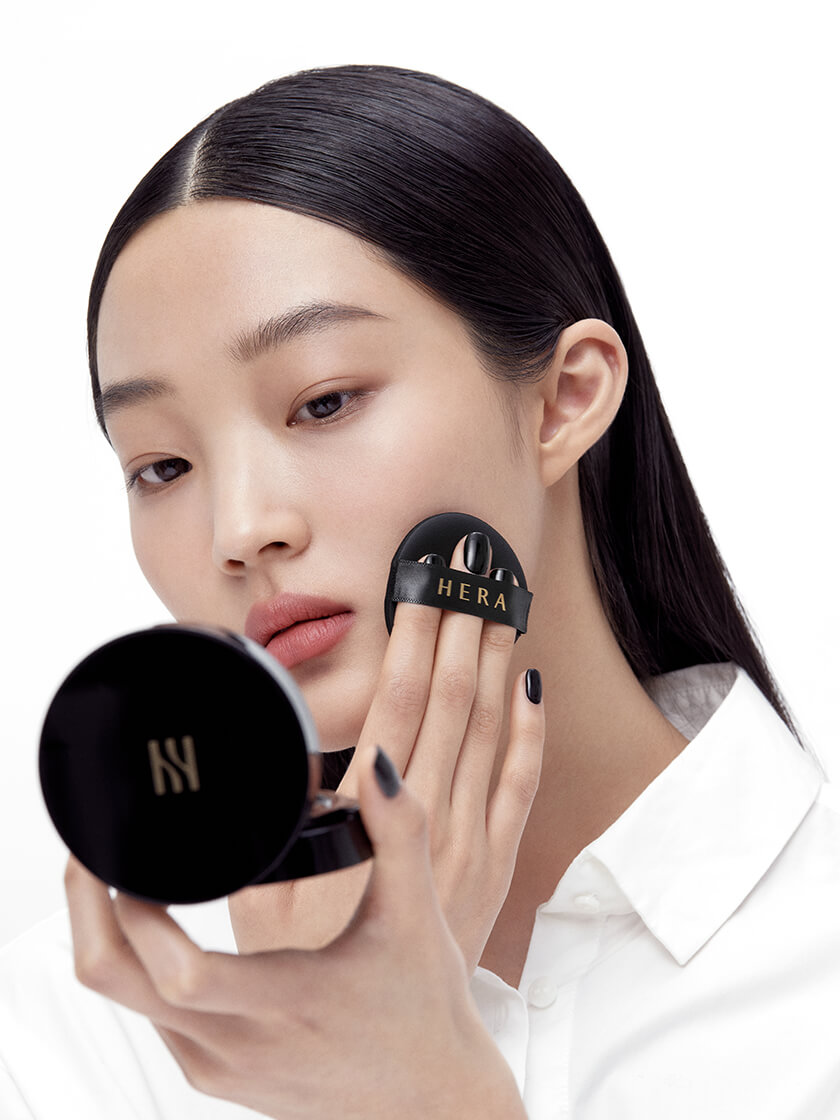 Take an adequate amount using the puff and gently dab onto the face at the foundation step of your makeup after basic skincare.
Recommended for:
Those who are looking for a matte cushion.
Those who are looking for a light texture cushion.
Those who are looking for various shades to choose the suitable one.
Ingredients:
Water, Cyclopentasiloxane, Methyl Trimethicone, Butylene Glycol, Ethylhexyl Methoxycinnamate, CI 77891, CI 77019, Cyclohexasiloxane, Trimethylsiloxysilicate, PEG-10 Dimethicone, Disteardimonium Hectorite, CI 77947, Methyl Methacrylate Crosspolymer, Lauryl PEG-9 Polydimethylsiloxyethyl Dimethicone, Dimethicone, CI 77492, Acrylates/Ethylhexyl Acrylate/Dimethicone Methacrylate Copolymer, Acrylates/Stearyl Acrylate/Dimethicone Methacrylate Copolymer, Sodium Chloride, Aluminum Hydroxide, Glycerin, Fragrance, CI 77491, Polysorbate 40, Polysilicone-11, Polysorbate 80, Caprylyl Glycol, Triethoxycaprylylsilane, Lauroyl Lysine, Stearic Acid, Hydrogenated Lecithin, Polyhydroxystearic Acid, Ethylhexylglycerin, CI 77499, Disodium EDTA, Lecithin, Ethylhexyl Palmitate, Isostearic Acid, Isopropyl Palmitate, Polyglyceryl-3 Polyricinoleate