WITHBEAUTY SKIN CURLING, SKINCARE DEVICE FOR WHITENING, WRINKLE & ELASTICITY IMPROVEMENT
An anti-aging device that you can easily use to make a baby face at home, how to break on a skin watch that you can not be against? As described in the product name, "Skin Curling" is a home skincare device that reduces skin friction and allows active ingredients of skincare cosmetics to penetrate deep into the skin, like curling stones on ice.
The quadruple programs of the skin curling changes the depth of skin care. It helps to make the skin healthy and elastic from face to body.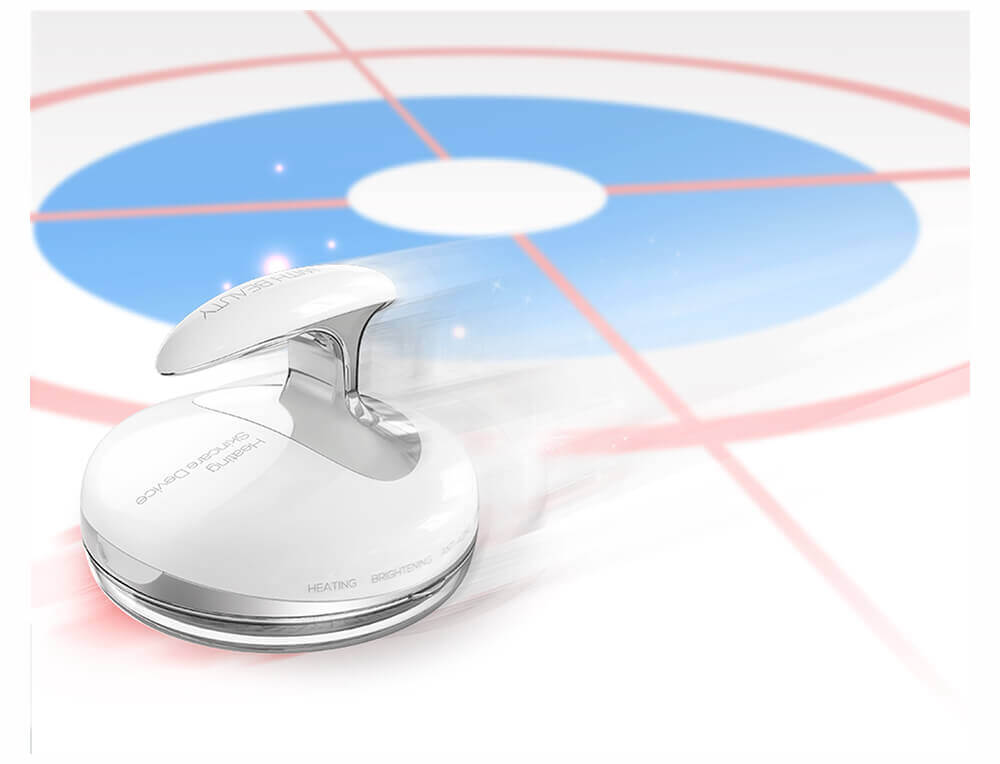 Skin Reinforcement program of Skin Curling: Quadruple Programs 
42 C warmth which erases the memory of aging through wrinkle improvement.
Micro current to enhance whitening, anti-aging and lifting effects.
Power motion which pats skin 6000 times per minute.
Three types of color LEDs available to be suitable for skin conditions.
Skin Curling is a home anti-aging device that has
quadruple programs.
Main Features:
Heating Program

: 42 C warmth which erases the memory of aging through wrinkle improvement: the heat at 42 C accelerates the production of HSP to reduce visible wrinkles, and it helps regenerates damaged skin cells caused by stress and Ultraviolet rays, also warm feeling like steam towel promotes blood circulation in the skin to make ideal skin for skin care. 
Electrotherapy Program

: Micro Current to enhance whitening, anti-aging and lifting effects:It is a method of delivering active ingredients of cosmetics deeply into the skin through electricity without skin irritation. Transferring the electricity to the skin creates a gap between skin cell tissues, It is possible to penetrate active ingredients and discharge impurities according to flow of electrons. Existing iontophoresis method delivers active ingredients of cosmetics to the dermal layer. Skin curling implements excellent wave form to anti wrinkle and elastic enhancement. Also it helps to reprogram skin's future.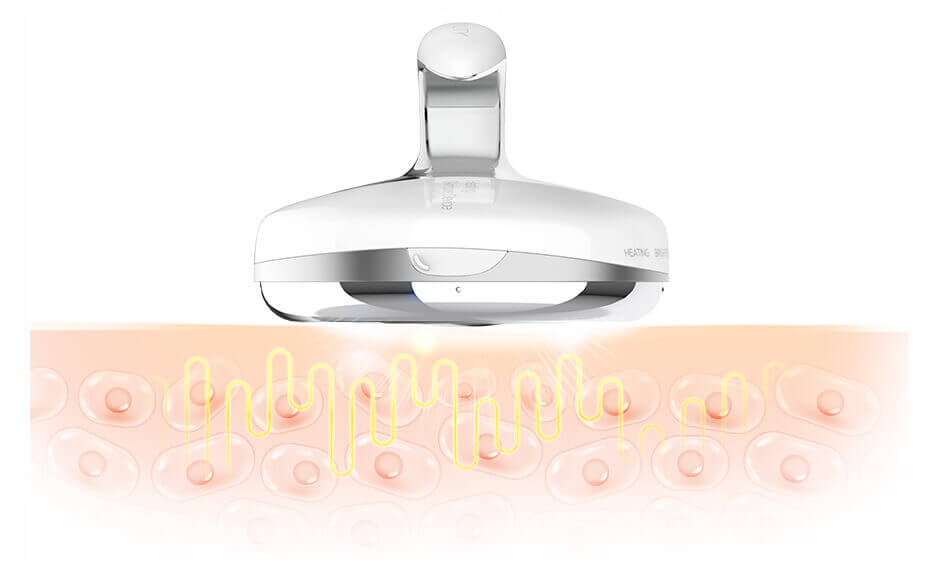 -Micro waveform by mode
Vibration Program:

Power motion which pats skin 6000 times per minute: The power motion of skin curling stimulates the skin capillaries and muscle layers to help improve blood circulation. Power massager that vibrates more than 6000 times per minute, pats active ingredients of cosmetics which are not well absorbed upon applying with hands, so that active ingredients are reached to the dermal layer.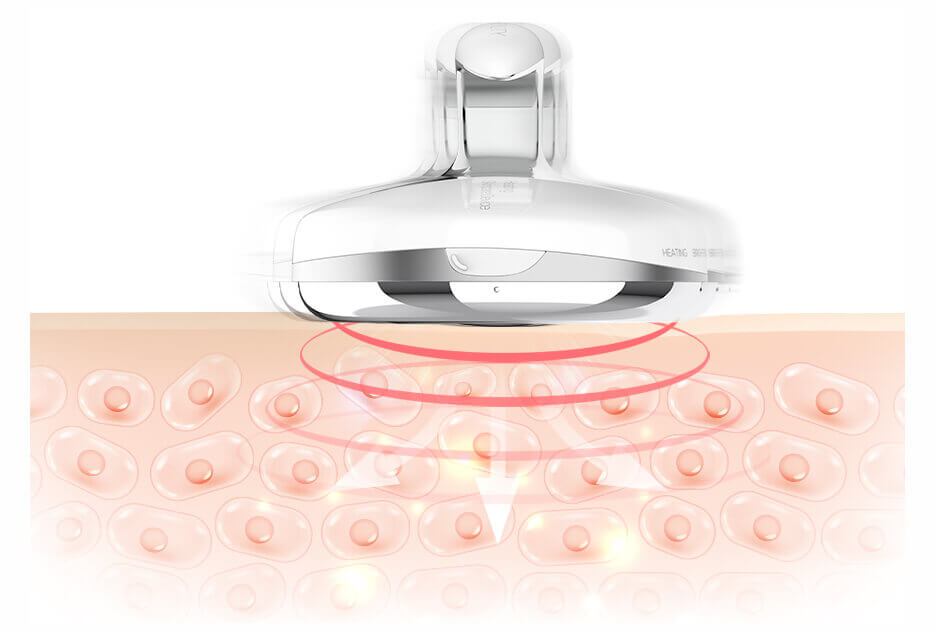 3 Colors Therapy Program

: Three types of color leds available to be suitable for skin conditions: Skin curling can apply directly to the light by gently rolling the entire face, so that major skin troubles can be controlled thoroughly. Lights of three wavelengths to care the skin, help to improve whitening and elasticity improvements. Thus clear and fresh skin can be completed.
-Effects of light of three wavelengths "Depending on wavelength of the light, absorption level of the skin is different and skin effect is also different."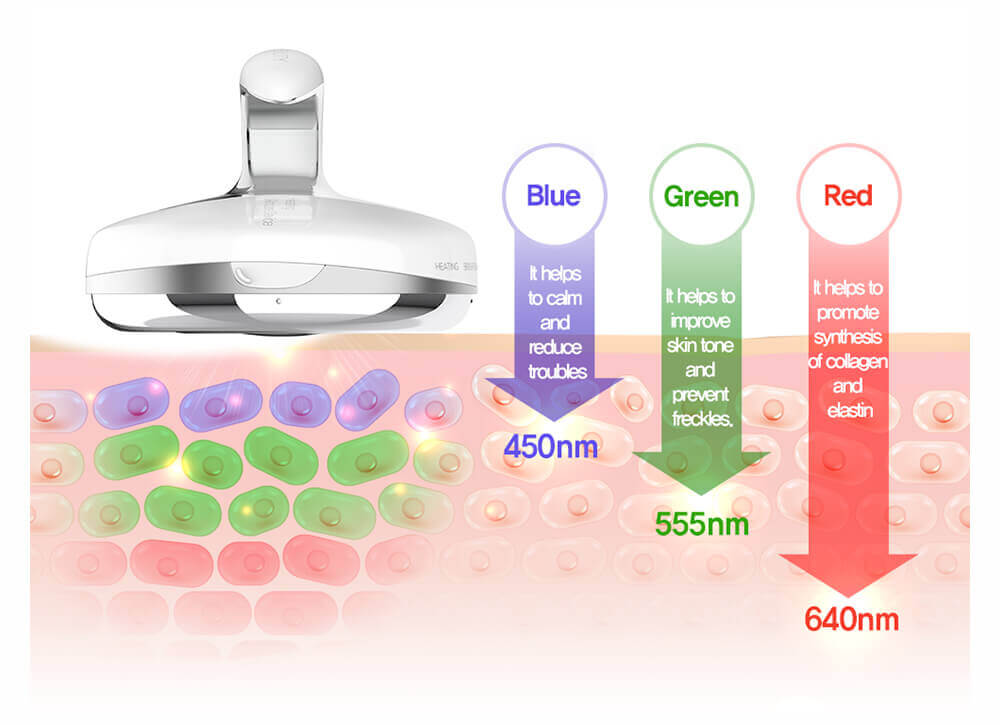 -The effect of light on skin

Waving head and Rhodium plating
Has a dazzling waving head that contacts closely to all curves of face and body: Triple waving structured head contacts closely to all curves of the face and body, and it massages muscles and blood vessels. Through a lock-up system that locks applied massage cream onto the curved surface of the head, cosmetics are not pushed to the outside of the skin even when rolling for a long time. Thus, It is economical.

Has Rhodium plating that can be used safely to all skin types: Since this product contacts with the skin directly, consumers criteria for product selection becomes more choosy whether it causes allergy or harmfulness to the skin or not. By applying brilliant Rhodium plating to head the contacts with the skin, skin curling satisfies simultaneously with unique luxuriousness as well as safety.

*Rhodium: It is platinum group metal that is harmless to the human body and it is used for high-end luxurious jewelry and watches.

*Tritan (BPA FREE): It is an eco-friendly material without bisphenol which is an endocrine disruptor. It is used for baby bottle and water bottle.
SKIN CURLING is 
a whitening device that also improves wrinkles and skin elasticity.
How to use that home anti-aging device:
For galvanic effect, contact the finger closely to the iron terminal on the top to use.

Press the button until a beep sounds to turn on the power. Select the desired mode every time you press the button, the lamp color changes in the order of white, green, red, red & blue.

Apply skin curling closely to the skin and massage as if sliding.

If you want to stop the massage operation, press the button for a long time to turn off the power.

Remove remaining cosmetic residue thoroughly on the head and wear a protective cap to store.

TIP: When using the product while applying mask pack, active ingredients of cosmetics are absorbed much more.
How to use by mode: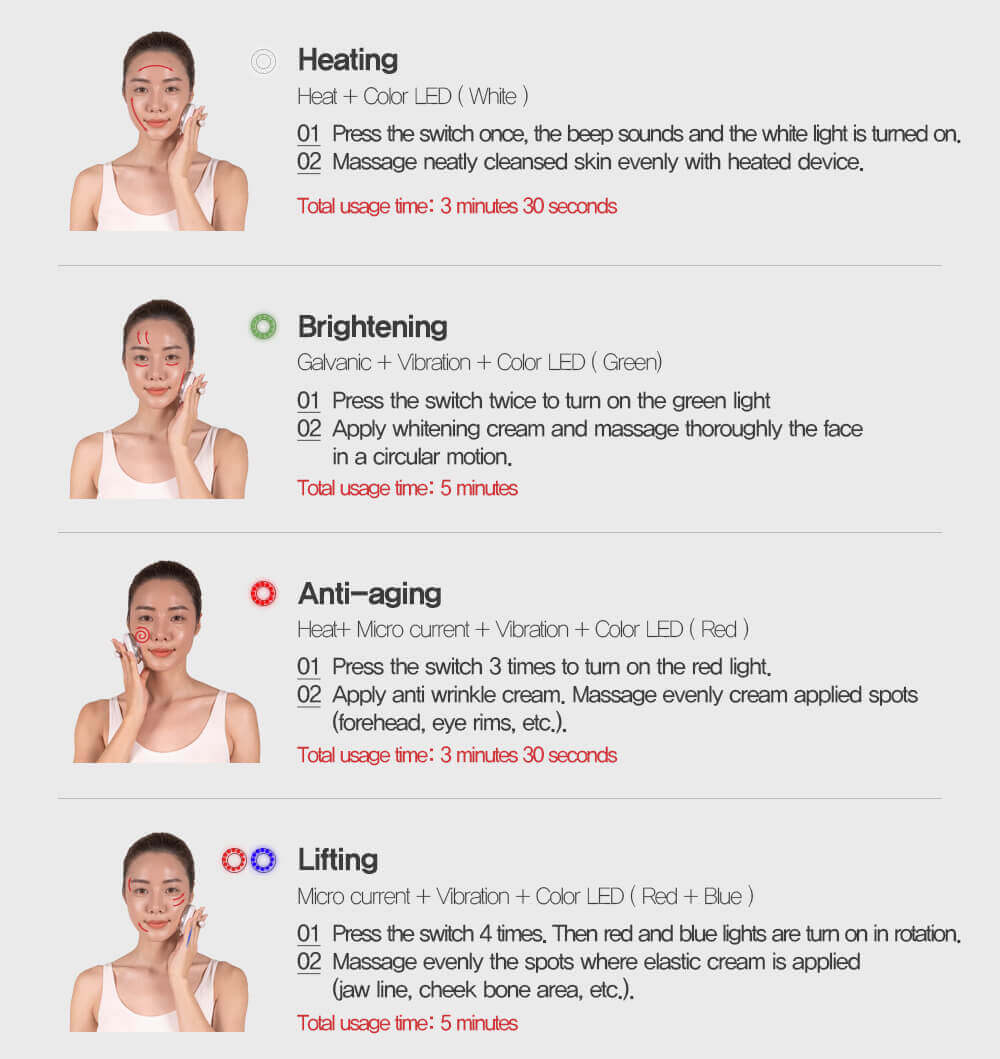 Has triple temperature control for safe use: 
– Thermostat: 42 C temperature maintanance through resistance and temperature error control.
– Bimetal: Automatic power off when internal temperature rises.
– Automatic control circuit: Automatic stop of product operation when there is no mode change after standby mode.
Name of parts and components: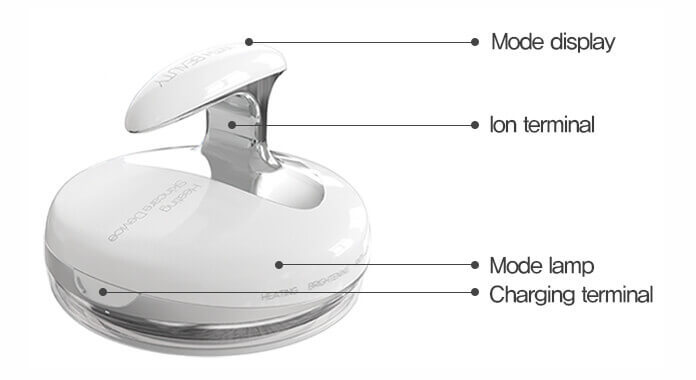 Specifications: