ROUNDLAB Mugwort Calming mask, 5pcs
Best calming mask for tired and irritated sensitive skin presented to you by ROUNDLAB! With the extract of Sea Breeze Mugwort grown on clean island of Geomundo Island, Where there is a fresh sea breeze, and Madecassoside ingredient to give you a dewy and healthy skin by relieving and soothing it from the stress and environment. So say goodbye to irritated damaged skin and hello to smooth calm skin!
"Best calming mask for you who need a break!"

Main Features:
Best calming mask that contains sea breeze mugwort to provide skin soothing for sensitive skin.
Sea breeze mugwort extract acts as a repository of nutrients, such as Vitamin A, Vitamin B and Beta-carotene, permeating into the skin to comfort it and relieve the skin's stress.
Contains Madecassoside which effectively soothes and protects the skin to comfortably calm the skin irritated by external environment.
A 100% pure cotton sheet made without chemical addictive gently wraps the skin to deliver healthy, fresh, raw ingredients grown from Korea's local soil.
Safe for sensitive skin, As it doesn't cause any skin irritation.
Mugwort extract harvested from Geomundo Island, a clean island in Korea, was used.
Geomundo Island is located at the southermost end of Dadohaehaesang National Park, It is a village of clean nature where three islands surround the sea like a folding screen, and the sea inside is as tranquil as a lake!
This serum was made using mugwort extracts harvested in these clean areas.
Extract key ingredients using a Water Drip Method.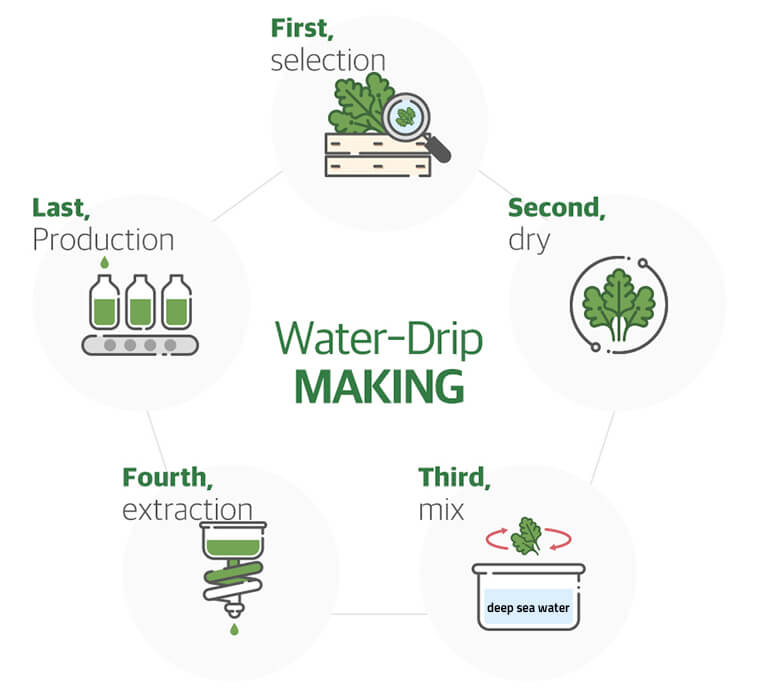 Sea Breeze Mugwort of Geomundo Island is extracted by a particular special way to deliver the best effect!
Mugwort harvested in such clean nature was extracted by a nature-friendly extraction method that extracts active ingredients by slowly dropping pure water one drop at a time only by the force of gravity.
Using a drop of pure water and a nature-friendly extraction method obtained by the force of gravity, the effective ingredients are completely contained. It contained Apigenin and Luteolin ingredients effectively soothe the skin and make it healthier.
Moist protective film of Madecassoside!
Its madecasoside ingredient that is effective in calming and protecting the skin, calms your skin comfortably, irritated by the external environment.
Best calming mask with a 100% Pure cotton sheet
Applies a 100% pure cotton sheet without chemical additives, which gently wraps around your skin and delivers active ingredients safely into your skin(Certification Number N-KEN 03023).
Skin irritation test completed:
Test institution: Global medical research center
Test period: Aug. 20-22, 2018
Test results: After using the cream , 1 hour to 24hours verified low irritation.
Formulation:
Best calming mask with a water soothing type that is packed with Mugwort, which calms the skin, and Madecassoside, which protects the skin, is absorbed quickly into the skin to offer moisturizing soothing care.
How to Use:
After cleansing the face, tidy up the skin texture using a toner.
Take the sheet mask out of the pouch and apply evenly on the entire face, making sure to match up the eye and nose holes.
Take the mask off after 10-20 minutes and lightly tap the contents remaining on the skin to promote full absorption.
Recommended for:
Those looking for a soothing and moisturizing face mask.
Those with sensitive skin.
Those who are looking for intensive moisture care.
Ingredients:
Water, Glycerin, Methylpropanediol, Artemisia Vulgaris Extract (1000 Ppm), Althaea Rosea Flower Extract, Dipropylene Glycol, Hydroxyacetophenone, Allantoin, Butylene Glycol, Madecassoside, Tromethamine, 1,2-Hexanediol, Polyglyceryl-10 Laurate, Polyglyceryl-10 Myristate, Betaine, Caprylyl Glycol, Ethylhexylglycerin, Dipotassium Glycyrrhizate, Caffeine, Carbomer, Disodium EDTA.