VODANA
SoftBar Flat Iron 1 inch(2.54cm),
Voltage Free
Are you looking for the best flat iron?
VODANA is the brand that won the Grand Prize in the Hairstyle category in Korea's First Brand AWARD 2021! 
What is a SoftBar?
SoftBar refers to a vertical bar in the center of the heat plate, as you can see in the image below. When this expands due to the heat of the heat plate, it buffers when you style to prevent your hair from getting marked or pulled out while you're styling.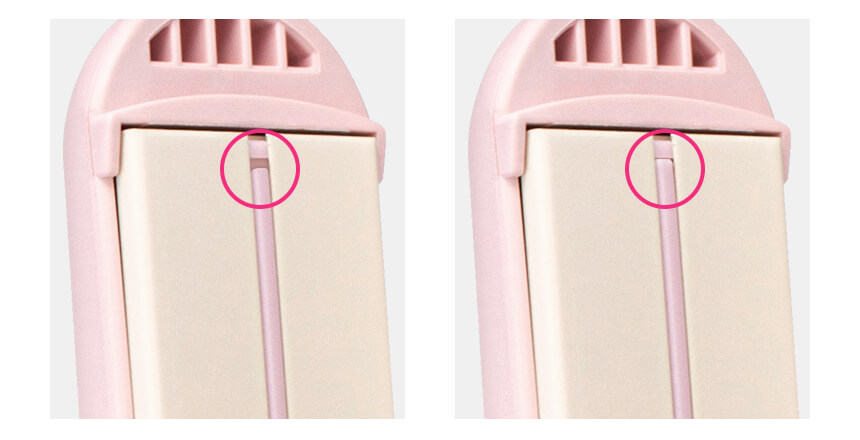 If you've ever used SoftBar Flat Iron, you'll agree that it's the best Flat Iron ever.
Why do we have to use SoftBar Flat Iron?
We usually run the flat iron two or three times on hair to get the look we want.

This causes more hair damage.

Vodana planted a silicon bar inside the heat plate so that you can achieve your hair goal with just one touch.
The best flat irons are never far from you. That's what you're seeing right now
Main Features:
Has 6 different features than other flat irons.
Ceramic heat plate:

Minimizes hair damage and makes hair shiny by arranging cuticles.

Reaches set temperature quickly:

Reach set temperature quickly within 20 seconds.

Floating Plates:

Heat plates move side to side, providing more comfortable use and preventing hair from being pulled out or marked by heat.

Adjustable temperature with Analog System:

Analog temperature adjustment minimizes failure rates and prevents buttons from being pressed incorrectly.

Automatic power-off system:

1 hour after turning on the power, the power is automatically cut off to prevent overheating.

360° Swivel Cord:

Made with a 360° Swivel Cord and can be used conveniently because the wires are not twisted.

5-step adjustable temperature
Analogized mode allows different temperature control depending on hair condition from 120~ 200 degrees

If the LED light next to the power starts to blink, it means that the set temperature has been reached.

 Hair damage test result:
Early stages of hair before the experiment.
Results of hair damage test when using a flat iron for 1000 times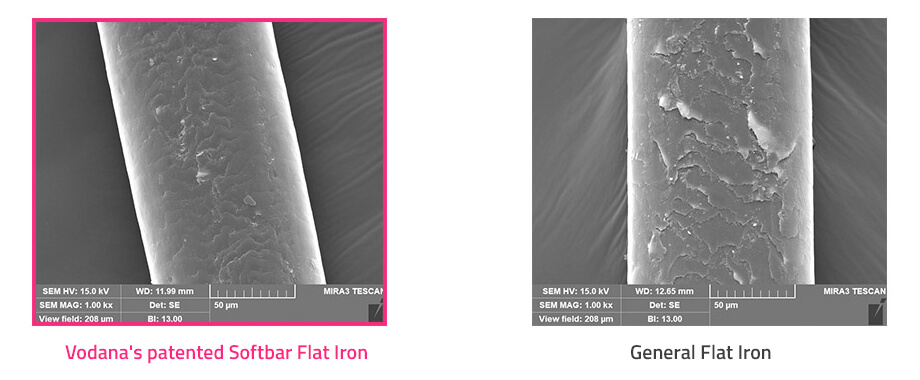 Results of hair damage test when using a flat iron for 3000 times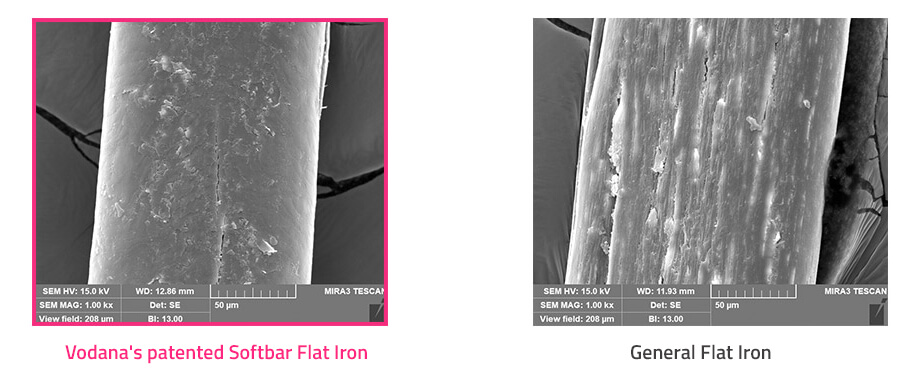 The test results have proven that VODANA's patented soft bar allows for gentle hair styling and minimizes hair damage.
Even if the number of times is increased, the damage is less than that of a regular flat iron without a soft bar.
Can you see why we recommend this as the best Flat Iron?
Color types of the Soft Bar Flat Iron: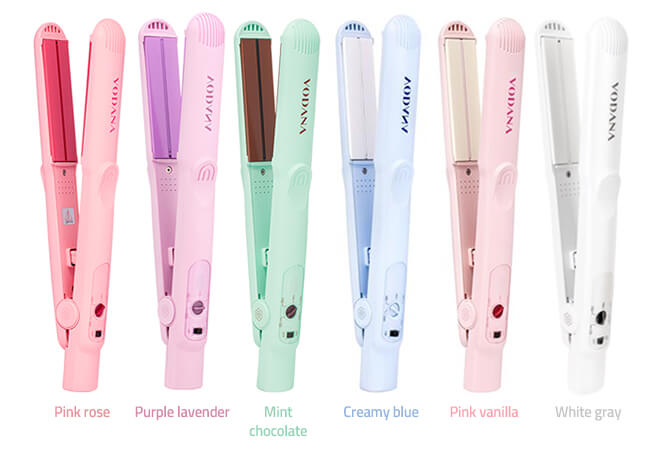 Available styles with SoftBar Flat Iron:
Big wave at the end (C curl wave type)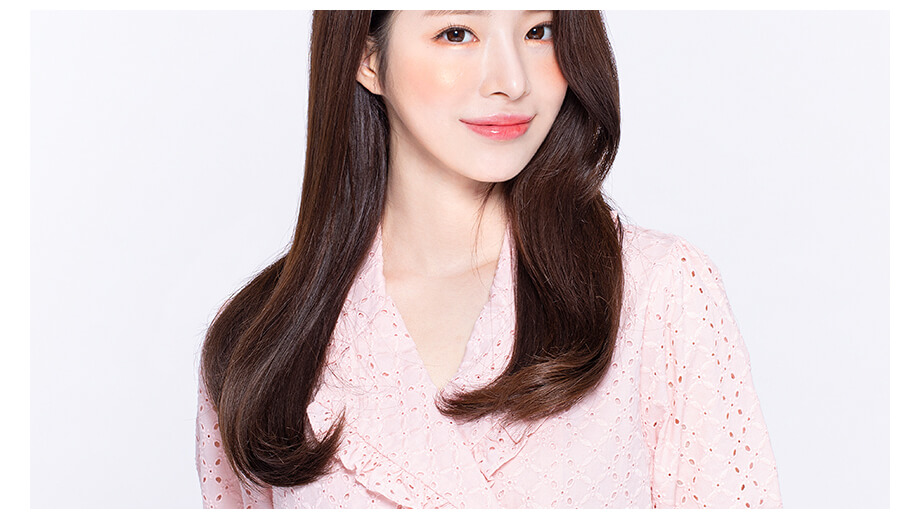 Beach waves (S curl wave type)
Components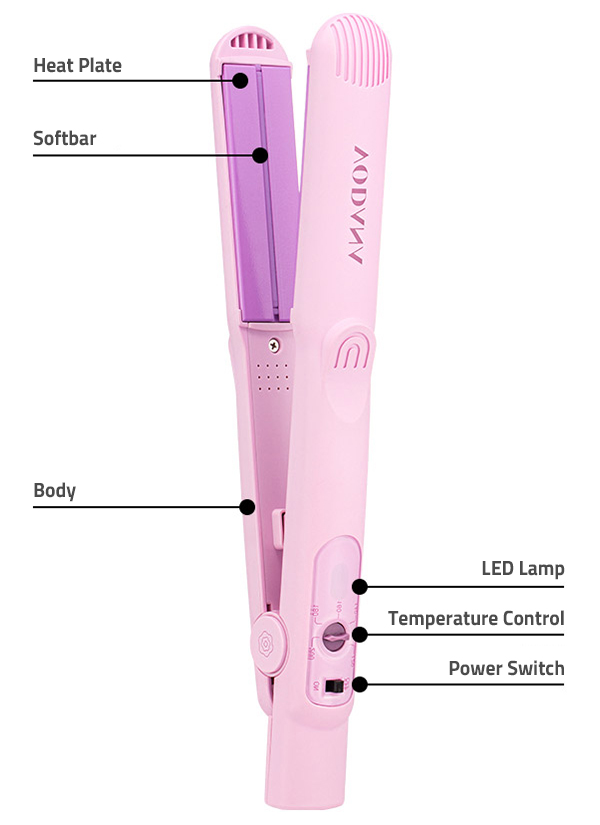 You can use this best Flat Iron anywhere in the world, regardless of voltage.
Notes on purchase:
To help prevent hair damage, it is designed with a small space at the bottom of the heat plate.
*In the case of the above, it is a good product.

This product is a moving cushion soleplate, and the opening of the soleplate in the image is within the allowable range of our standard.
*In the event of a return due to this, it is considered a change of mind and a shipping fee will be charged.